It is said that no battle plan survives contact with the enemy. Well, that goes for costume design plans too!
Sometimes you can prepare for months and then the plan goes off without a hitch. Other times, you can put all the planning in the world into a project and suddenly – all the pieces decide to run away in different directions. That's how it was with our most recent project!
Originally we were going in an entirely different direction. However, due to the chaos of organizing medieval armies (they never show you the logistics in the movies), we ended up with a last-minute change that ended up producing some truly beautiful outfits.
I have long admired the Knights of Dol Amroth, characters which are featured heavily in the third volume of the Lord of the Rings trilogy "The Return of the King". They were (to my mind at least) sadly omitted from the films. So, I've had something tumbling around in my head for a few years that would develop into a desire to create a look for them that would mesh well with the film aesthetic as well as properly represent Tolkien's vision for these great warriors.
With about two days' notice, years of daydreaming had to be put into action. We had on hand about 7 yards of Insignia Blue, which we were planning to use for another shoot, but – it is the perfect color, so it became the basis for these outfits! We also had several yards of Bleached heavyweight that were used as tablecloths for our previous shoot (see: Let's Hold a Wedding… With Swords!), so we were able to re-purpose this material for our Knights as well. They are called the "Swan-Knights", after all, so throwing some white in there would be key! With the materials at the ready and a lot of help from our team on the ground, we decided to go for it.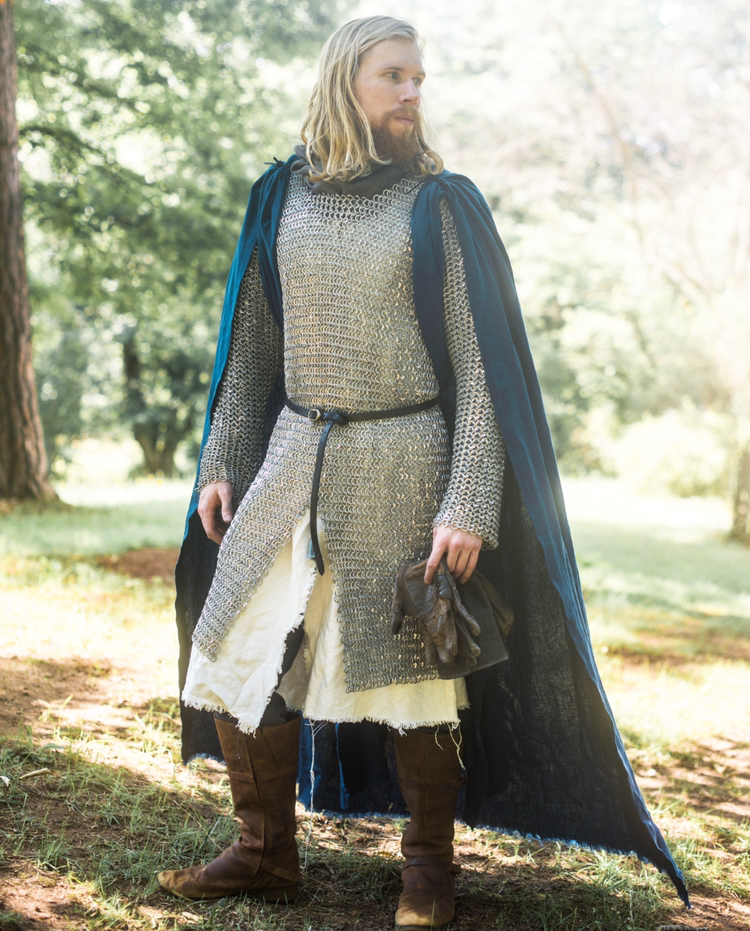 We created tunics out of Blue Bayou to be the light bottom layer of the kits. We then designed long white surcoats out of that heavyweight Bleached Linen. I wanted them to be long enough to be seen under the chainmail and armor we would be wearing on top. We knew we would be using the Insignia Blue with a new cloak design. It was important that the cloaks would work well for these warriors who needed to fight both on foot, and on horseback. After three different variations, we finally hit on the right design: one which would allow the Knights to easily mount and ride their horses without choking them around the neck. If you've ever run around or have ridden a horse in the forest with a cloak on, you will understand the value of having a cloak that does not choke you!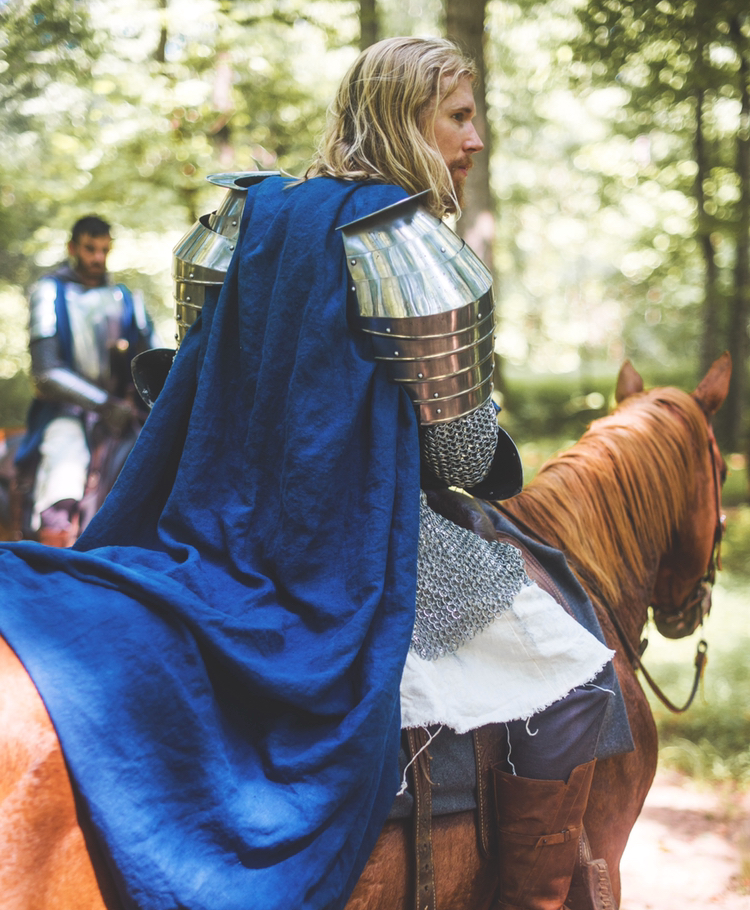 (Yes, before you say anything, we like our clothing ragged around Fell & Fair as we find it helps produce a more gritty, "lived-in" look.)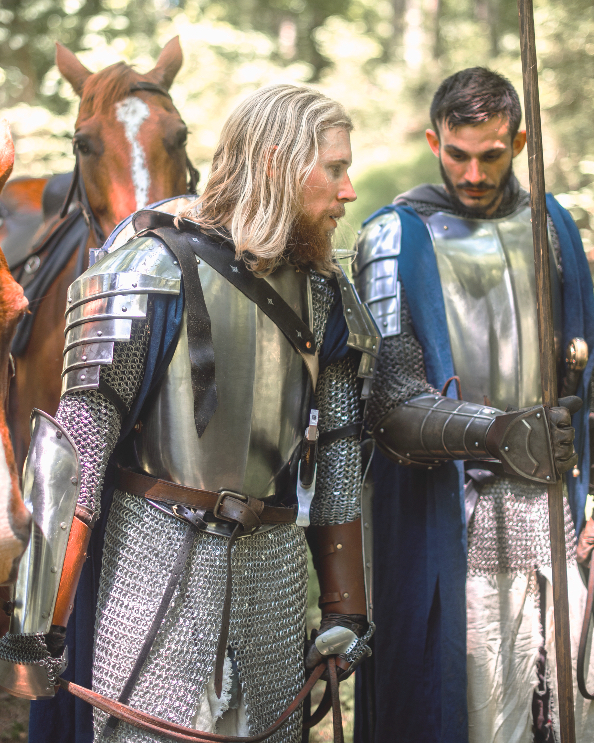 Our friend Lucas Huff brought over our noble steeds and we rallied the troops (quite literally) and headed out in the forest.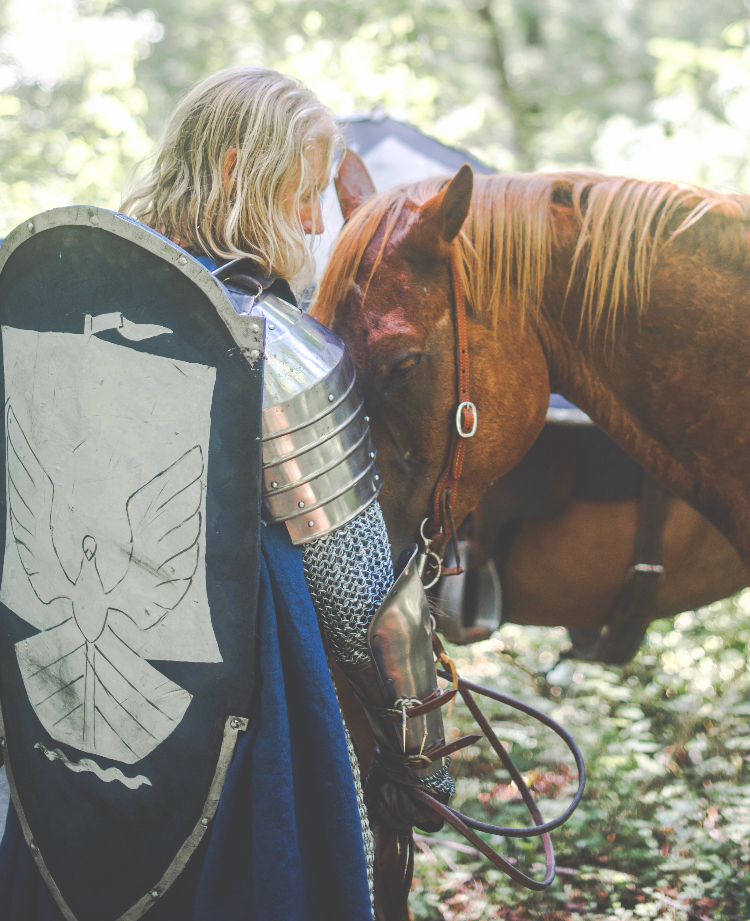 It may surprise you, but being a Knight in Shining Armor is quite a lot of work! Once we had our armor on, and the horses saddled, we adjusted our equipment to be able to ride properly. Thankfully, after years of experience, it did not take too much tweaking before we were comfortable in the saddle. My horse, Sooner, was especially friendly, and more than happy to be my noble steed for the day.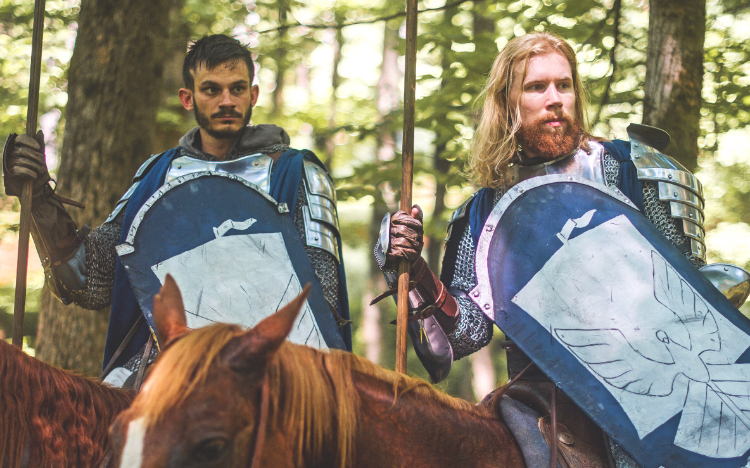 As we felt it entirely necessary to "field test" our new gear (it's like the medieval version of taking it for a test ride around the block) we met up with some of our Ranger friends whose gear you may recognize from "It's Not an Adventure Until Something Goes Wrong…".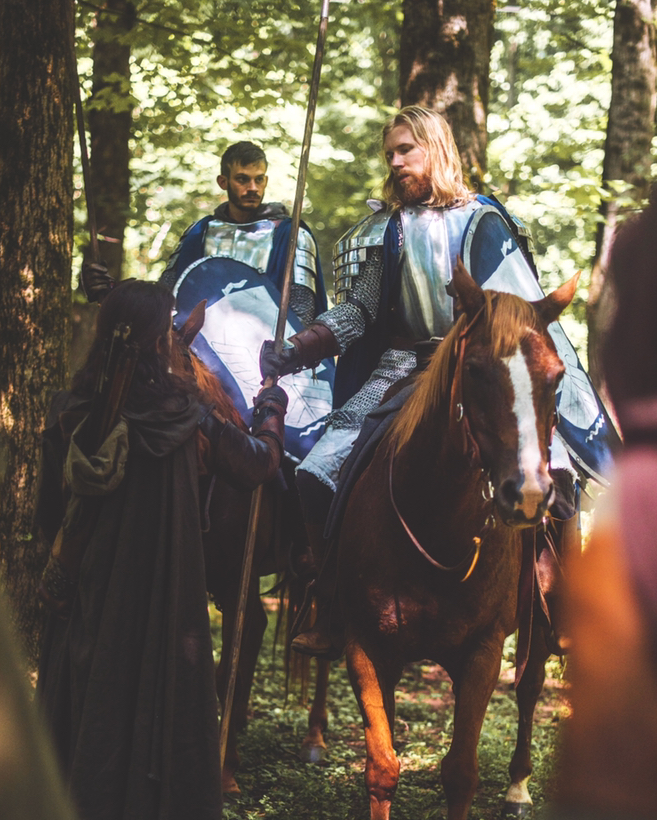 They asked why two knights were riding through the forest in the 21st century, to which we simply replied, "Mind your own business!".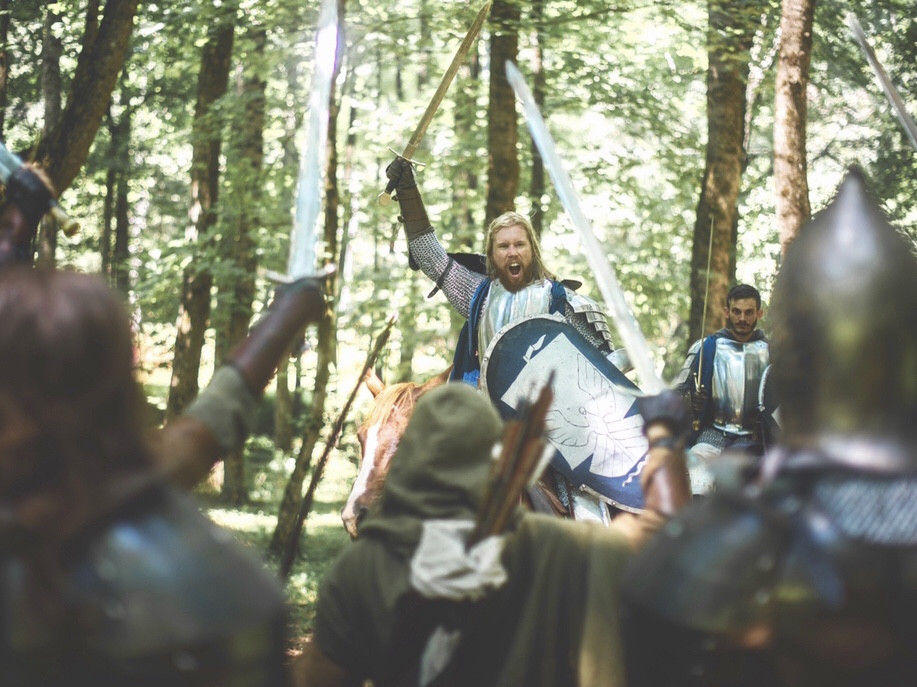 I then decided to channel my inner Sean Bean to deliver a rousing speech covering everyone's favorite points: how evil orcs are; restoring the glory of Gondor; and just where exactly Gondor was when the Westfold fell (hint: in Gondor, fighting orcs).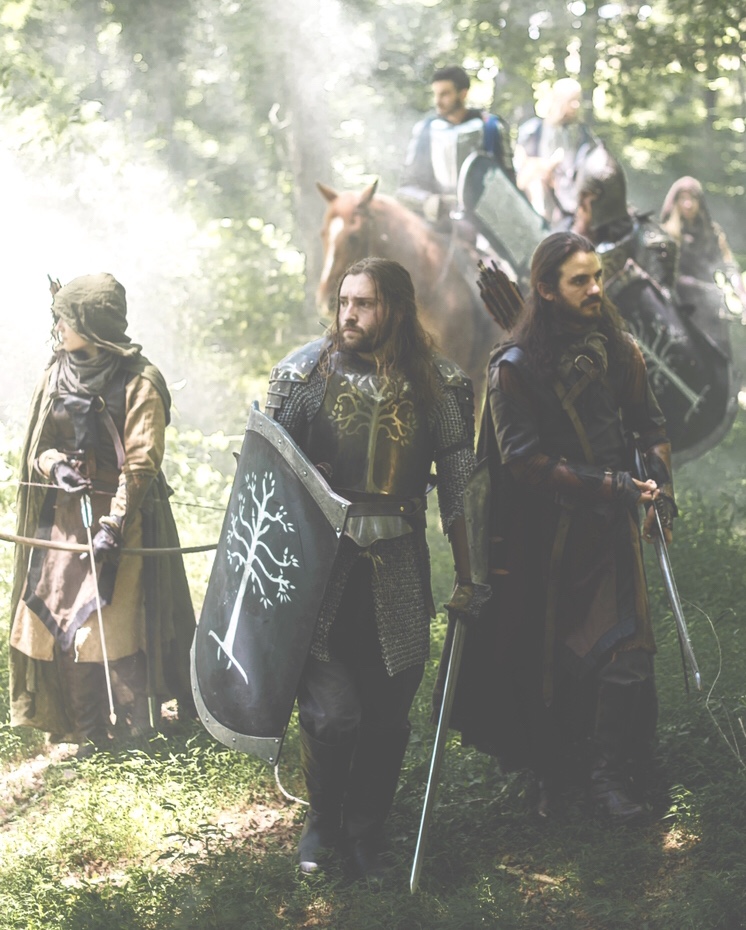 After such motivation, we could not resist marching off together to destroy the forces of the dark and liberate Middle-Earth from evil…. as is tradition.
Thanks for reading! We hope you enjoyed our creations. A big shout out to our Fell & Fair Photographer Nicolas Bruno and the whole Fell & Fair team for making this shoot happen! Go to Fabrics-Store.com to find the linen fabric we used for these outfits along with many more amazing colors!
Check back next month for another adventure! Now if you will excuse me, dashing knight errantry is busy work, this cloak is not going to gloriously blow in the wind by itself!  
–Zan
Please feel free to leave comments and post questions- your feedback is valued and very important to us.
Subscribe