Let's Hold a Wedding… With Swords!
As a guy, it's hard sometimes to get inspiration from wedding planning. Let's be honest, that's usually not a dude thing… until you add swords.
Do I have your attention now? As a kid, who loved knights and battles, I sought out every movie I could find with swords and sword fights. Two of my favorites were The Princess Bride and The Adventures of Robin Hood [1938]. Incidentally both included weddings, one rather ridiculous, the other in the epic aftermath of a battle (come on folks, that's the way to do it, saves a ton on catering).
So when photographer Taylor Cash asked to do a styled medieval wedding photo shoot, my first thought was to add swords. My second was: how do you make a wedding dress?
Well, a few hours on Google gave me a pretty good idea what was out there in the way of inspiration. I found that most modern medieval-themed weddings did not include a medieval dress, and most medieval dresses, were not for weddings… hmmm.
So at this point: I'm a 28 year old male, a costume designer with a degree in Political Science, and a background as a helicopter pilot, trying to be the first person to make and document a 12th-century dress for a wedding in about 800 years. What could go wrong?
Being so out of my depth, I assembled my ideas and called my friend Sarah, who came over and helped me figure out the design. There were a few bumps, and we had the devil of a time with some unfortunate gores, but finally we were done. Then, all we had to do was surcoats for a dozen men, sashes for the bridesmaids, plan a wedding feast, get everyone ready and, of course… swords.
Taylor and I designed the shoot to follow the progression of a modern wedding, just with a medieval aesthetic: engagement shoot, wedding, bridal party shots, reception, dancing and finally, the exit. After a beautiful week, the weather threatened rain, but the morning dawned clear and the sky held nothing but sunshine for our couple.
Now that you've heard the story of the creation, enjoy the story of the wedding itself!
For our bride, we designed a two-layer dress (dress and underdress) made of Krista Natural linen. It is a lovely almost-white, with a hint of butternut. Her sash and veil were made of Grey Mist sheer linen, which has to be one of the softest things I have ever touched! We also used a bias tape made out of this material for the sleeve hem.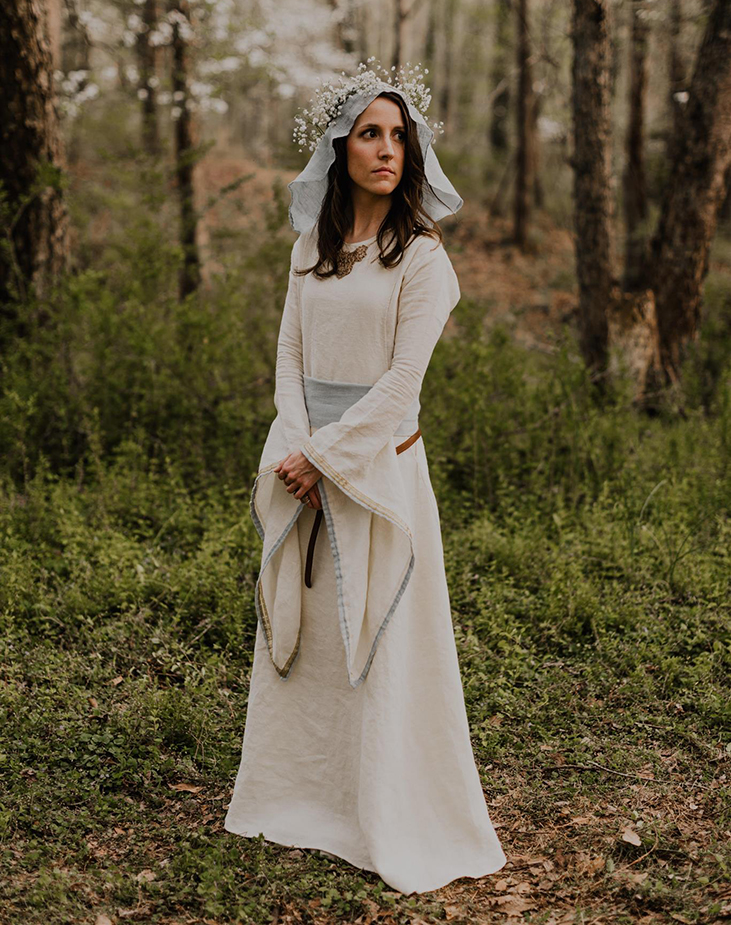 The groom got a darker color palette, using my all-time favorite linen color Blue Bayou for his surcoat (we also found a matching color paint at the hardware store for his armor!) Autumn Gold was used for his cloak and the detail around his sigil on the surcoat.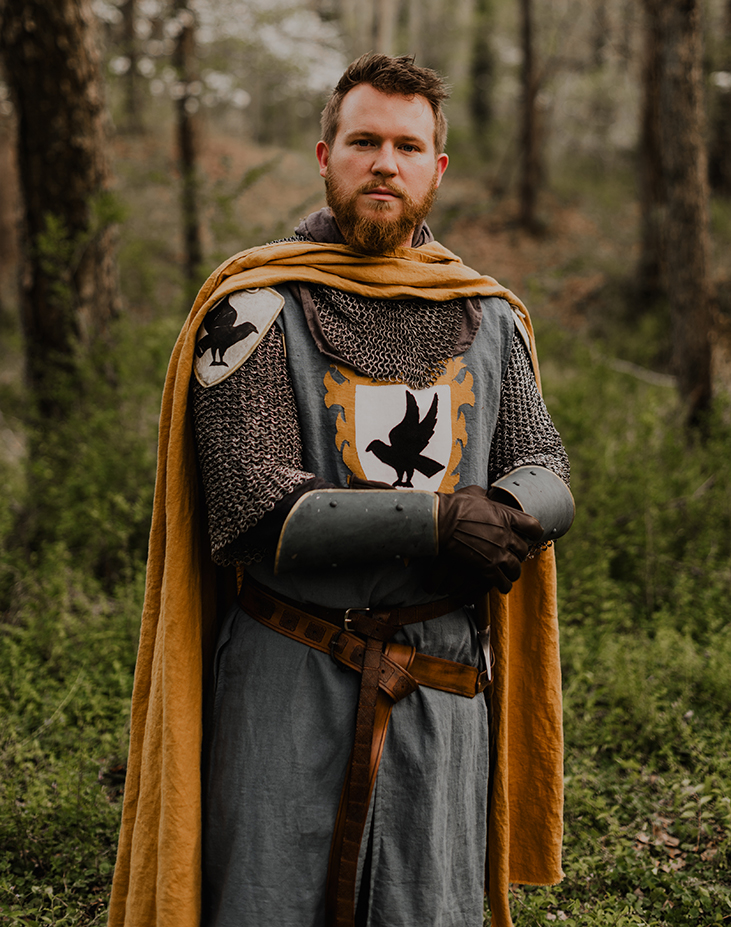 First, the engagement shoot. Sure, they did not have engagement shoots, but I'm sure plenty of medieval lovers spent their time wandering across the green hills and dales…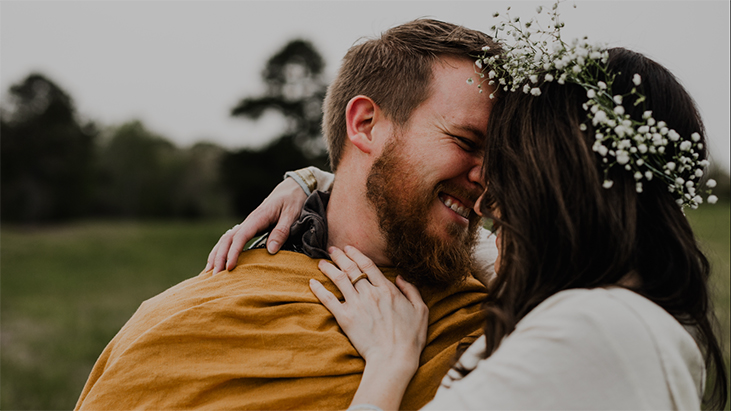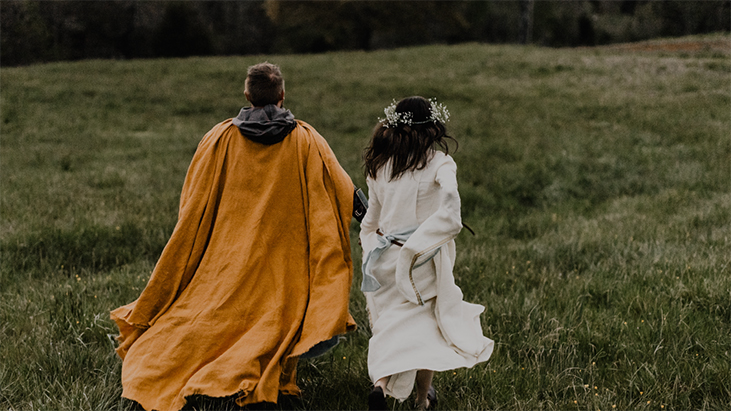 On to the ceremony! Our groomsmen and bridesmaids escorted their charges dressed in style!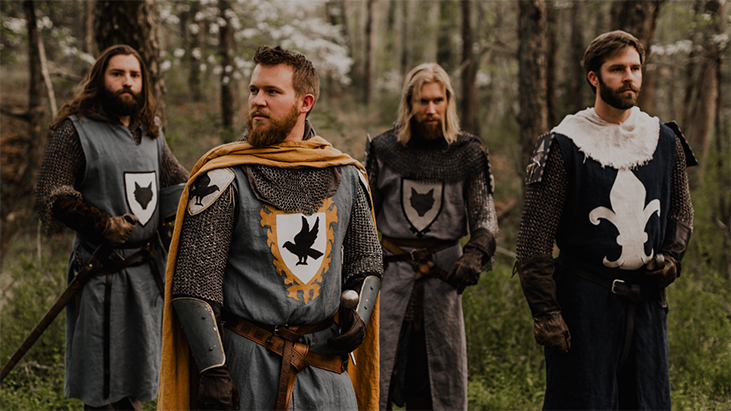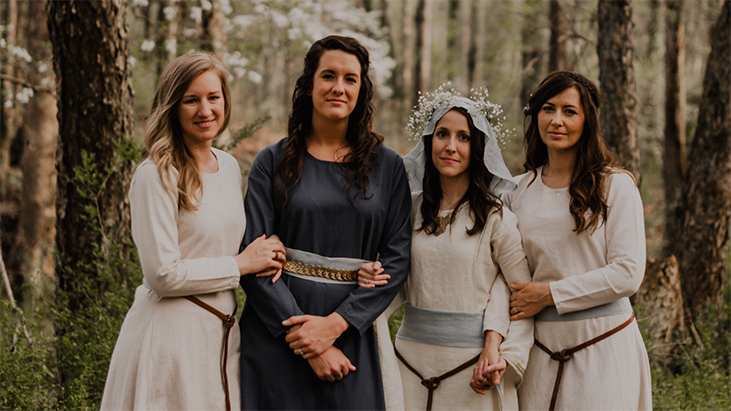 We gave the good friar a blue stole to match the couple as well!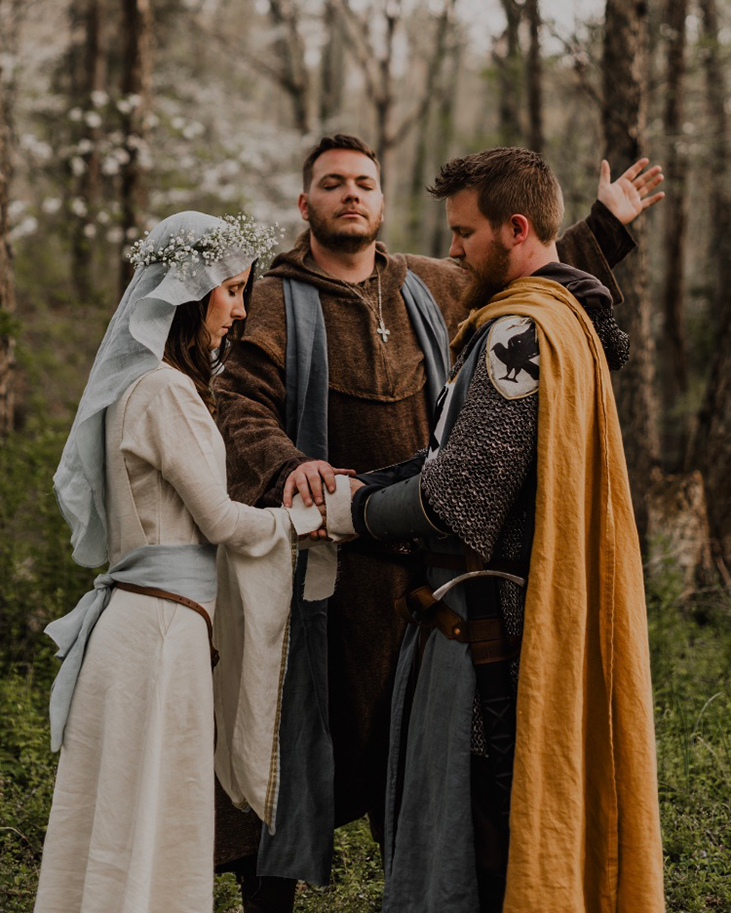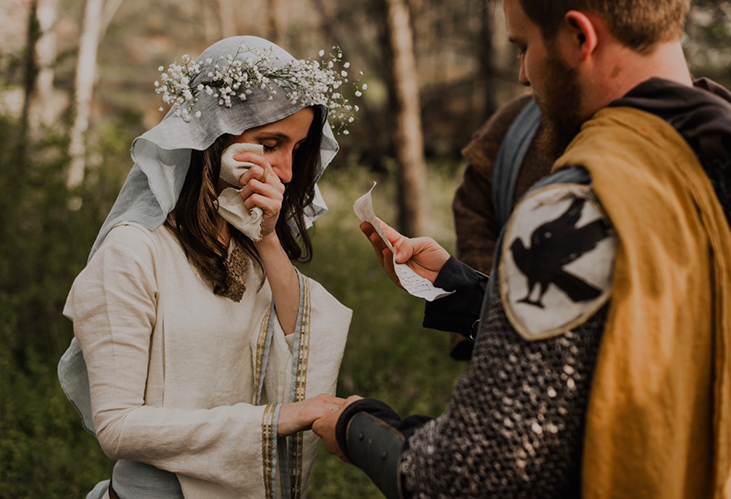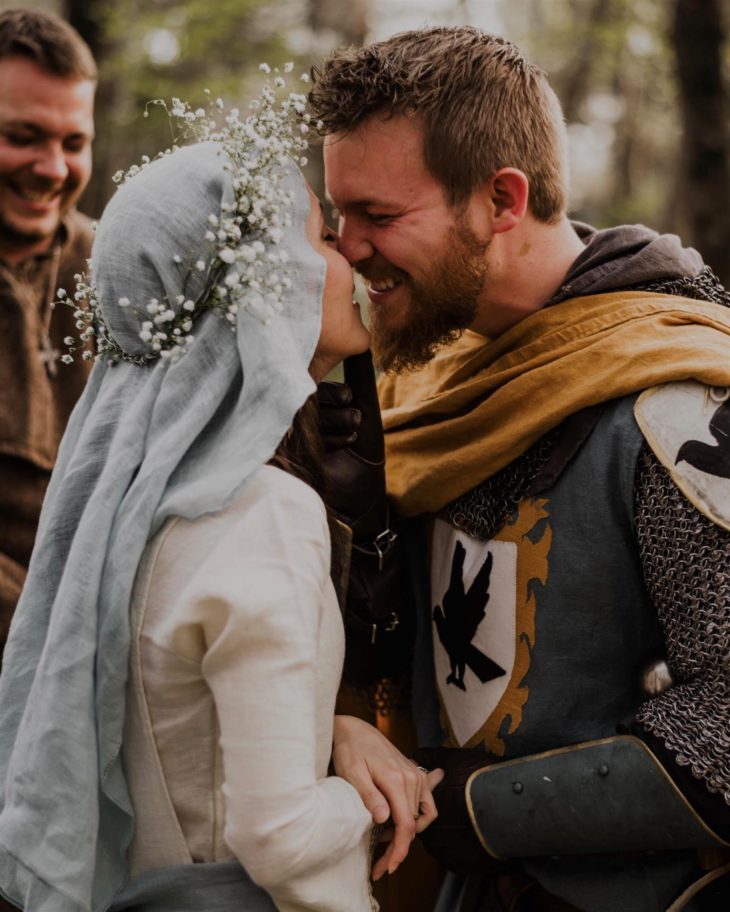 Let the Celebrations begin with a feast to honor the couple!
In order to decorate the feast area, we used more of the Grey Mist and some sturdy heavyweight Bleached linen for table runners and tablecloths.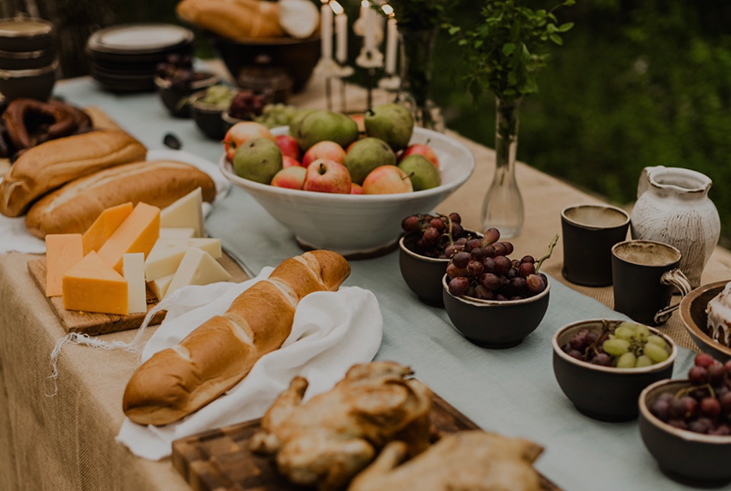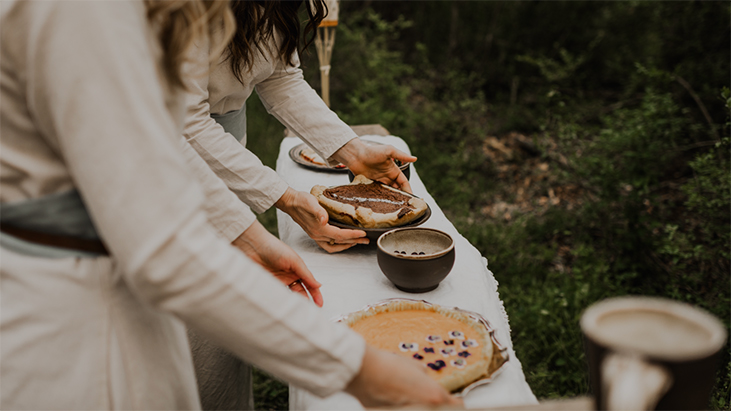 We had the usual meet and greet, and then as darkness fell, things got a little more rowdy (as any good medieval wedding should).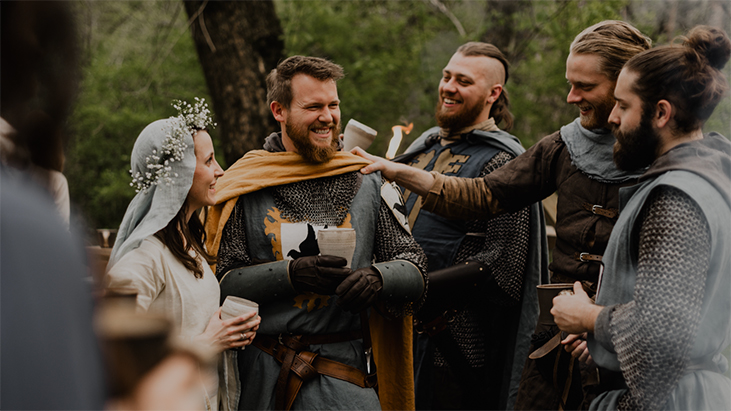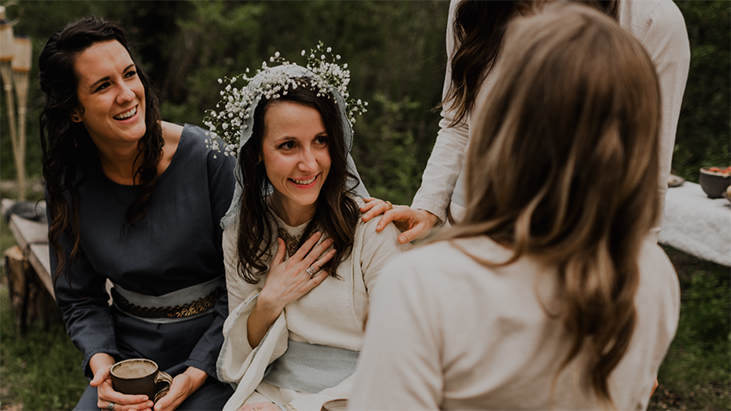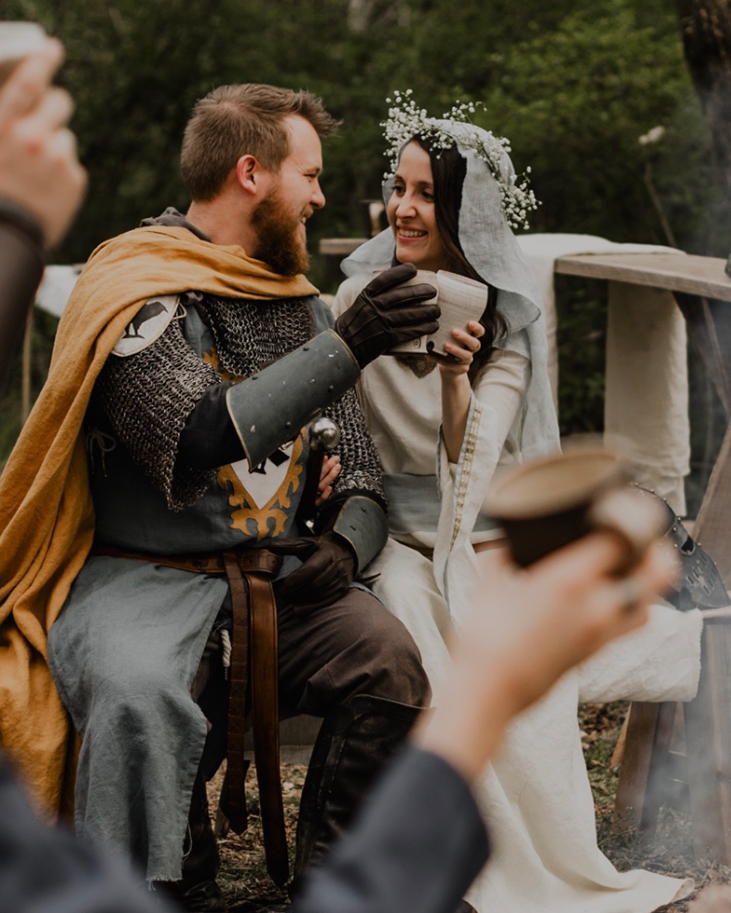 Eventually, the bridesmaids began to assail the groomsmen with grapes from the feast, so the bold knights had no choice but to don their armor and taunt the damsels in the best way they knew how…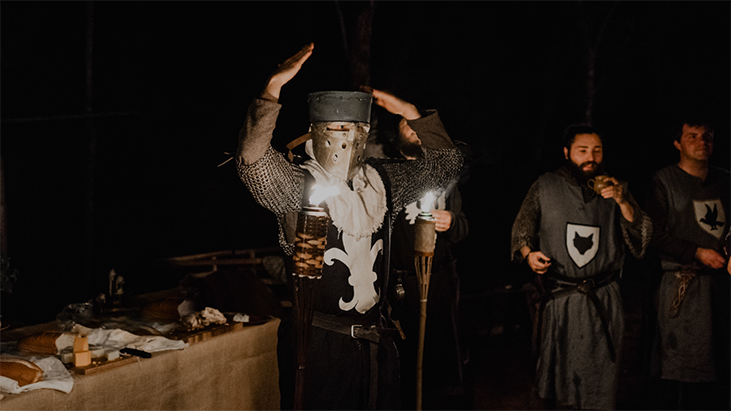 Finally the exit, and the happy new couple are headed off to build their own castle!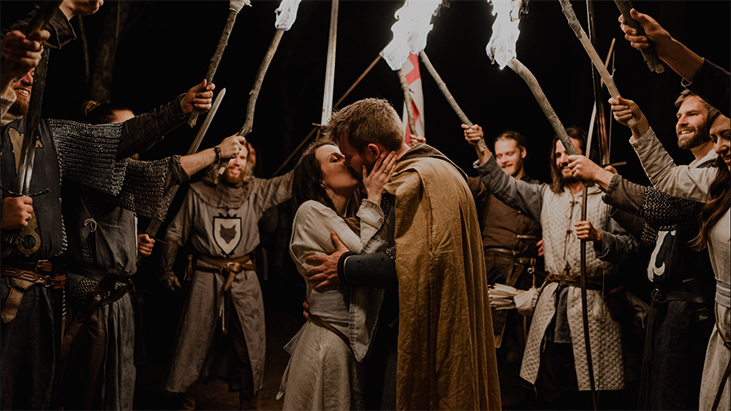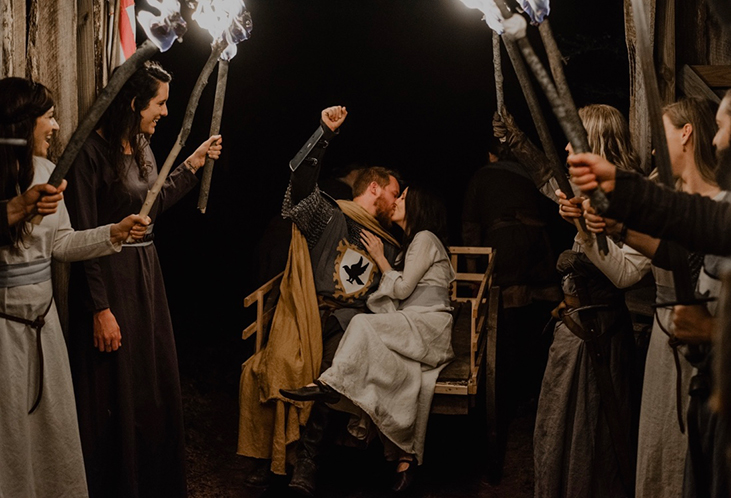 A huge thanks to Fabrics-Store.com for providing such wonderful materials to work with, to Taylor Cash Photography for capturing it and to the whole Fell & Fair team for making it happen! We'd love to hear what you think of our medieval wedding, please feel free to leave us your comments below and we hope you enjoyed the post.

Subscribe