DIY Linen Fabric Book Cover.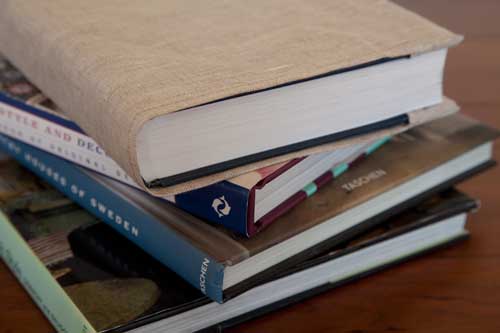 If you want to protect the books you love, why not sew a linen book cover?
Year after year, I would wrestle with school textbooks as I tried to wrap them in paper. Now that I've discovered this easy trick, I wonder why I wasted my time with paper. The linen lasts so much longer than paper covers and looks a thousand times better.
This is great idea if you like to buy used books like me. With a linen fabric cover, you can prevent older books from falling apart.
Make them if you are a student to protect your textbooks from damage. You can even cover your favorite hardbacks in a linen cover so you can enjoy reading them for years to come.

Materials:
linen fabric (the size will depend on the size of the book you wish to cover)
Level of Difficulty: This is a great DIY project if you are new at using a sewing machine or need some practice.
Measure the front of your book to get the height. Then measure the width by starting from the middle of the book's binding.
Then add an extra two inches to each end of your linen and mark it with your pencil. These will be the extra length that folds over the inside flaps of your book.
Add an extra 1/2 inch to each longer side of your piece of linen and mark it with a pencil or crease.
Now cut your piece of linen according to you measurements.
Hem the shorter ends by folding the linen over twice. This will be about a 1/4 inch wide. Sew this on both sides with your sewing machine.
This is what the finished edges should look like.
Turn the piece of linen over and fold back the same ends you were working on.
The folds should be the same two inches you marked/creased before cutting your fabric.
To make the pocket for your book to slip into, sew the outside edge of your two inch fold. You will sew this on all four corners.
Finish the last egdes of your book cover by heming the bottom and top lengths with a 1/2 inch hem. This is the measurement you made earlier before cutting the fabric. Sewing the edges will give your cover a cleaner, more professional finish.
After you finish sewing all four sides, flip your cover inside out.
This is what your cover should look like before you slip your book into it.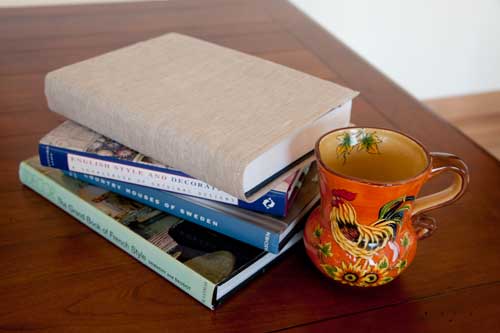 And you're done! Even a beginner will have fun with this simple and useful DIY project. Now you can read your favorite book in style!
*Let us know how you liked our latest DYI project. You can even share your book covers on our Facebook page! We love hearing all your great ideas and comments!