The Justice League Goes Medieval
Every age has its legends. Stories of people who go above and beyond in the cause of justice and hope. People who sacrifice their lives for what they deem to be right. A thousand years ago it was Lancelot and Robin Hood, today it is Batman and Wonder Woman… and Robin Hood – let's be honest, that guy is timeless! But all that to say, what makes a hero appears not to have changed much. Knight or Superhero, they have a lot in common: they wear armor, have bright emblems on their chests and almost always have impeccable jawlines.
So when we at Fell & Fair decided to take on our next project, we chose to take the heroes of today, and equip them like their forerunners of the Middle Ages. We chose several members of the Justice League and re-imagined them as noble Knights and Ladies with a medieval twist!
Of all superheroes, the Dark Knight may be the most iconic of his class. A normal human who takes up the cause of justice with cool gadgets, cooler cars and a big bat on his chest. So we knew we had to do this guy right. No shining armor for this knight! We cloaked Gotham's guardian in Heavyweight Black linen which we frayed and weathered at the hem to get the combat-worn look that he would quickly achieve while chasing down bad guys in the shadows.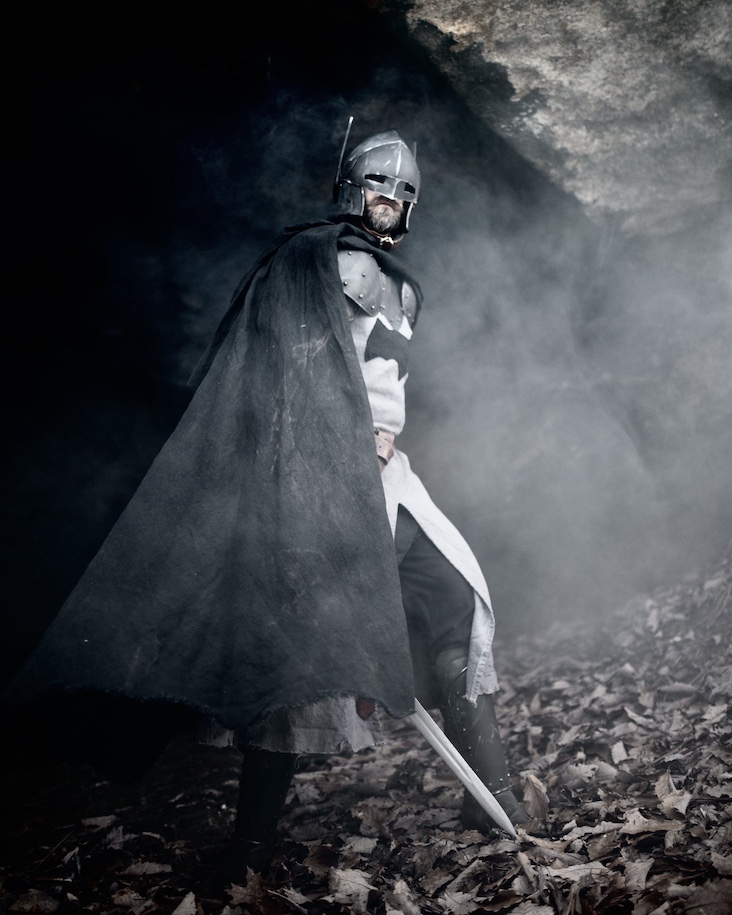 While the black-on-black design of Christian Bale's batman is the one I remember from childhood, we choose to go with the more classic light gray surcoat, using heavy Monument gray with the black bat emblem.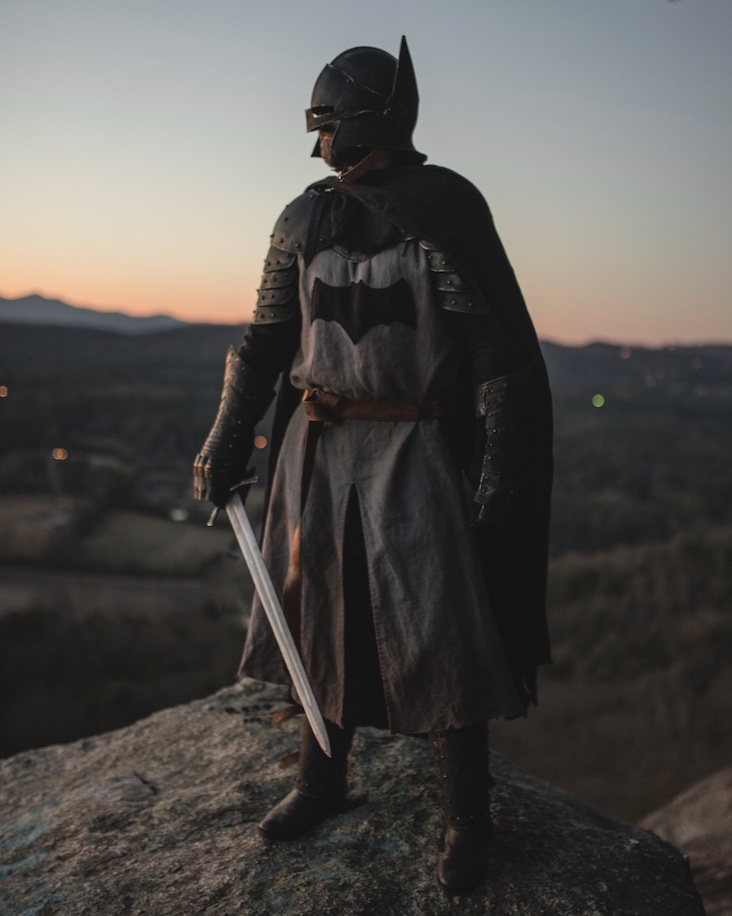 Perhaps the opposite of Batman in everything but his effectiveness at putting down the bad guys in his own city, Superman, Duke of Kansas, Lord of Metropolis and heir to the house of El, is a knight in shining armor indeed! With a tabard of Insignia Blue and cloaked in Biking Red, this guardian of Truth and Justice is brilliant in the light of the setting sun. We also used Biking Red and Autumn Gold for his iconic family emblem.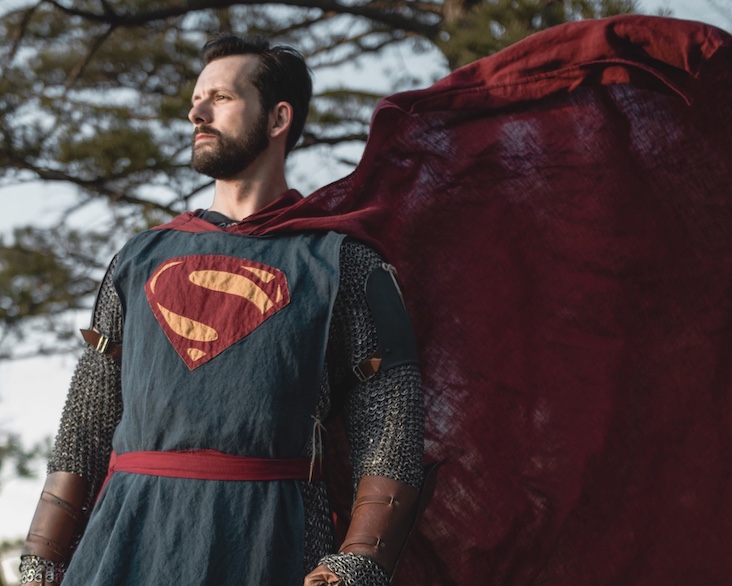 We abstained from the red underwear and allowed our Superman to just have a red sash! We thought that would better match the aesthetic… and probably keep him from getting laughed at by the bad guys.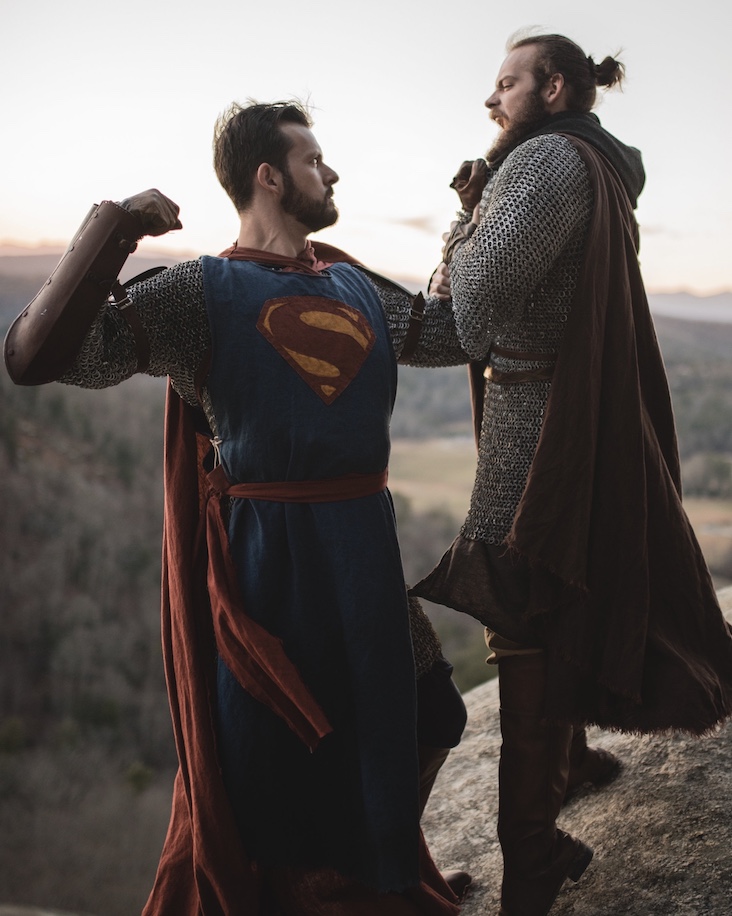 Then again, no one could laugh at this chin and hair curl.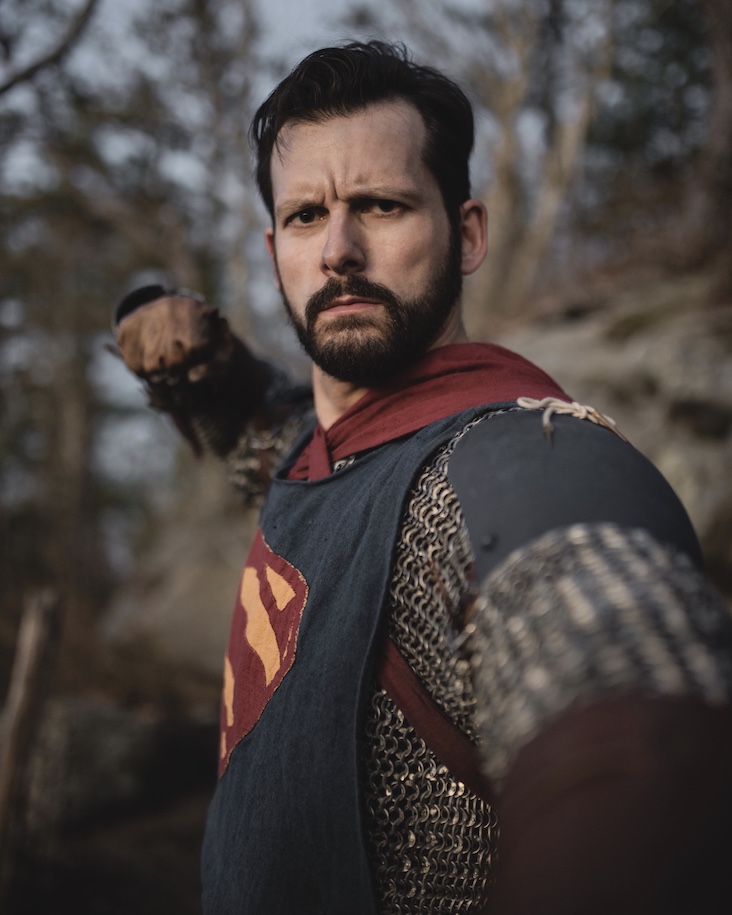 After inspiring audiences in theaters (and single-handedly winning WWI) it was going to be a challenge to do real justice to Wonder Woman. But Tara stepped elegantly in to the battle-boots of the Amazon Princess with all the elegance and strength that could be asked! Wonder Woman was a challenge as her traditional design (red corset and blue mini skirt) did not translate well to the garb of a medieval warrior. After some thought, we eventually decided on a worn red tabard with Wonder Woman's eagle symbol and a subtle yellow leather belt with the iconic WW emblem. We used Biking Red again for the tabard and Autumn Gold for the emblem. Of course, Insignia Blue was perfect for the tunic; we flared it out a bit to emulate the skirt from the traditional outfit.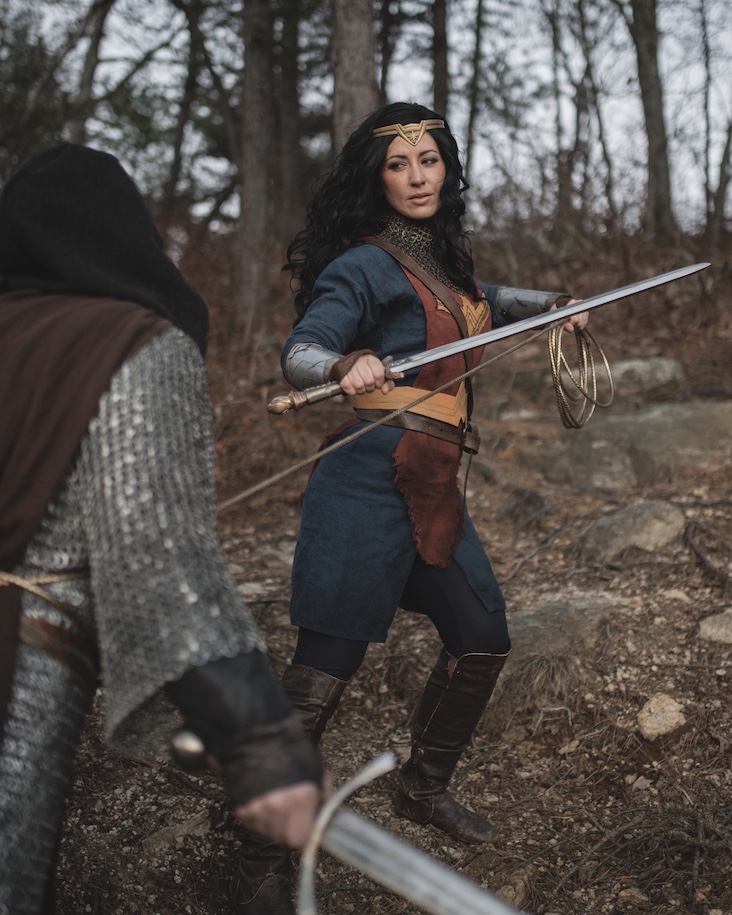 Tara also made one of her Wonder Woman faux fur cloaks to add the ensemble as well.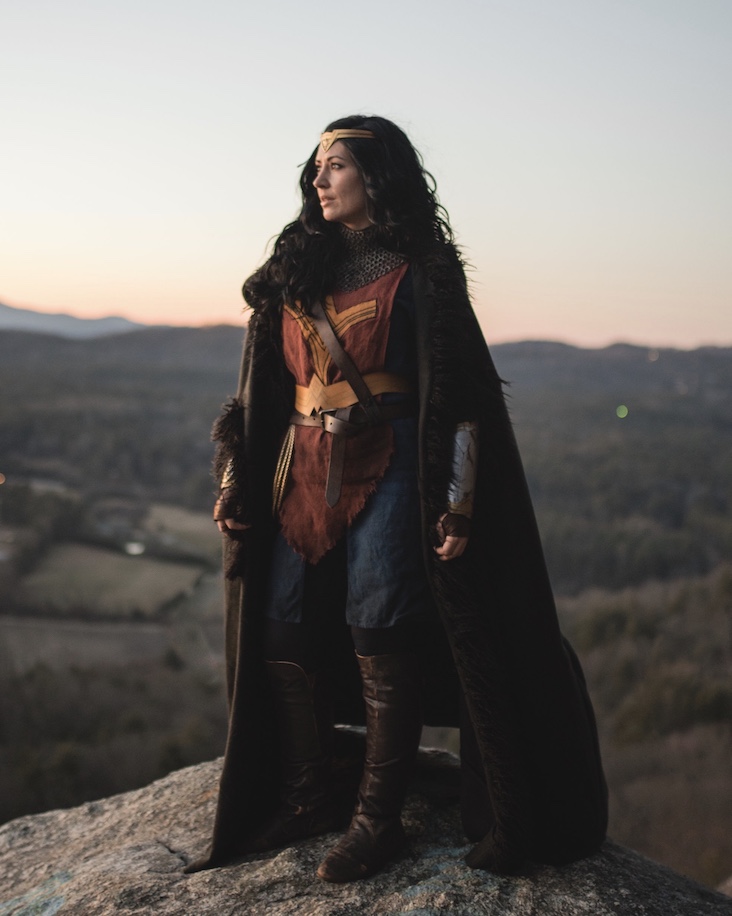 Last, but not least, if over $1B at the box office means anything, I stepped in to the slightly damp shoes of Aquaman. As dashing as I am, I don't have the eyebrows to compete with Jason Momoa, so I kept the more traditional blonde Aquaman look. We based the entire outfit around the classic green and gold look using Emerald and Autumn Gold. We also made a hood and cloak of Autumn Gold, but they did not look right (not much use for a cloak or hood under water I guess!) so we stashed them away for another day! Yes, even the armorers to the Justice league don't always get it right the first time.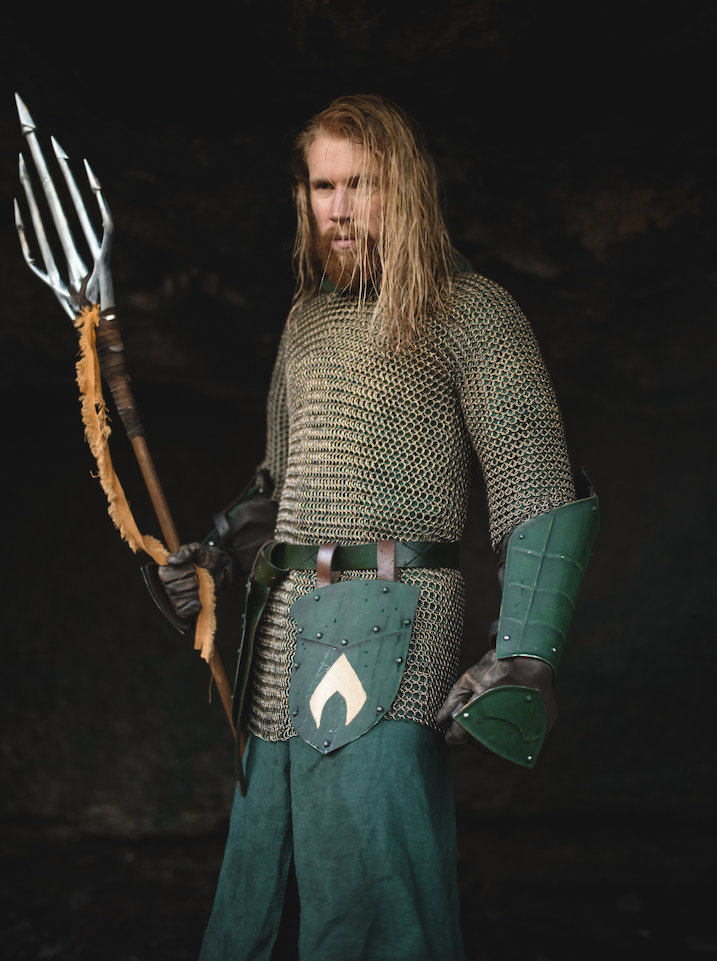 We were however able to add the Autumn Gold back in by attaching a little bit of medieval flair to the trident (Is it a trident if it has five points? Would that not be a pentadent? The things you think about while designing costumes late at night…)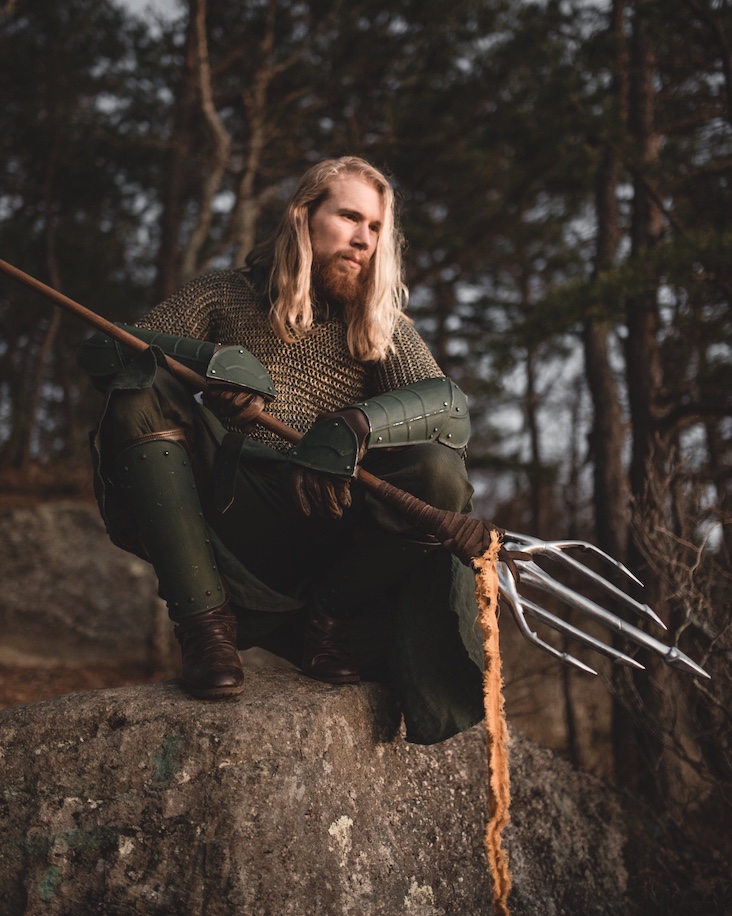 With the medieval Justice League assembled, It was time to let them loose to sweep the streets of our towns, villages and hamlets clean of evildoers and ne'er-do-wells..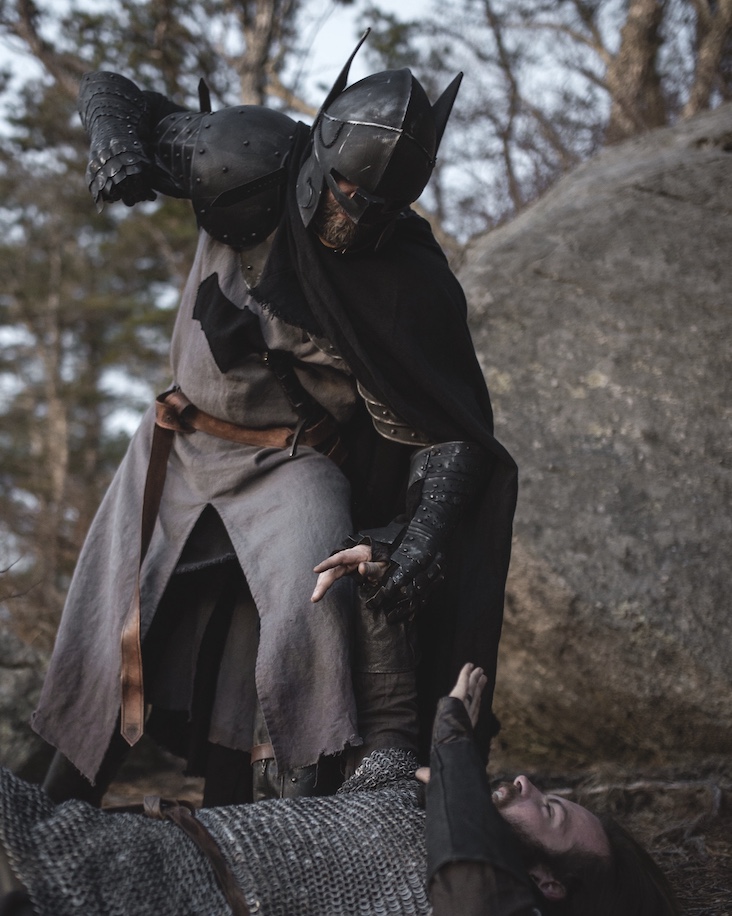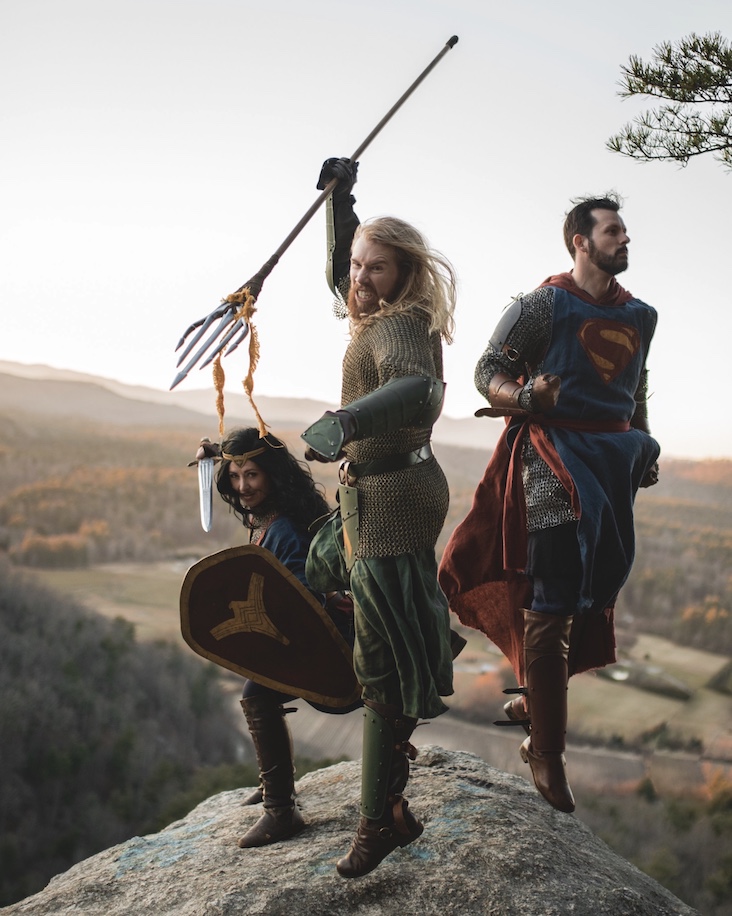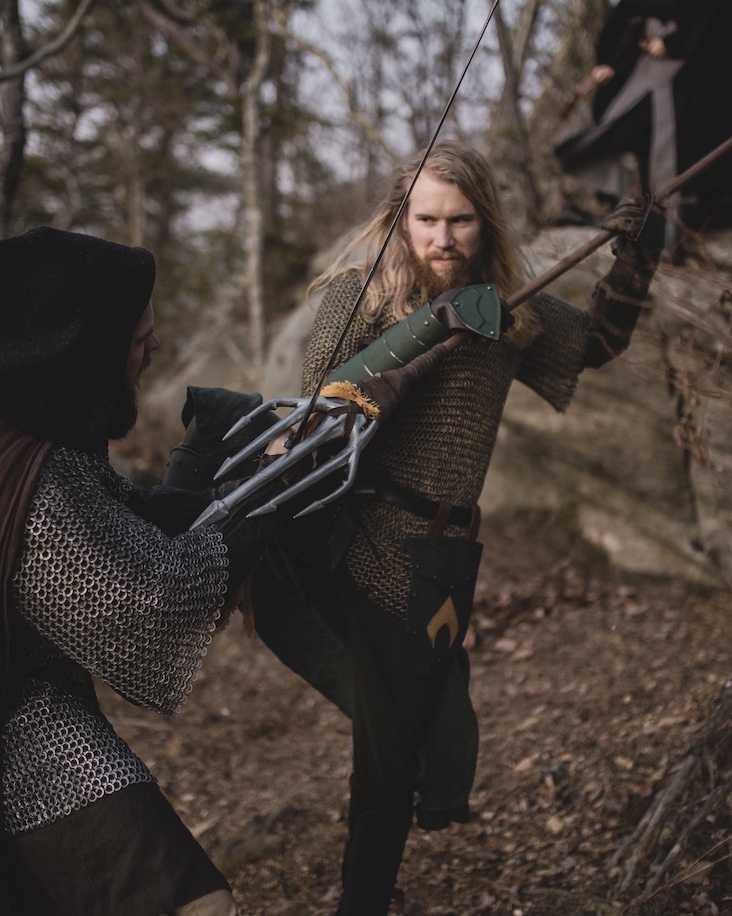 We had a bit of trouble with these two, but it turns out both of their mothers were named Martha, so it's all cool now.
With the day saved and everyone's hair looking great (yes, Batman's hair is impeccable under that helmet) It was time to finish the day with a nice long stare at the sunset.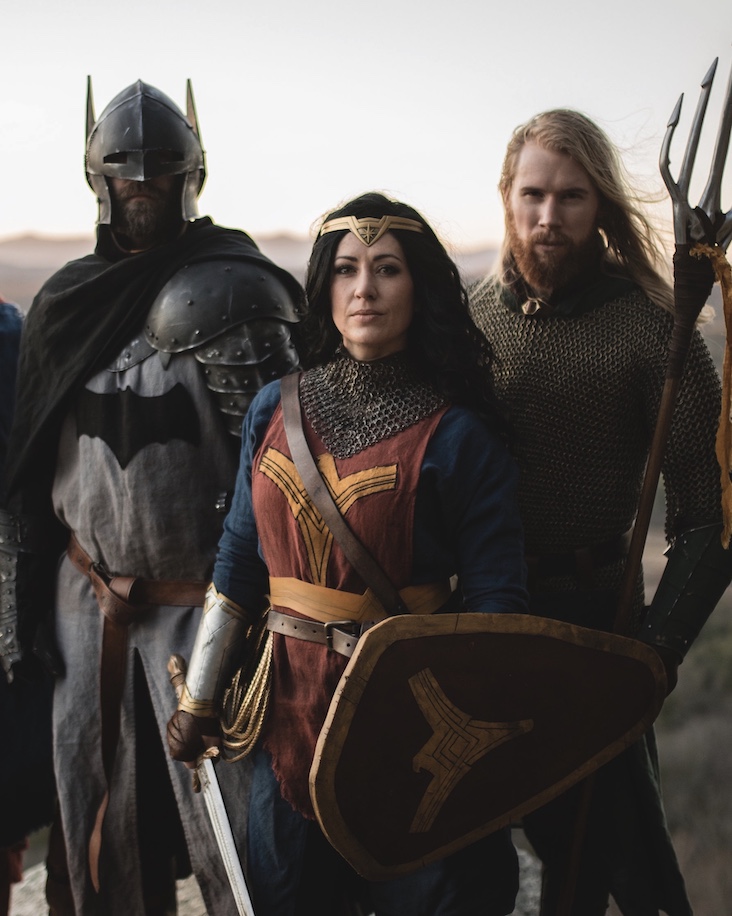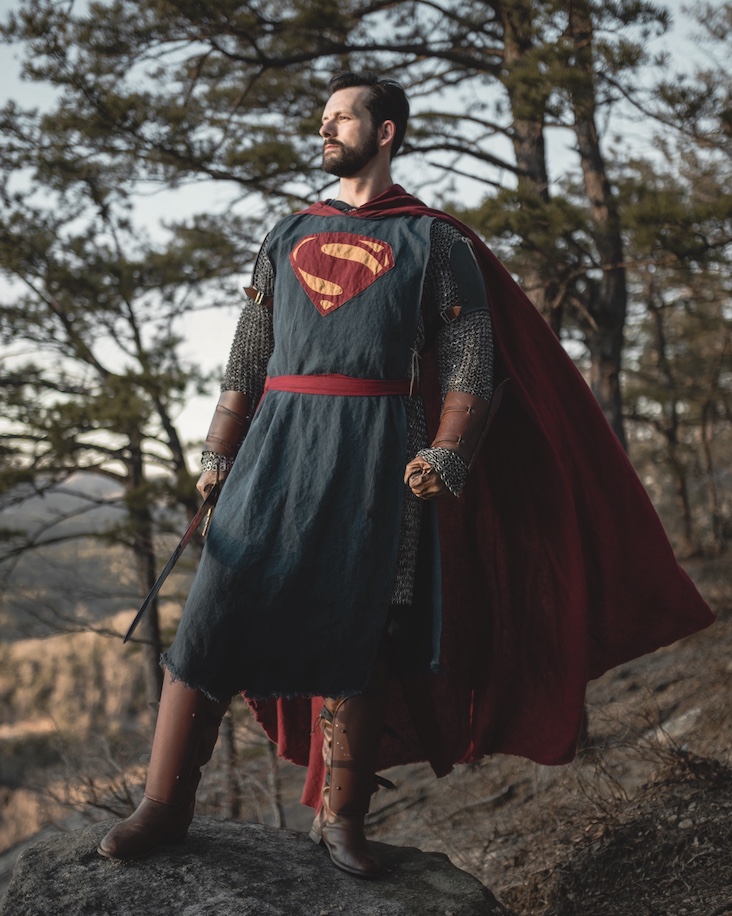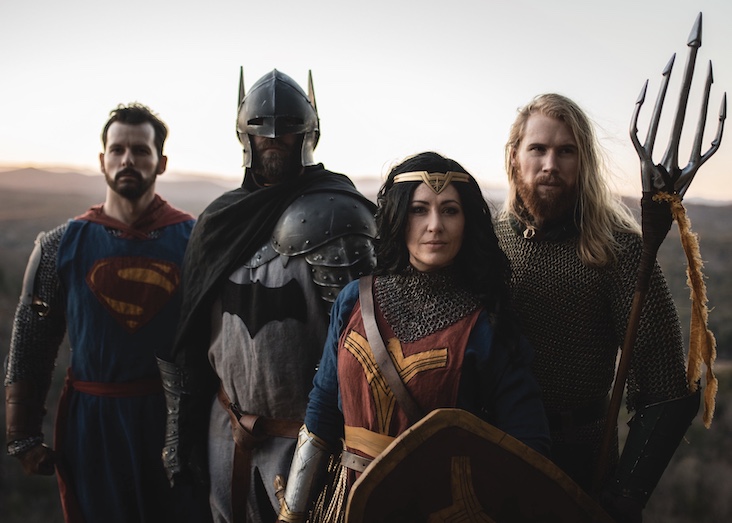 With justice achieved and everyone saved it, was time to hang up our capes. Except of course for the Caped Crusader himself.
"The Dark Knight never rests." he told us. "Why?" we asked. His answer: "Because I'm Batman." As the Hans Zimmer score swelled to its ultimate crescendo, he extended his batwing cape, and leapt  from the precipice, alighting upon a horse the color of midnight and sped off into the night… The rest of us went and ate tacos.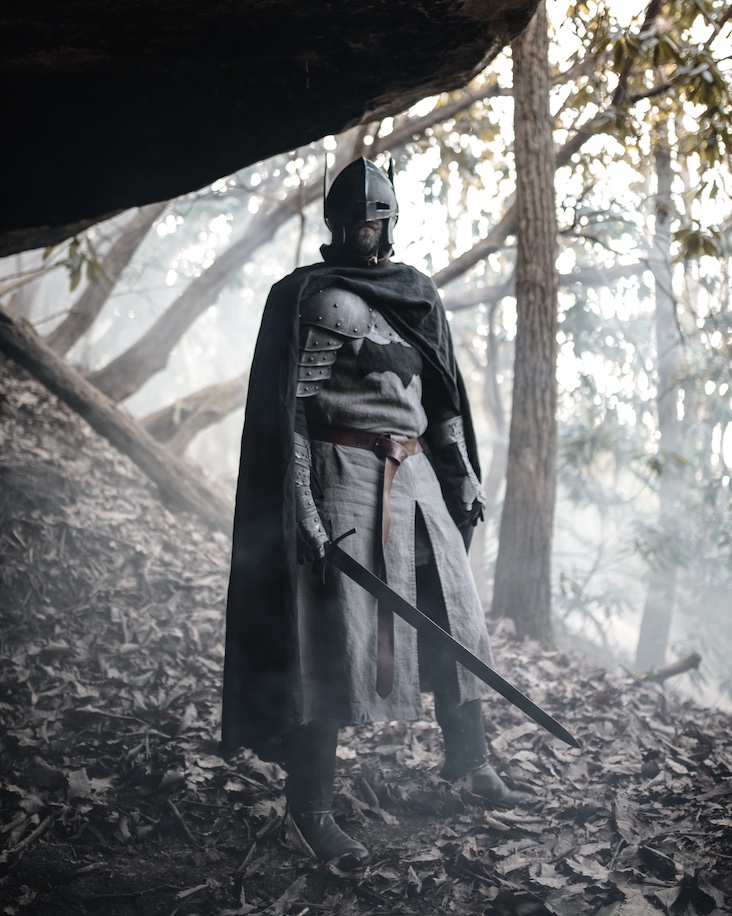 Many thanks to Fabrics-Store for helping make this project possible. Nothing makes a good medieval costume like linen!
Costumes created by Fell & Fair Productions
Check out the amazing people behind the heroes: Batman & Wonder Woman, Superman and Aquaman. And a special thanks to Taylor for being all the ne'er-do-wills and bad guys.
Photos by Will Dunlap
This adventure isn't just timeless, it's for all ages and perfect to share with family, friends and anyone who wants to let their imagination run free.
Do you think these adaptations worked? What other heroes would work well in a medieval context? Let us know what you think, your feedback helps us deliver the content you most want to see from us. Thank You for adventuring with us.
Subscribe