Noor Wrap Dress Tutorial and Free Pattern
You all know that we here at the Thread just love making dresses! So it is no surprise that with the spring days finally around the corner it is time for a new dress, a wrap dress! This is our first wrap dress on the blog which is a bit strange because what better way to emphasize the effortlessly chic spirit of linen than turning it into a wrap dress?
Most feminine yet versatile clothing piece a woman can have in her wardrobe, a wrap dress flatters many figures, looks great in any color and is ideal for any occasion, from fancy dinners to casual weekends. Our version of the iconic wrap dress has long slightly puffed sleeves, gathered skirt and pretty ribbon ties.
Follow this step-by-step tutorial and make this pretty linen wrap dress!
Materials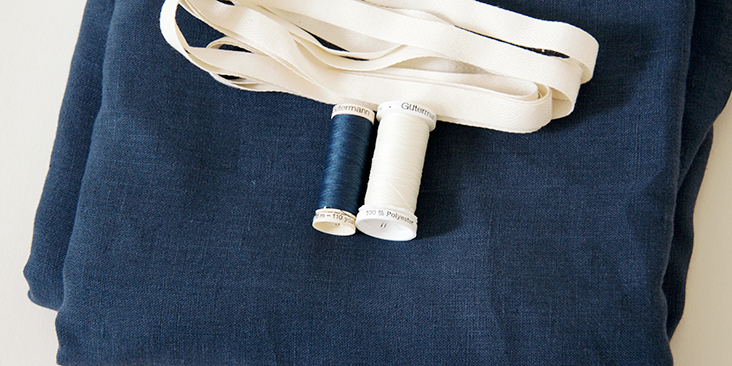 For our sample size S pictured in this tutorial: 3 yards of IL019 COBALT FS Signature Finish Medium Weight Linen
Refer to the yardage table in the PDF pattern to determine the exact amount of fabric you will need to make this dress.
2 yards of ribbon of your choice, matching sewing threads
Tools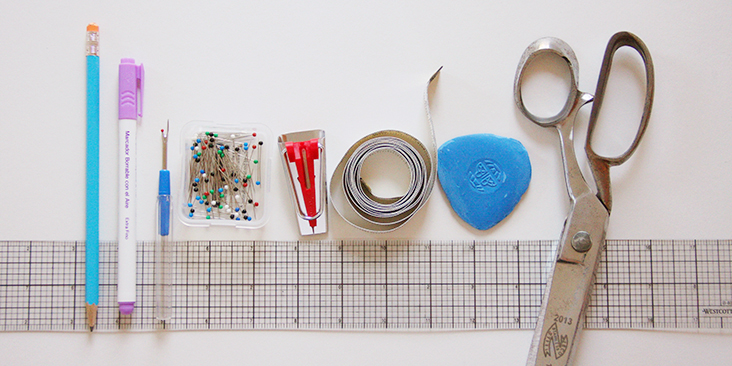 Scissors, pins, ruler, chalk, measuring tape, fabric marker, 18 mm bias tape maker, sewing machine
Difficulty
Beginner
Sewing Time
3-4 hours
Pattern
You can access the multi-sized printable PDF pattern by following this link HERE. All seam allowances are included. The model is wearing size S. If you wish to add inseam pockets to your dress, you'll find the pocket template and the instructions in this tutorial.
Remember to transfer all the notches onto your fabric.
Steps
Note: Prewash your fabric and tumble dry it until it is still slightly moist, dry at room temperature. Iron the fabric so it is easier to work with.
1. Pin the bodice front and back panels right sides together at shoulder seams and stitch at a 3/8" (1 cm) seam allowance. Finish the seams with your preferred method (serge or zigzag raw edges together) to prevent the fabric from fraying. Press towards the back.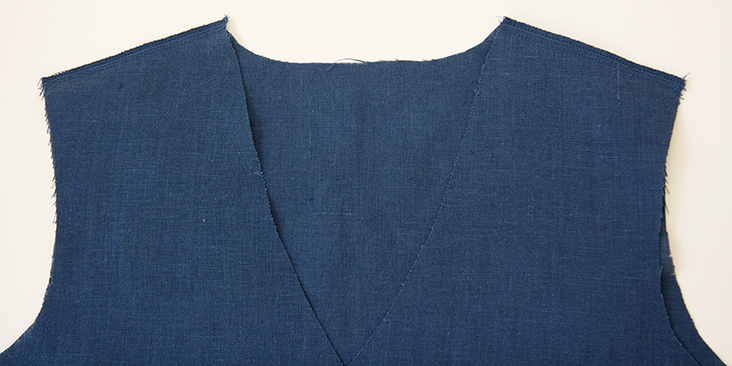 2. Join the two bias-cut rectangles diagonally to create one continuous piece. Then feed it through the tape maker to create bias tape. You can find detailed instructions in this tutorial.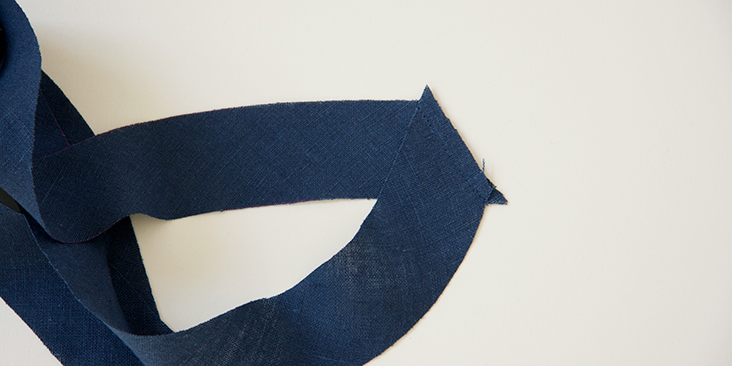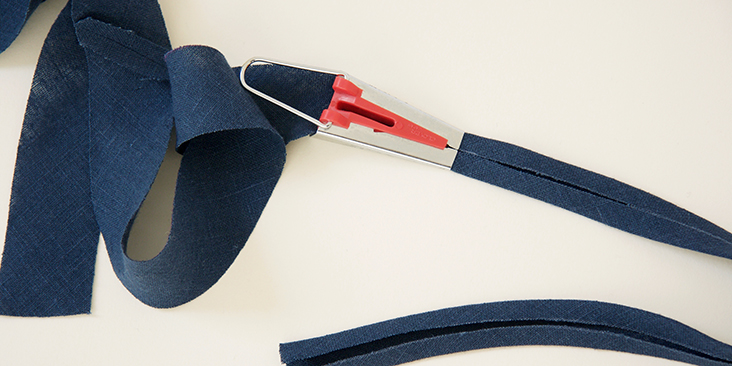 3. Following this tutorial, attach the bias tape all around your front opening matching the joint on the tape to the center back neck. Pin bias tape to neck and front edges, starting at the center back and placing outer crease along seamline.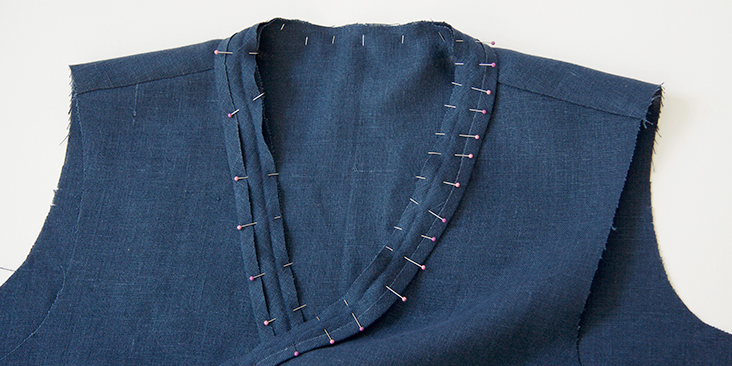 Stitch along crease, trim the seam allowance down to 1/4" and press the tape away from the bodice. Turn bias tape to the wrong side of your dress and pin the other edge of the bias tape to the bodice. Topstitch the tape in place (from the right side) in the crease or as close to the bottom edge as you feel comfortable.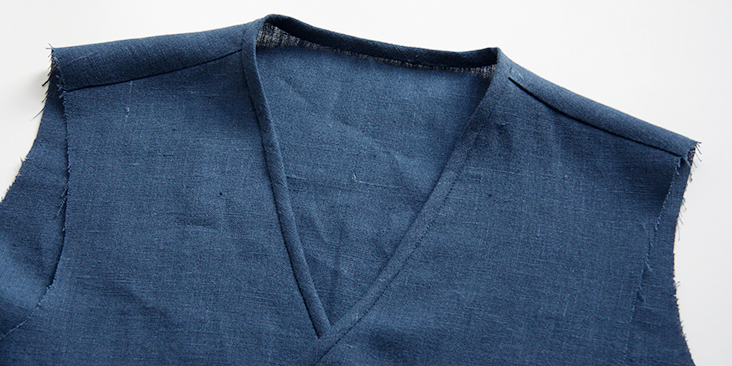 4. Prepare your sleeves for gathering. Run two lines of basting stitches on each sleeve cap, 1/2″ away from back armhole notch to 1/2″ from front armhole notch. If you don't know how to gather, please check our detailed tutorial HERE.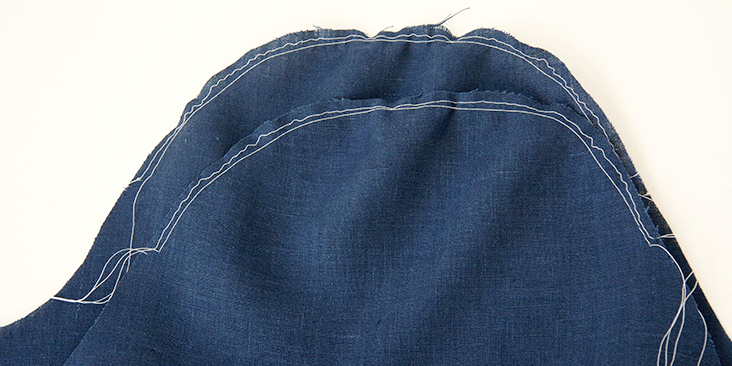 5. Pin sleeves to corresponding armholes right sides together and matching the notches. Pull basting threads to gather sleeve cap. Distribute fullness towards center of your cap and pin to bodice.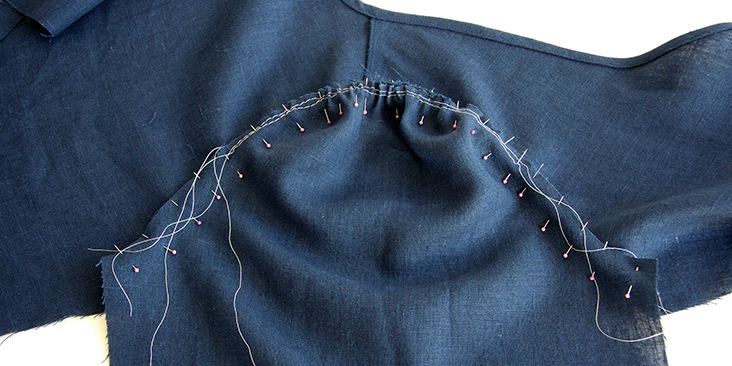 6. Stitch sleeve to bodice (3/8" or 1 cm seam allowance) gathered side up, trim seam allowance to 1/4" and finish using your preferred method. Press toward sleeve.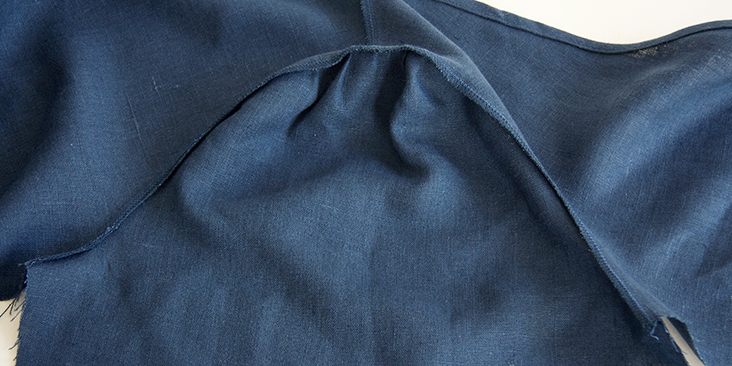 7. Pin (matching underarm seams) and stitch the side seams and the underarms all in one seam at a 3/8" (1 cm) seam allowance, then grade and serge/zigzag the raw edges together. Press seam allowances towards back.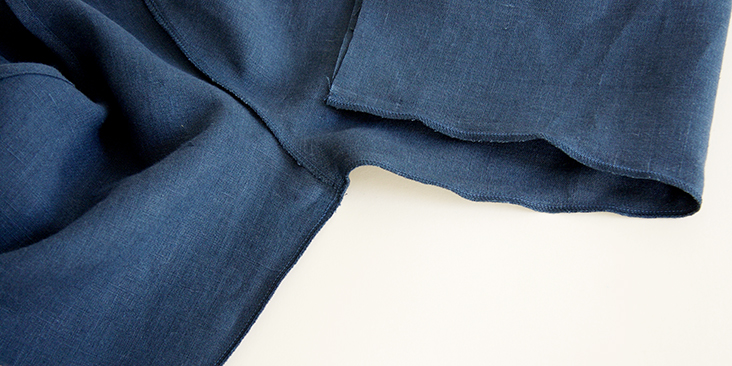 8. Finish the sleeve opening with a rolled hem. Fold the fabric twice to the wrong side (3/8" to 1/2"). Press, pin and edgestitch.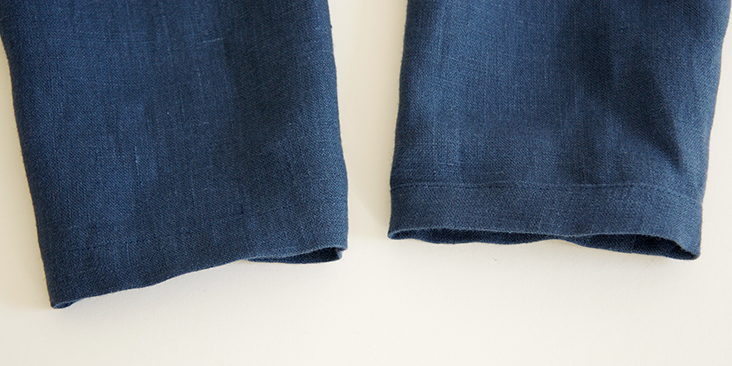 Time to sew the skirt.
9. Take your two front skirts and fold the straight center front edges twice to the wrong side (first 3/8", then another ½"), press, pin and stitch in place. Remember to backstitch at beginning and end of seam.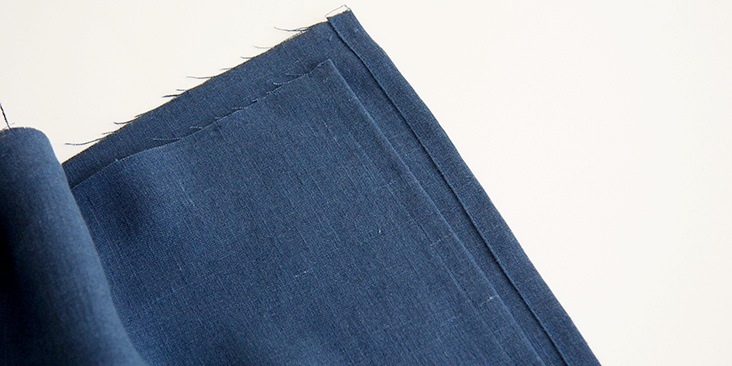 10. Pin and sew front and back skirts right sides together at side seams. Finish the raw edges and press towards back.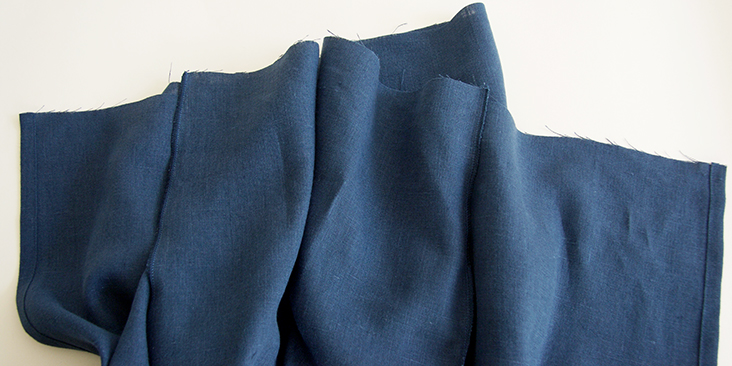 11. Run two lines of basting stitches along the waist edge of your assembled skirt. Each skirt panel should have its own basting stitches so stop before each side seam. Use contrasting color thread and leave long tails.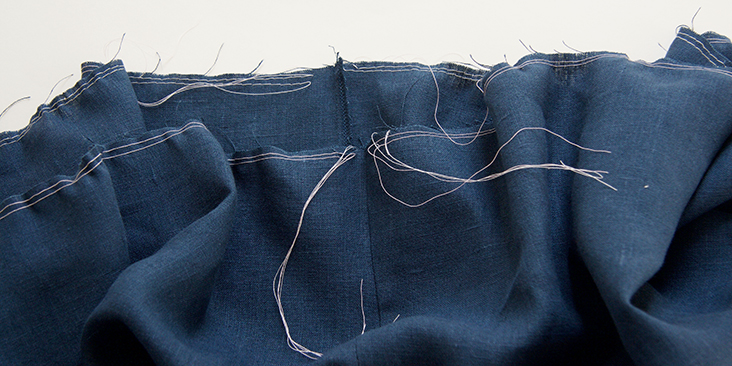 12. Pin your skirt to bodice right sides together matching side seams and the two center backs. Gather your fabric evenly in between the pins.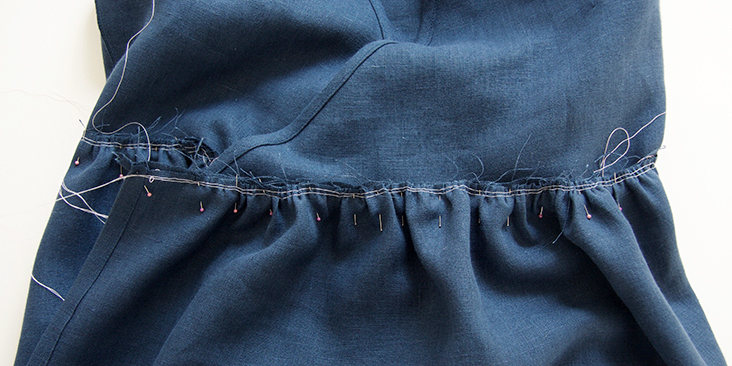 Stitch skirt to bodice at a 3/8" seam allowance, trim and finish the seam. Press towards bodice.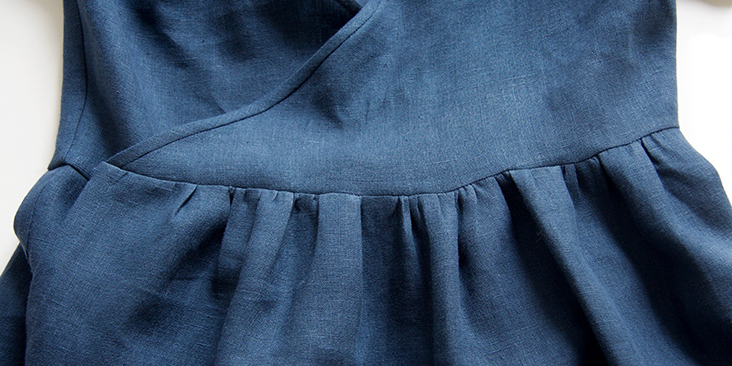 13. Finish the bottom hem. Fold fabric twice to wrong side: 1/2" to 1". Press, pin and edgestitch.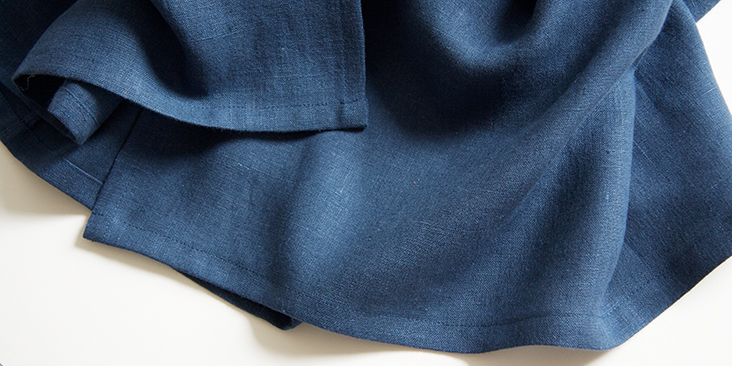 Time to attach the ties.
14. Cut your 2 yards of ribbon into four equal pieces, around 18" long.
15. Create a narrow rolled hem at one end of each tie. Stitch in place to secure.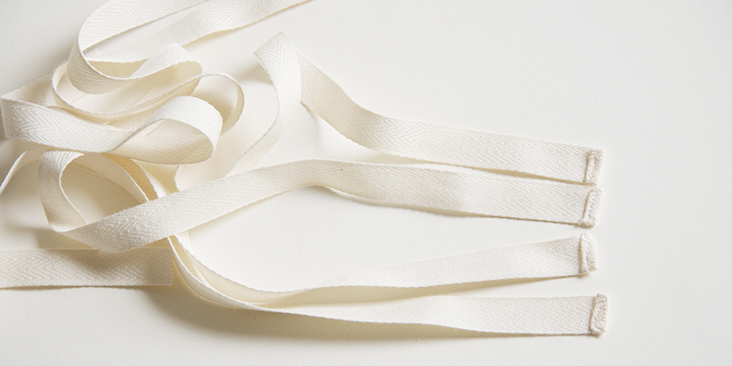 16. Take two ties, tuck in the other raw end and attach them to the inside of the dress, at the right and left waistline edges (where the skirt and bodice seam allowances meet). Sew a few extra times over the tucked in ties to extra secure them.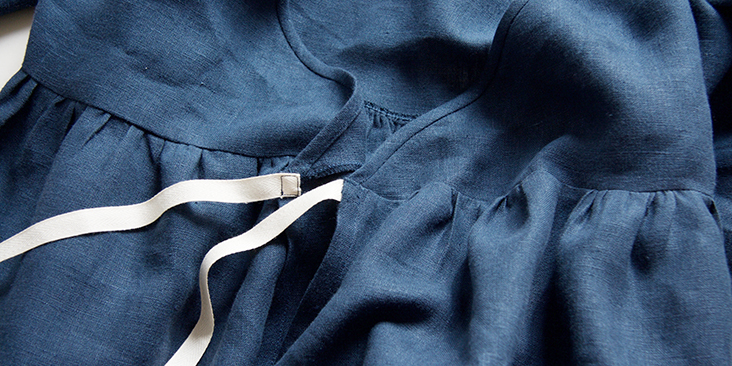 17. The third tie is attached to the inside of the dress, at the right front side seam at the waistline edge. The last tie is attached to the outside, on the right fabric side of left front side seam at the waistline edge.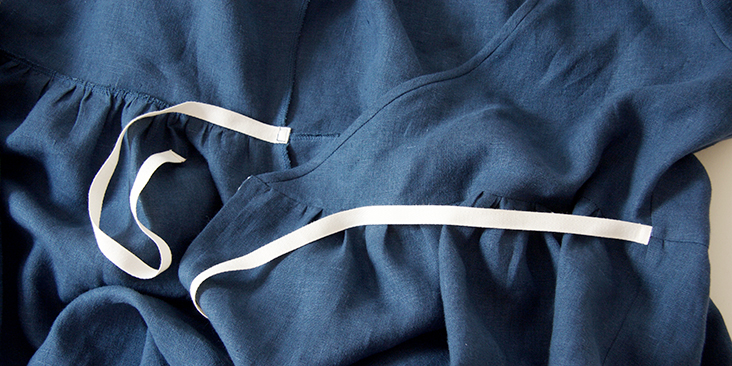 Et voila!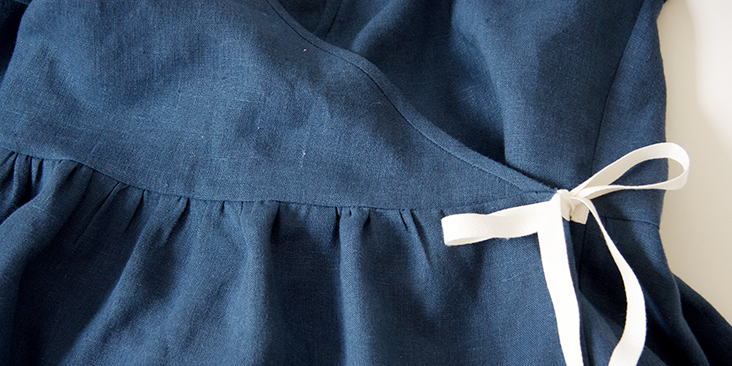 We love seeing what you make! Don't forget to share your pictures and tag your creations with #FabricsStoreNoorPattern hashtag.
Browse our selection of linen fabrics and find the fabric that inspires you for this project!
Subscribe