Sewing Glossary: How To Make Your Own Bias Tape Tutorial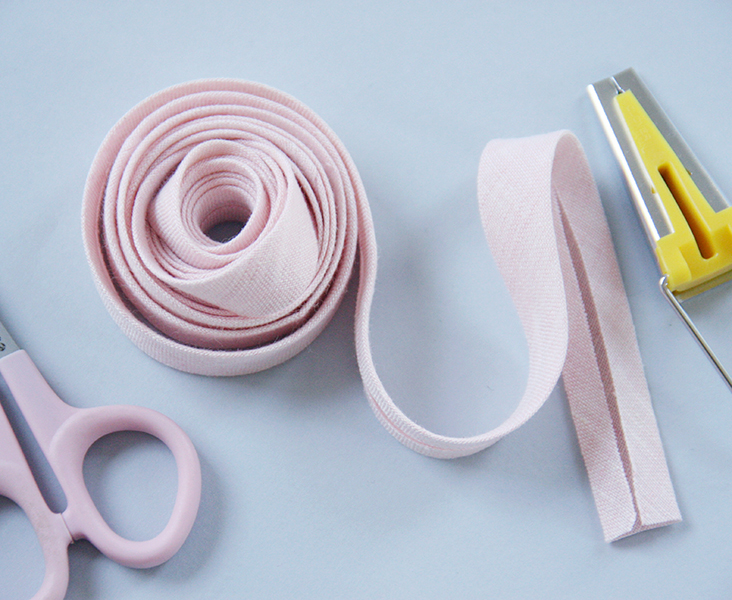 Bias tape is something that is often used in sewing for binding necklines and armholes or finishing raw edges. As its name suggests, bias tape is a long strip of fabric that's been cut on the bias of fabric (diagonally across the grain of the fabric). Because it is cut on the bias, it's stretchier and more flexible, which makes it really easy to sew around curves and irregularly shaped edges. Plus, it allows to enclose all raw edges for a neat and clean finish.
And even though you can buy it in the store, chances are that you might not find the right color or texture, especially if you like to sew with linen as much as we do, since the store-bought bias tape is usually made out of cotton.
In this easy tutorial we are going to show you how to make your own bias tape to match your fabric!
Materials & Tools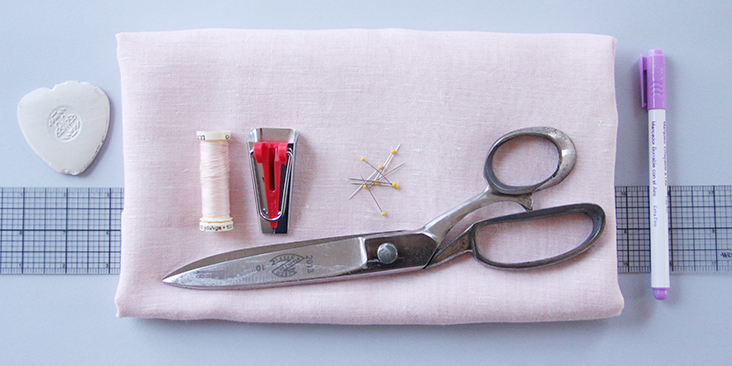 Fabric of your choice (we are using our beautiful yarn-dyed medium weight linen in IL042 894 Premier Finish color).
Matching sewing thread, ruler, bias tape maker, fabric pen or chalk, scissors, sewing machine, iron
Difficulty
Beginner
Time
1 hour
Pattern
Pre-cut your fabric strips to a width double that of your finished bias tape. For example, if you are using the 1/2″ bias tape maker, you will need to cut your strips of fabric to 1″ wide.
We are using a 3/4″ bias tape maker, so we will be cutting our fabric into multiple 1,5″-wide strips.
You can also check the instructions included with your bias tape maker to cut the strips to the appropriate width.
Steps
Note: To avoid shrinking and wrinkling, prewash your fabric and tumble dry it until it is still slightly moist, let it dry in room temperature.
1. Iron the fabric so it is easier to work with.
2. Cut yourself a rectangle of fabric. The larger it is, the longer your strips will be.
3. To find the bias, place the fabric flat onto the table and fold it diagonally so that the edges meet to form a triangle. Mark the fold by pressing it and putting a few pins to secure the material as you are working on it.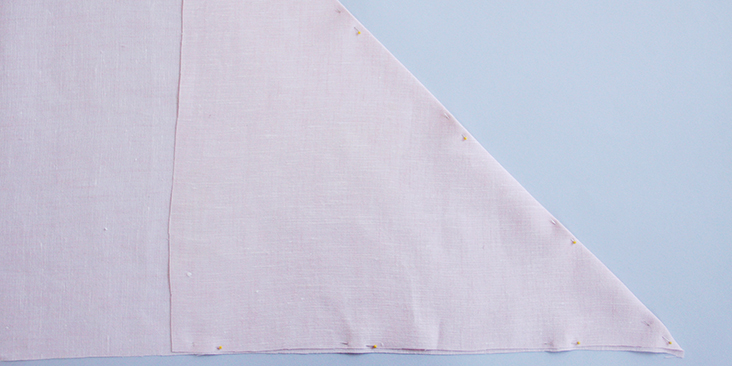 4. Parallel to the bias (the line that you've just pressed), carefully measure out and mark the width of each strip with chalk or a fabric marker. If you have a bias tape maker, make yours according to its measurement.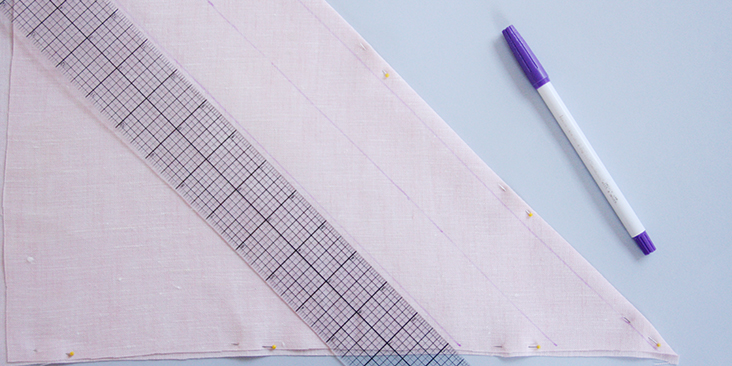 As you get to the corners, your strips will become shorter. It's best to just discard the corners rather than sewing all those tiny strips together.
5. Now cut out your strips. Work your way from outside of the fabric, into the bias fold.
Your bias strips are now ready and you can notice how stretchy they are. This is precisely why they are cut on the bias in the first place, to get this stretch and flexibility needed when binding curved edges.
Once you've cut your strips, you'll need to sew them together before putting them through the bias tape maker. There are a couple of ways to do this. We are going to show you our preferred method.
6. Place the bias strips right sides together at a right 90 degree angle with the top left corner of one edge matching the bottom right corner. Pin.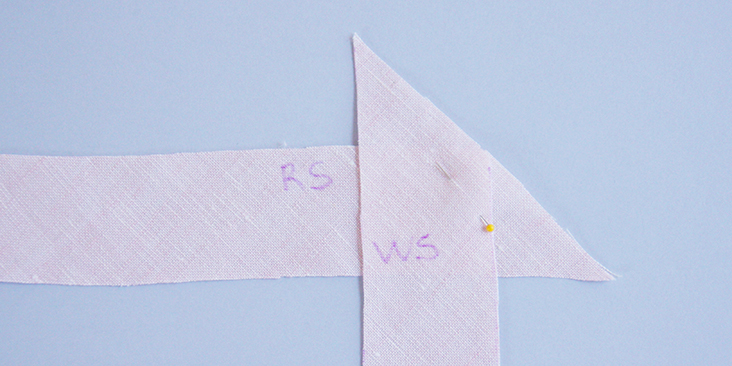 7. Sew diagonally across, as in the photo, with a 1/4-inch seam allowance. Remember to backstitch at both ends. Trim the seam allowances down to ¼".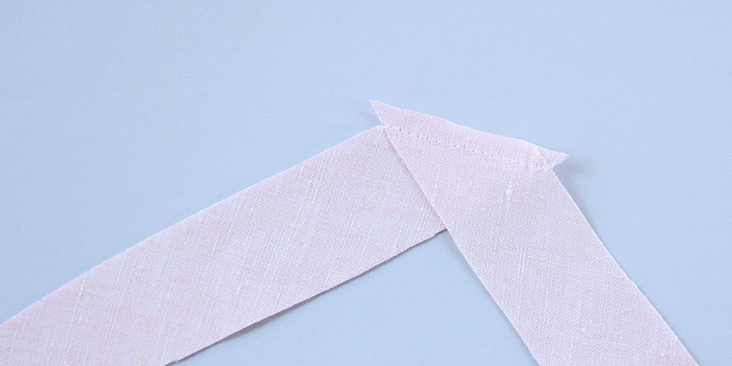 8. Press the seams open and trim the corners that extend beyond the strip.
9. Finally, insert one end of the strip into (wrong side facing you) into the wide end of the tape maker. You might need a needle to pull the fabric through.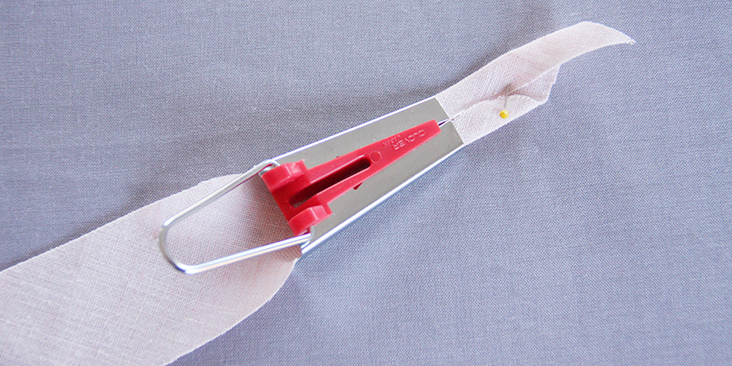 10. Pin this end of the strip to the ironing board and gently pull your bias tape maker and press the fabric down as you go.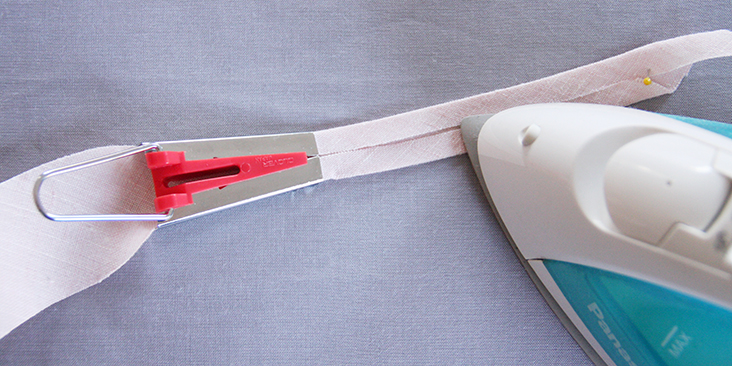 Making bias tape with a bias maker is really easy and fast, but even if you don't have one, you can still make your own bias tape just using your iron.
Fold your binding in half (wrong sides together) and press. Then fold your outside edges in, lining them up with the center crease you made earlier and iron them down.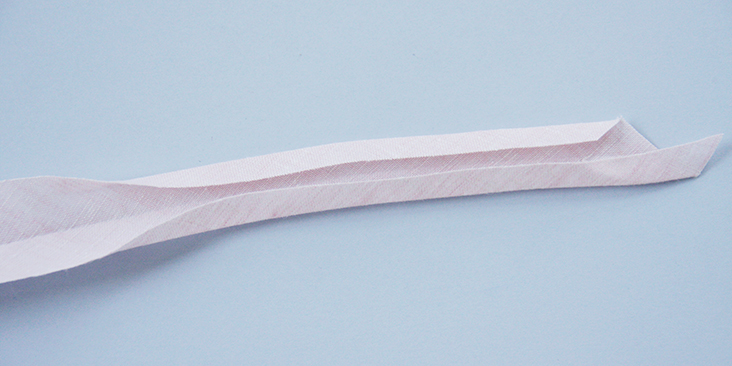 It takes a little longer but gives the same results.
Your custom-made bias tape is now finally ready! This method is great when you need to make short amounts of bias tape for binding a neckline and a couple of armholes. Next week we'll be showing you how to make a continuous bias tape from a rectangle of fabric for projects that require larger amounts of bias tape.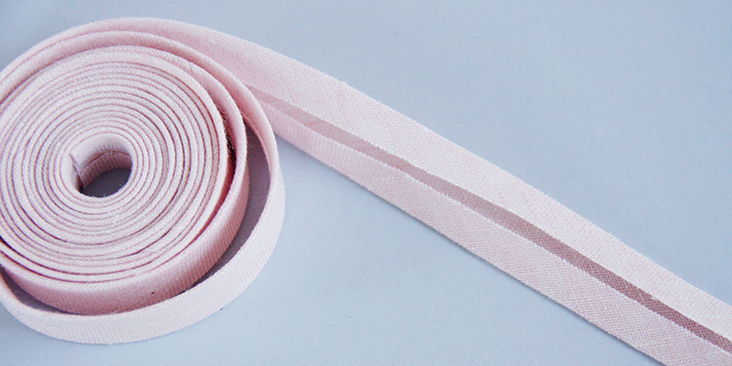 With all the possibilities of fabric and color choices, you can really add that extra personal touch to all your projects.

Check out our whole selection here!
Subscribe