Is Fashion the New F-Word?
Worldwide, short product lifecycles, including cheaply made garments produced at high volumes, textile waste, and production waste byproducts occurring down the supply chain have resulted in 92 million tons of annual landfill and incinerated pollution.
Beyond the physical waste produced, the exploitive working conditions in clothing manufacturing have broad social ramifications on human health and safety.
Fast fashion marketing and the normalization of overconsumption have contributed to significant environmental and social degradation. No wonder "sustainability" has become a buzzword in the fashion industry.
What is Sustainable Fashion?
Sustainable fashion is the practice of creating clothing and accessories in a way that minimizes negative environmental and social impacts. Sustainable fashion practices include principles and practices that prioritize ethical sourcing, responsible manufacturing, and mindful consumption.
A move toward more sustainable fashion and clothing manufacturing can include incorporating practices like:
Sustainable materials include organic cotton, recycled polyester, and other eco-friendly fabrics.
Ethical manufacturing considers fair labor practices, ensures safe working environments, and promotes transparency in supply chains.
Minimizing the carbon footprint by addressing the environmental impact of their operations.
Bringing transparency and accountability to sustainability efforts.
Collaboration and innovation with NGOs, industry organizations, and even competitors to share best practices and drive systemic change and new business models.
Consumer education and engagement about the importance of sustainable fashion and making eco-friendly choices around consumption.
The Circular Economy
A promising approach to reducing fashion's impacts is the circular economy model. Eschewing the traditional linear fashion model (take-make-dispose), a circular economy aims to keep resources in use for as long as possible, extracting maximum value from them and minimizing waste.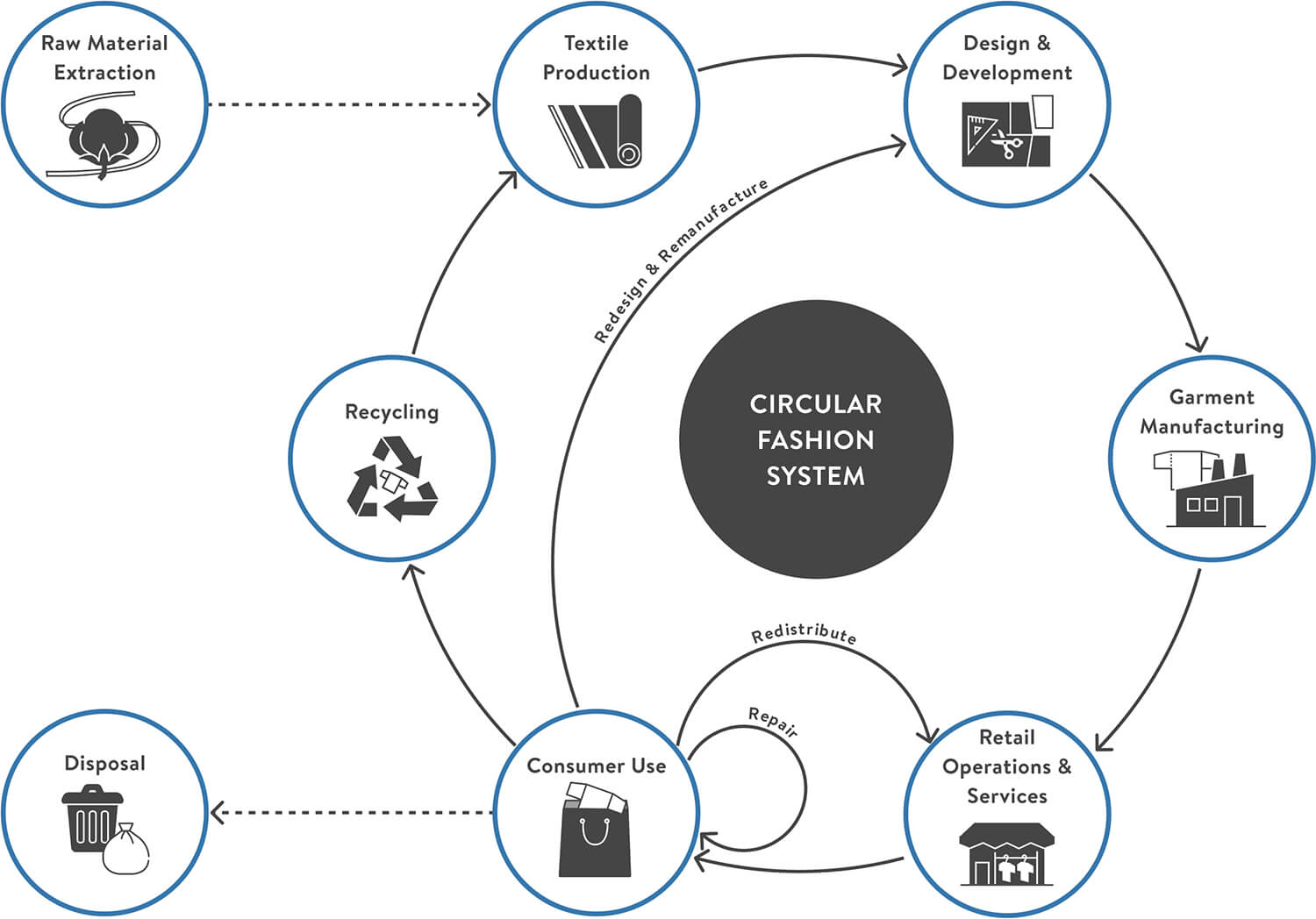 Circular practices can look like:
Extending product lifespans by prioritizing durability, repair, and maintenance and promoting reuse.
Recycling and upcycling through collecting and reusing textile waste to create new fibers or materials.
Designing for low-waste production or disassembly, producing less off-cut waste, and making garments easier to dissemble for recycling.
Prioritizing using sustainable and renewable materials that can be continuously recycled or biodegraded.
Closed-loop supply chains where materials are recovered and reintroduced into the production cycle.
Companies who have led efforts in this area have introduced take-back programs designed to encourage consumers to return worn items they no longer want for textile recycling or repair and re-sale. These include names like Patagonia, Eileen Fisher, Stella McCartney, Vieja, Reformation, Everlane, and Outerknown.
Sustainability consulting companies and collectives like Looptworks, Pentatonic, the Sustainable Apparel Coalition, The Renewal Workshop (now Bleckman), Clean Clothes Campaign, and For Days are working with apparel companies and consumers to find new and innovative ways to reduce the environmental and social impacts of fashion.
Your Role in Reducing Fashion's Dirty Impacts
Consumers have also played a role in making fashion a dirty word and have a responsibility to help change the narrative.
Social media has only exacerbated the dark side of fashion through the rise in overconsumption via influencers' constant promotion of the latest trends and the heightened environment of social comparisons and FOMO. Roughly 40 percent of Gen Z consumers shop for fast fashion brands. The average American still generates around 82 pounds of textile waste per year. Behemoths like SHEIN, Zara, H&M, and ASOS continue to pump out cheaply made goods filling up landfills globally.
It's time for individuals to be mindful of their consumption habits, critically evaluate their needs versus wants, and seek sustainable and ethical alternatives. You can drive the movement forward by supporting and demanding sustainable fashion options, making informed choices, and advocating for more responsible practices throughout the industry.
Fashion still has a long way to go before it's truly sustainable. Consumers, industry stakeholders, and policymakers are vital in driving these changes and creating a more sustainable and waste-conscious fashion industry.
Subscribe