Akuri Recipe: Spicy Eggs The Parsi Way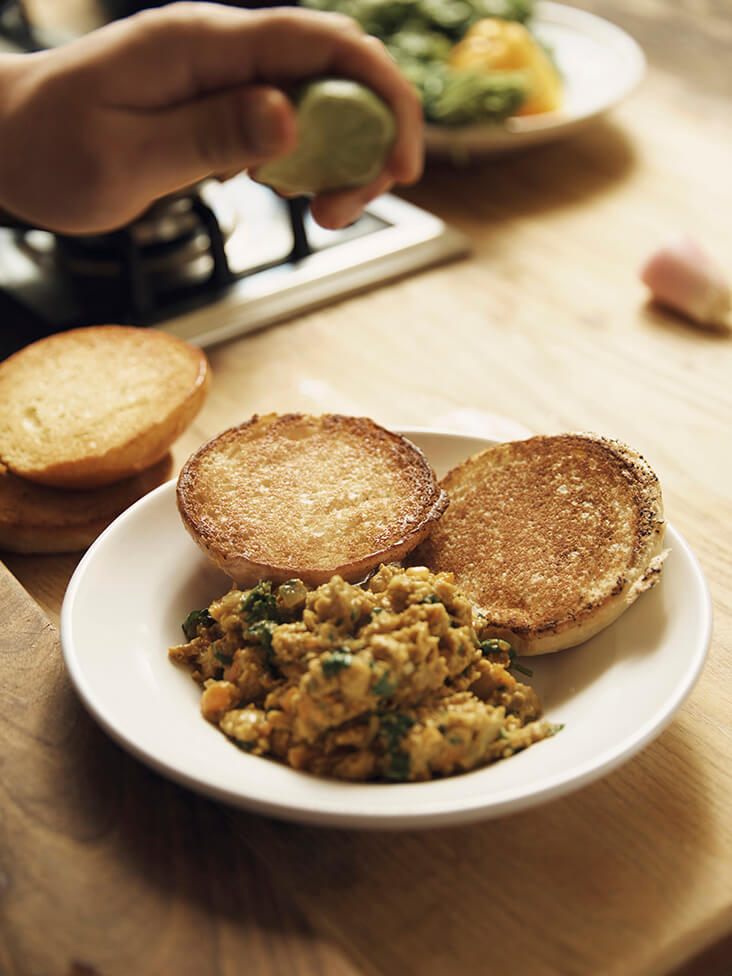 Serves 4
The Parsis in India were an industrious community. During British rule, many left their small villages and came to the large cities to work alongside the British and Dutch, facilitating trade with the locals for sail making, fabric weaving, tea growing and even opium from China. Parsis being great cooks and having a very appealing cuisine began opening up many cafes to feed the workers and traders of the city, the delicious cuisine appealing to all. Parsi cafes were, and still are known for their acceptance of all colours, creeds and casts. Businessmen and financiers would sit shoulder to shoulder with clerks and delivery men, all with the sole intention of enjoying great food and hot chai.
Parsis are very fond of eggs and there are many egg dishes within the Parsi repertoire, none more well-known than the deliciously spicy akuri. I have had many uncles and aunties in India teach me their version of akuri. I could sense the pride brimming from them as they taught this English bourn Parsi boy who wanted to learn our community's most iconic dish.
My favourite version of akuri was taught to me by my uncle Adil. After a gruelling 5-day photo shoot in the 40C+ summer heat of Gandhidham in Gujerat for the PARSI cookbook, myself and friend/photographer Oli were due to catch the midnight train back to Bombay on a sleeper train that would deliver us to the big city in the morning. My uncle Adil arrived home from work that evening with bags filled with herbs, vegetables, eggs and bread and exclaimed he would be cooking akuri, that classic breakfast dish, for dinner. After some chopping, dicing, cracking, whisking, sizzling and scrabbling we sat down in the back garden, the heat had abated to a relatively calm 29C and tucked into the most delicious spicy, soft scrambled eggs with warm toasted soft buns. What made this my favourite version of this classic Parsi dish wasn't the perfectly spiced scrambled eggs or the liberally buttered warm toasty buns nor was it the hot spicy sweet tea we drank as we guzzled the eggs down. It was the company, friends and family, all sitting together talking, laughing, spending quality time with each other, that's what made this akuri so special.
–
6 large eggs, cracked and beaten
2 tablespoons of butter or ghee
1 medium red onion finely diced
1 teaspoon of garlic-ginger paste
1 very ripe medium tomato diced small
1 small bunch of coriander, roughly chopped
3 small green chillies, finely chopped (add more for a even more fiery akuri)
1/2 a teaspoon of turmeric
2 teaspoons of cumin-coriander powder
1 teaspoon of salt
–
1. Melt the butter in a heavy bottomed frying pan on a medium to high heat. Add the chopped onions and stir for 3 minutes until they become translucent then add the garlic-ginger paste and lower the heat slightly, frying for a further 2 minutes until mellow notes of caramelisation hit the nose.
2. Stir in the chopped tomato, turmeric, cumin-coriander powder and salt and once the tomato begins to bubble and stew (this will take 3 minutes or so) add in the beaten egg.
3. Use a spatula to drag the liquid egg through the pan, back and forth, back and forth and in a short period of time the egg will form into delicate pieces entangled with the tomato and spice. I say drag because this action produces chunkier pieces of egg. If you are more inclined to smaller pieces of scrambled egg then a moderately paced stir is what you are after.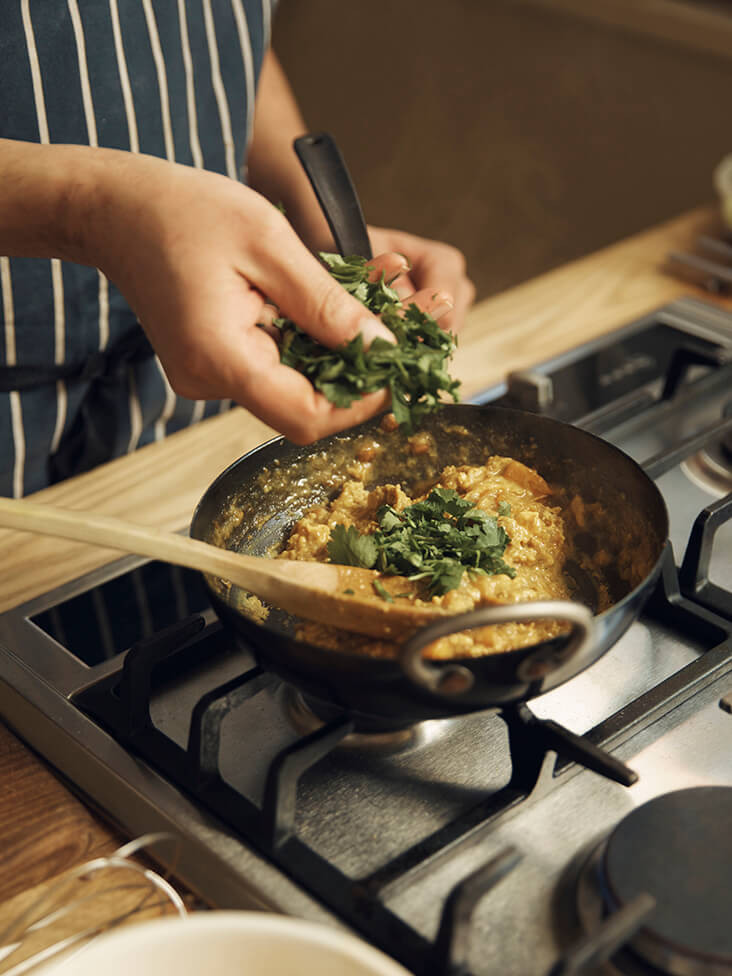 4. Once the eggs have achieved your desired texture (some like it runnier than others, I myself prefer a well-cooked akuri, allowing the tomato to add the necessary moisture) throw in the chopped chilli and coriander folding it through the pan.
5. Serve your akuri immediately, making sure you have plenty of buttered soft white rolls, gently warmed through in the oven or on the stove as shown in the photos below and endless cups of hot milky tea to take you through the morning…or night.
Subscribe