TUTORIAL: How to Make Waffle Bath Towels
Is there anything better than getting out of the bath or shower and wrapping yourself up in a soft towel? While your daily bathing routine might not feel luxurious, our waffle weave bath towels can change that. To turn your bathroom into a fancy spa, just follow this tutorial and make a full set of bath towels using our gorgeous waffle weave linen fabric!
These waffle towels aren't your regular plush bath towels, but that's why they're so great! The unique flat weave of a waffle towel allows it to absorb more water, dry much quicker and stay fresher longer than its plushy counterpart. That means no more smell and drying yourself off with a towel still damp from yesterday's shower. While waffle towels are thinner than other bath towels, their textured surface feels soft and warm on skin. Plus, they get softer with every wash!
Our gorgeous waffle weave fabric is a linen & cotton blend that is Oeko-Tex certified and free of harmful toxins or irritants. Point scored for eco-friendliness! It is wider than our regular selection and measures 84" along the crossgrain. It arrives flat with a subtle basket-like weave and the magic happens after the first wash – the threads that are woven to make the outside of the squares lift up, while the threads that are used to weave the inside drop down, resulting in a beautiful plushy waffle effect. It ages beautifully, gaining both strength and character with every use.
In this tutorial, we will show you how to make your own bath towels and finish the edges using two different techniques – with a regular double-fold hem or a bias tape. Whichever method you pick, we are sure you'll enjoy the sewing experience and the final results!
Pattern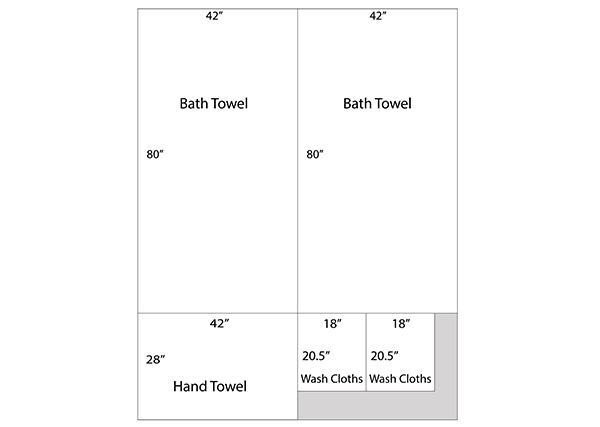 The diagram provides measurements for a full set of 5 towels that you can make out of just 3 yards of fabric! The towels come in three sizes: two bath towels, one hand towel, and two washcloths. Cut the fabric according to the cutting layout above.
You may find your pieces are really big, but keep in mind that the cloth will shrink once you pull the towels from the drier. It shrinks about 17% the weft of the fabric (width-wise) and 28% warp of the fabric (lengthwise). All of our towel measurements come over-sized to allow for shrinkage and include seam allowances.
Difficulty
Beginner
Sewing Time
1-2 hours
How to make a towel with hemmed edges
The basic double-fold hem is the most common finishing technique for all kinds of projects. It is simple to do and does not require many skills, making it suitable even for beginners. As the name indicates, a double-fold hem is made when you fold the fabric over on itself to the wrong side two times. We are going to show you how to achieve a clean machine stitched finish for your towels.
One of the first rules in sewing is to pre-wash your fabric before you cut it to ensure it doesn't shrink. With the waffle weave fabric, however, we recommend working with unwashed fabric and only run it through the machine once you've finished sewing. It's just so much easier to work with this fabric when it is still flat and crisp and not scrunched up after the wash and dry.
Materials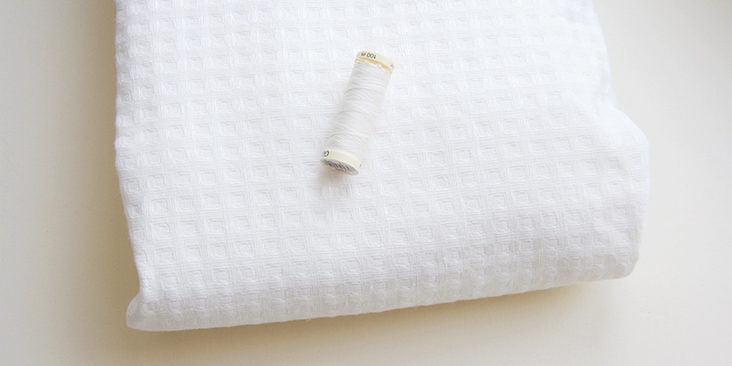 For a full set of 5 towels, you will need 3 yards of the IS010 Linen/Cotton Waffle Weave Toweling Fabric and a matching sewing thread.
Optional: Twill tape for the hanging loop.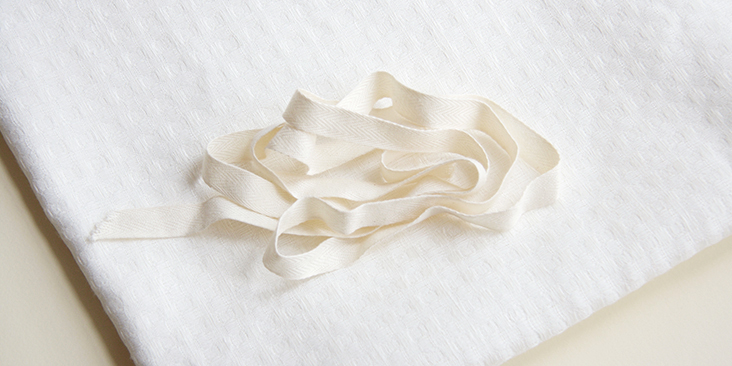 Tools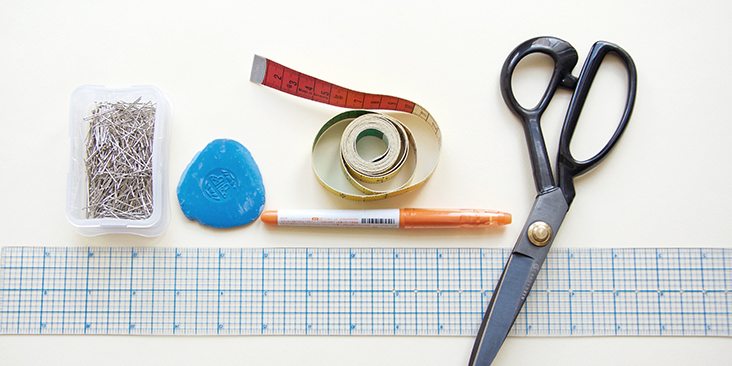 Scissors, pins, ruler, chalk or fabric marker, measuring tape, sewing machine
Steps
1. Lay out your fabric and use the diagram provided in the pattern section of this tutorial to cut out your towels.
2. Cut off the selvedge.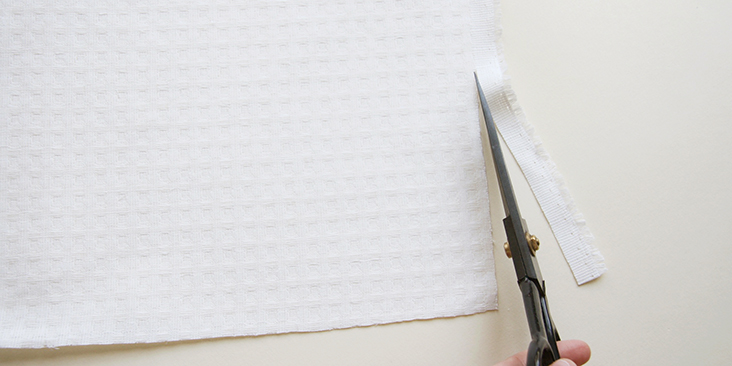 3. Starting with the long sides, press the raw edges ¾" to the wrong side.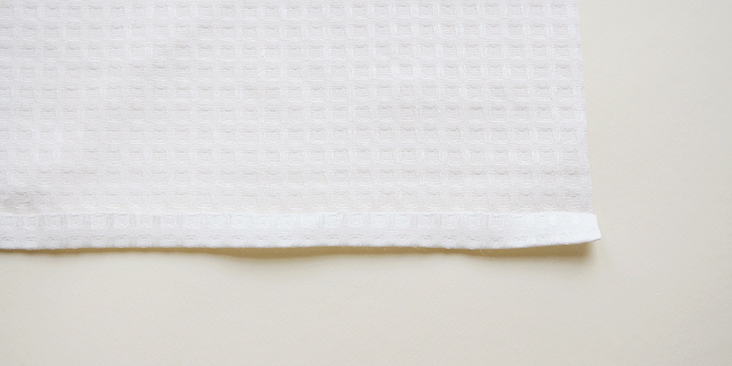 4. Press another ¾" and pin.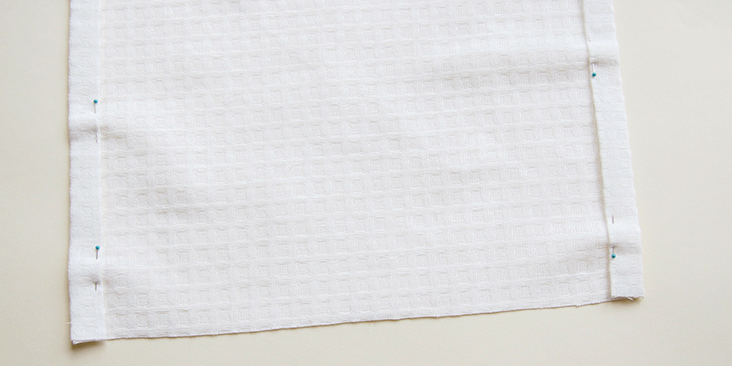 5. Stitch close to the inner folded edge to secure the folded edges.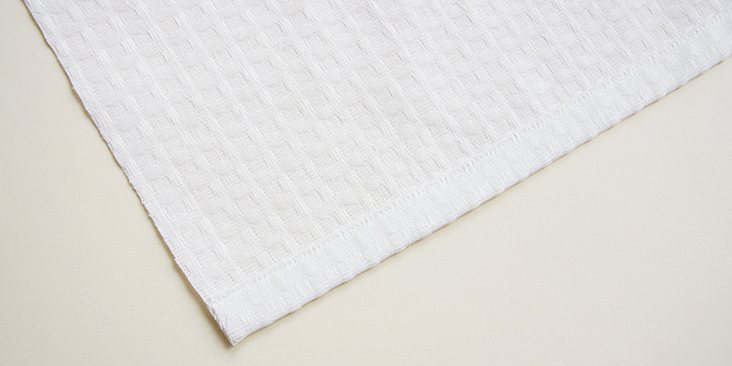 6. Now press the short sides of your towels ¾" twice to the wrong side, then pin and edgestitch.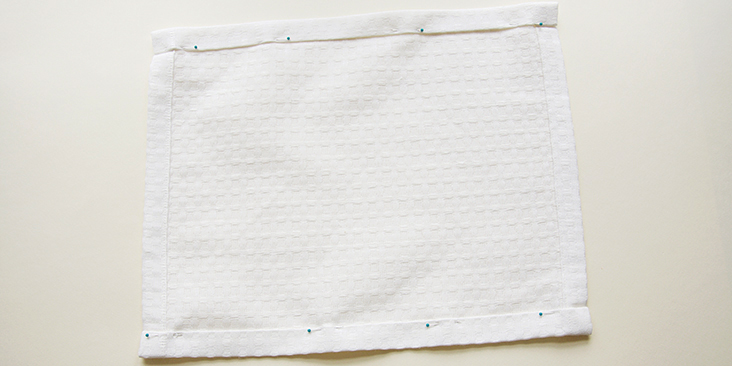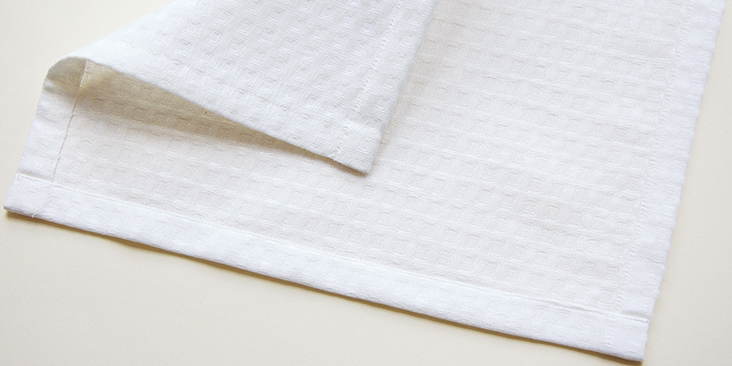 7. Lastly, throw your finished towels in the washer and drier and get ready for the surprise! The fabric will shrink after washing and form luxurious little honeycombs that are the hallmark of waffle weave.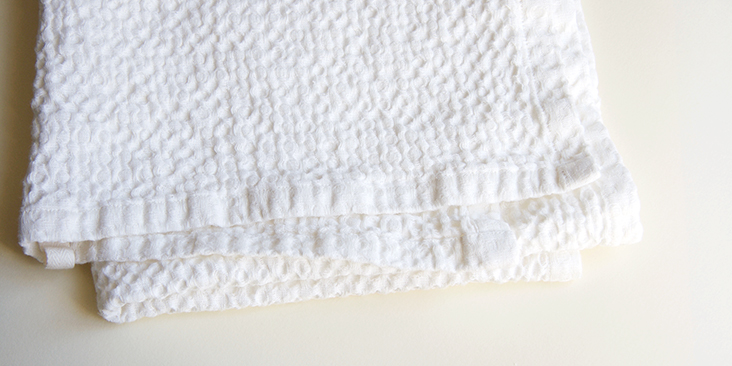 Note: To wash your waffle weave towels, toss them in your washing machine with your regular mild detergent. Do not use fabric softener or bleach. Tumble dry on low.
Tip: If you would like to add a little hanging loop to your towels, just cut a small piece of twill tape (5" long), fold it in half and slip it under the folded hem. Pin and stitch to secure.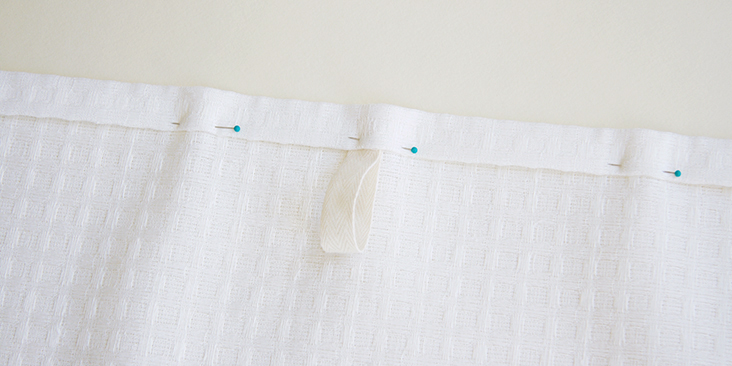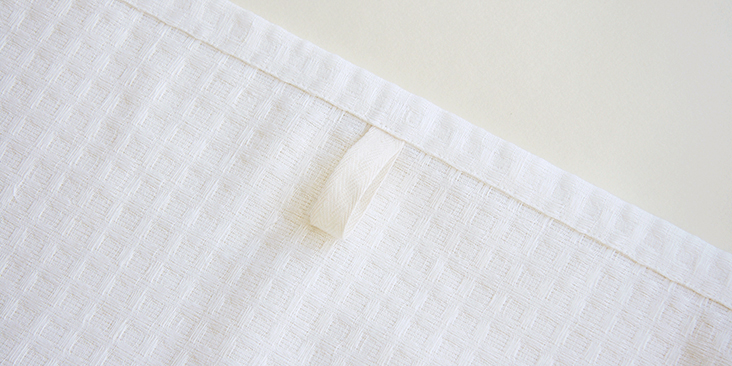 How to make a towel with bias bound edges
If you would like to take your sewing game up a notch, you could totally finish the edges of your towels with some bias tape. This technique is a great and slightly more sophisticated alternative to the basic double-fold hem and provides a clean and neat finish to your homemade towels. Plus, it's a great way to add a pop of color simply by using contrasting bias tape.
Materials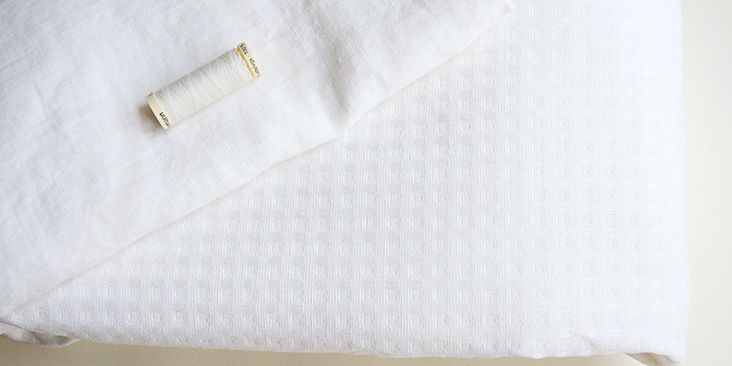 For a full set of 5 towels you'll need 3 yards of the IS010 Linen/Cotton Waffle Weave Toweling Fabric, 1 yard of our regular medium weight linen (pictured here is IL019 BLEACHED FS Signature Finish 100% linen) for the bias tape. You may use matching or contrasting color depending on the look you are trying to achieve.
Matching sewing thread.
Tools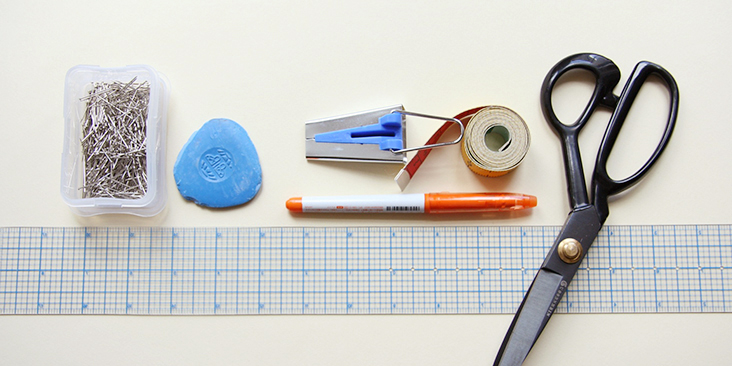 Scissors, pins, ruler, chalk or fabric marker, 1" bias tape maker, measuring tape, sewing machine
Steps
To bind our towels, we recommend using regular medium weight linen. It will reduce bulk and create a nice clean finish.
1. To start, make long strips of bias tape. We have a great step-by-step tutorial that explains how to make your own bias tape and join the strips together.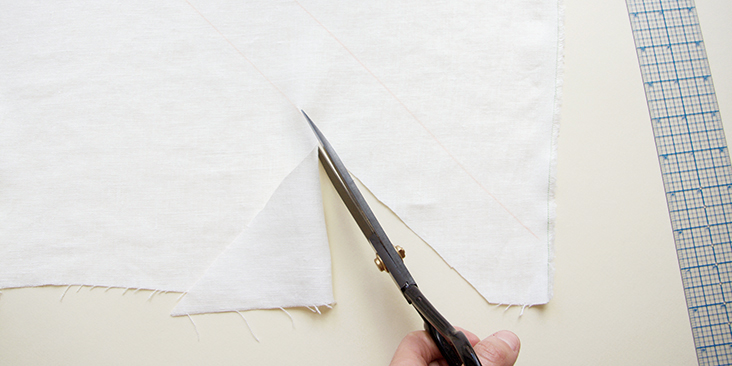 2. Insert one end of the strip into the wide end of the tape maker and press the fabric down as you gently pull it through.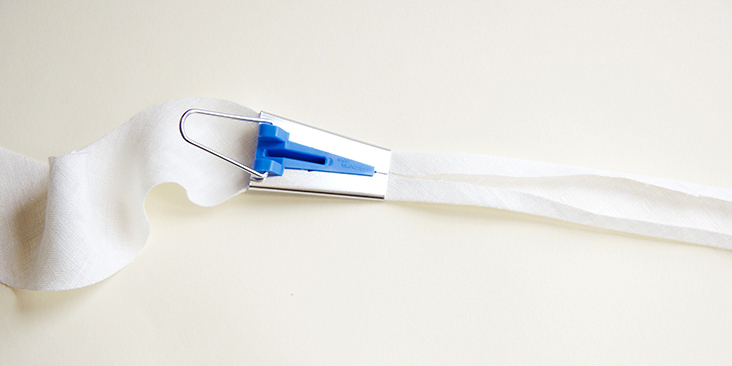 3. Unfold your bias tape and pin one of its raw edges to one straight edge of your towel aligning the two right sides together. Start in the middle of one side and fold the bias tape down into a triangle like this: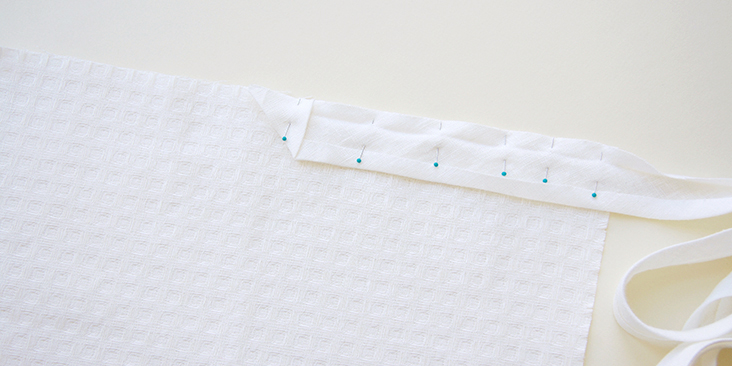 4. Stitch your bias tape to the fabric in the upper crease until you come to about seam-allowance distance away from the corner of your project (3/8″ in our example) and backstitch.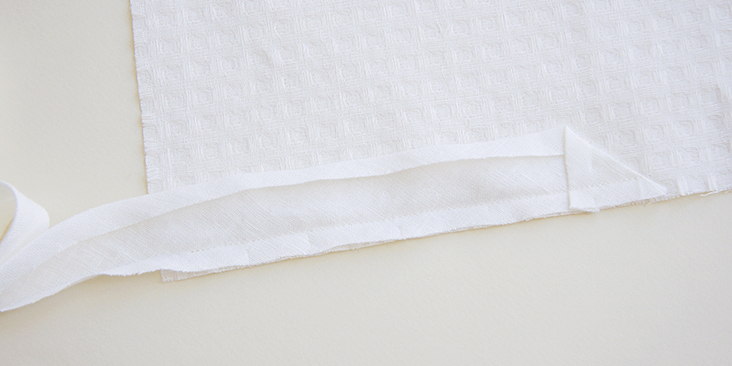 5. Fold your bias tape triangle up and to the right forming a 90 degree angle. Neatly finger press.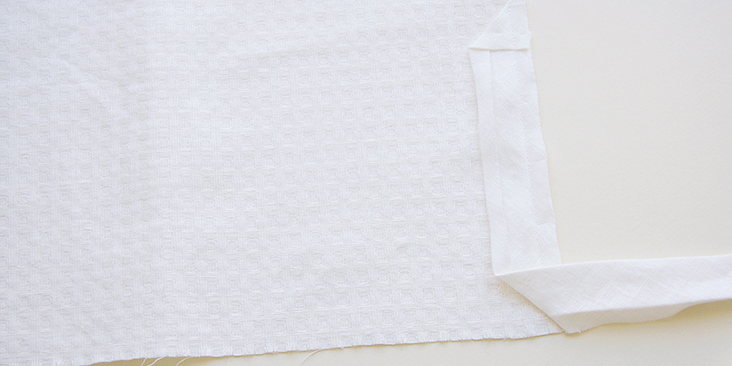 6. Then fold your tape around the other edge and pin again.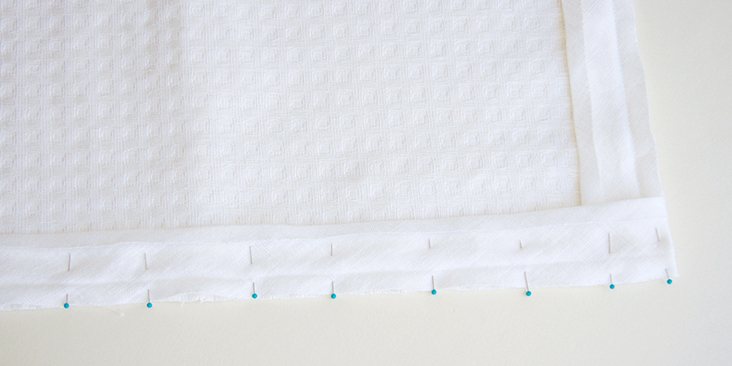 7. Starting exactly at the end of the previous seam, stitch your bias tape to the fabric in the upper crease until you come to about seam-allowance distance away from the second corner. Backstitch at the beginning and end of the seam.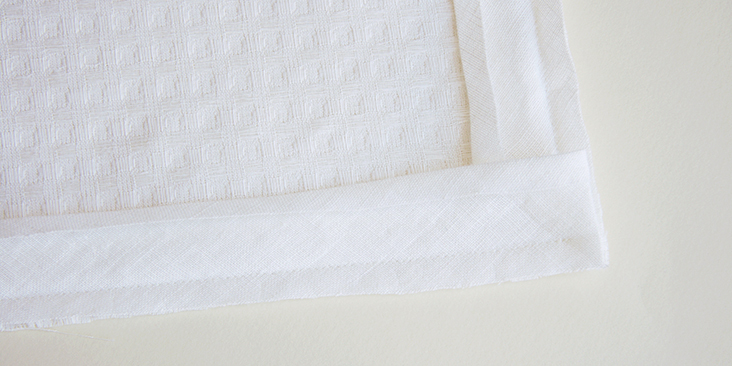 8. Repeat steps 5-7 for the remaining corners until you reach the other end of the tape.
9. When you get back to your starting point, overlap 1 inch the two tails and stitch over joining them together. Remember to backstitch.
10. Trim the seam allowances and lightly press the tape away from the towel.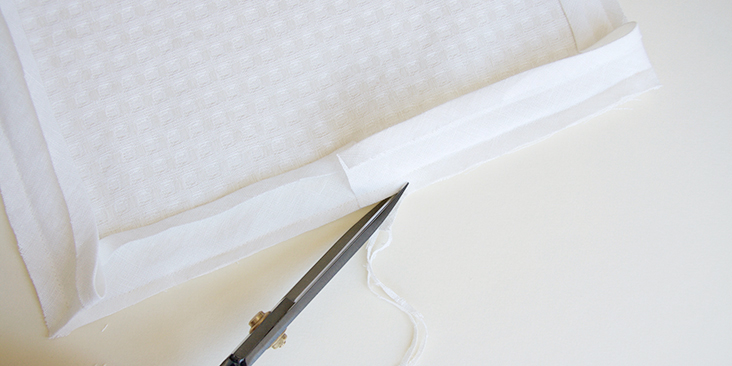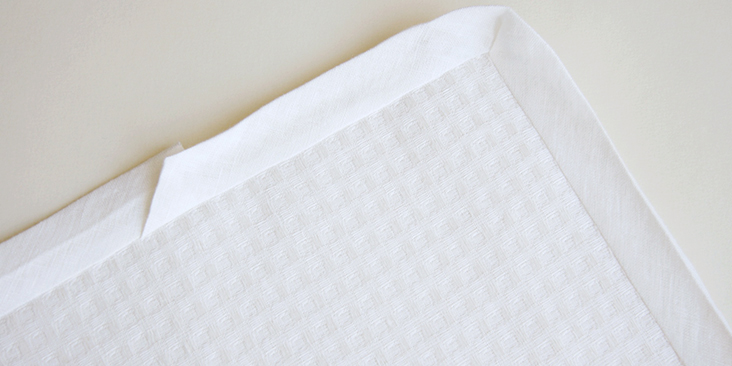 11. Carefully fold the tape over the stitching (to the wrong side of your fabric) taking care to cover the stitching as you fold. At the corners, check that it is folded into a nice diagonal. Pin.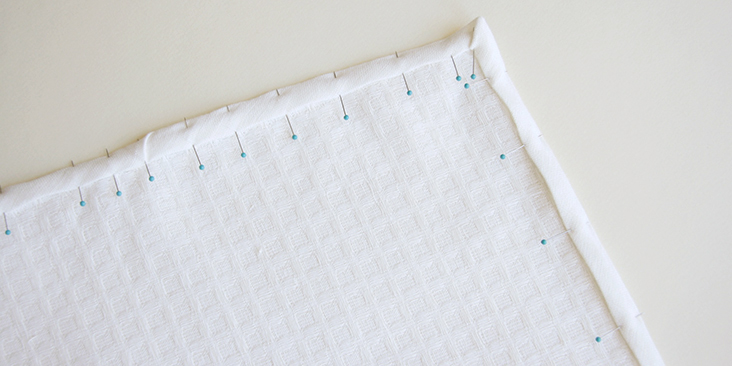 12. Topstitch the tape in place (from the right side) in the crease or as close to the bottom edge as you feel comfortable. Remove the pins as you go.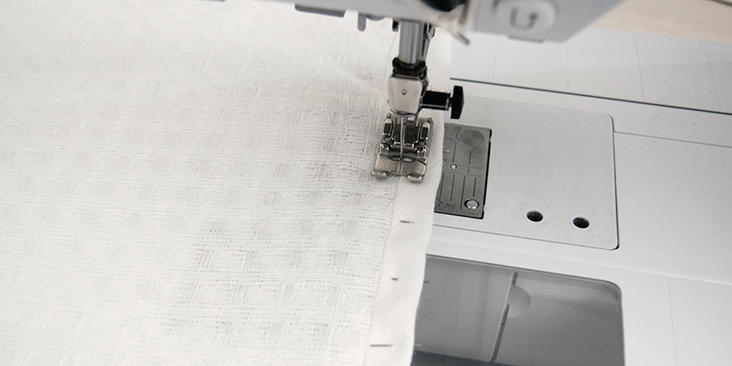 13. Lastly, machine wash and dry your towels.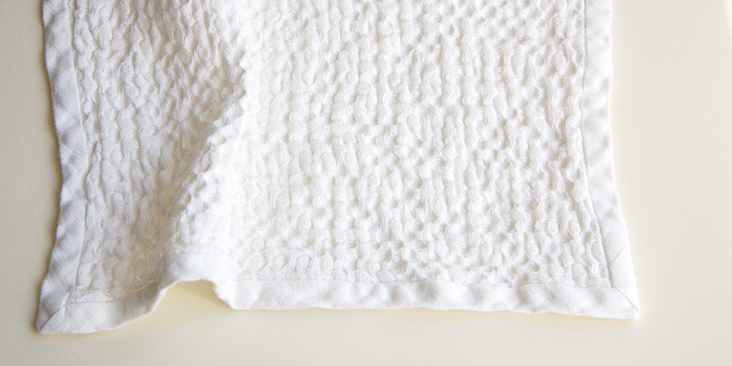 Our waffle towels are so soft and fluffy that will instantly become a part of your morning shower or evening bath rituals!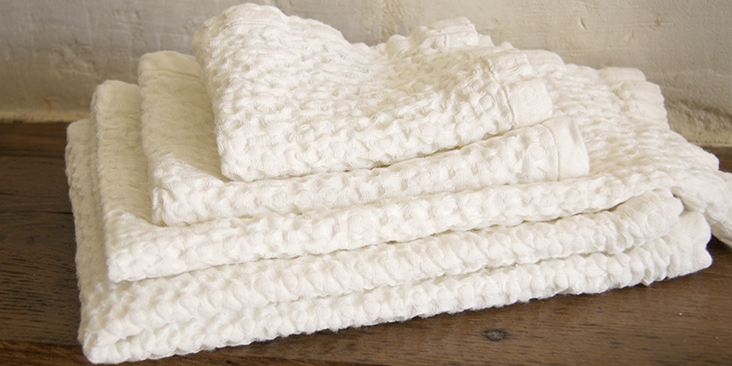 With all the possibilities of fabric and color choices, you can really add that extra personal touch to all your towels.

Check out our whole selection here!
Subscribe