Tutorial: Block Printed Kitchen Towels
I was chatting with a sewing friend not too long ago (hi Gabby :)) about what we did before we discovered garment sewing and it occurred to me that I've always been crafting! Often, I hear other sewists reminisce about their childhood and how they learned how to sew from their family members – their mother, grandmother, aunt, or some other relative. But my sewing journey was entirely self-fueled and self-taught. I started with absolutely no idea of what I was doing (sewing clothes and quilts) and managed to put together some halfway decent pieces.
Before I dove into sewing, I tried a little bit of everything (and sometimes, still do). I dabbled in wood burning, woodworking, embroidery, sketching, painting, ceramics, bead earring-making, crocheting – you name it, I wanted to try it. Coming from a family of engineers, I was raised to appreciate the inner-workings of the most basic things in the house (it also meant being the chosen kid in charge of putting together new furniture was quite the honor). So, it felt completely natural to try to make whatever I wanted before setting out to buy a ready-made product.
Several years ago, I tried my hand at screen printing on paper to make my own stationery cardstock and soon after wanted to apply this new-learned transferring technique to fabric. I found block printing to be a fantastic alternative to screen printing and set off to teach myself linocut printing (carving a design into a linoleum stamp block). I started with a small batch of me-made garment labels a couple years ago and absolutely loved how they turned out! So, when I moved into my new home in Alberta, Canada and noticed that more than half of my dish towels had morphed into torn and stained rags, it seemed like the perfect time to block print some new towels.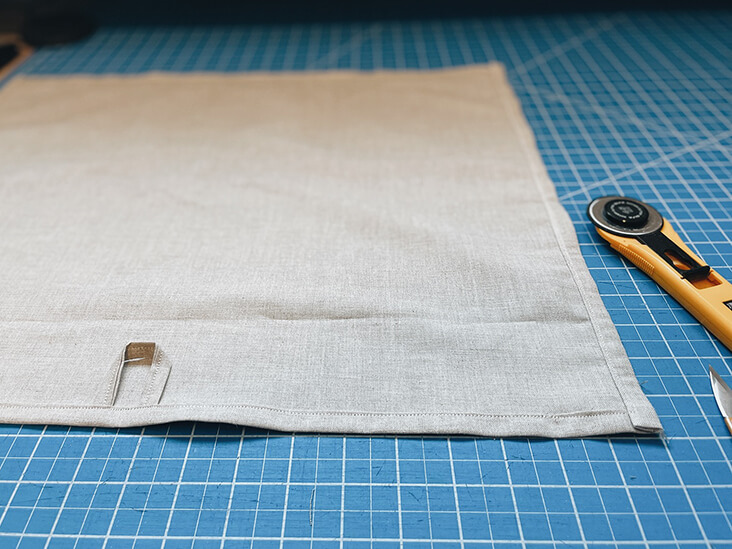 I chose the linen-cotton blend from the Fabrics-Store to get the hardiness of linen but with the added softness of cotton. I made the towels by cutting out 19.5" x 23" rectangles and folded over each side by ½" two times to enclose the raw edges. I also added hanging loops on one side with my remaining fabric scraps (cutting out 1.5" x 4" strips and folding the raw ends in twice to enclose them).
To make my block print stamps, I drew my designs with pencil on regular printer paper and transferred them onto the linoleum blocks by pressure (placing the drawing over the linoleum block and firmly pressing/rubbing the drawing onto the rubber, making sure to keep the drawing in the same place to achieve a clear design). While some recommend using a freshly printed design and low heat iron to transfer, I have found the printer paper/pressing method described above works best and gives you a great carving template to work with. It is worth noting that if you want to transfer text in your design, be sure you have the correct text orientation, as the text on the stamp will need to be a mirror image to transfer legibly onto the fabric. My preferred method works well for this because you can write in the normal orientation, and while transferring to the rubber stamp, the text will reverse in direction, thereby making it the RIGHT direction when stamped!
I used a Speedball Block Printing Starter Kit carving tool, a very simple but perfectly effective tool to carve out designs. It took a bit of mental gymnastics to be sure I had carved the "right" parts out, but I am so happy with how they turned out. I chose to make a fun fish design, a reminder of my times working on northern Minnesota lakes with sustenance fish species health studies. I also carved an artichoke thistle flower, an ode to my short but sweet time living in northern California and discovering this invasive hardy plant in my backyard. I also carved out some cute and simple orange prints and the very loveable (and sometimes relatable) "Gudetama" (a Sanrio cartoon character known for being generally sad and lazy).
After block printing the towels with Speedball oil-based ink (oil-based ink is recommended for fabric block printing), I cured the prints by letting them rest for a week before washing. Some recommend curing for up to two weeks to truly set the ink, and others mention heat setting the prints by throwing them in the dryer (or running a low heat iron over the non-printed side of the fabric. For my own towel linocut printing journey, I elected to use the Speedball ink directions which explicitly state that no heat setting is required, and only to cure i.e., hang the towels to dry/set for one week!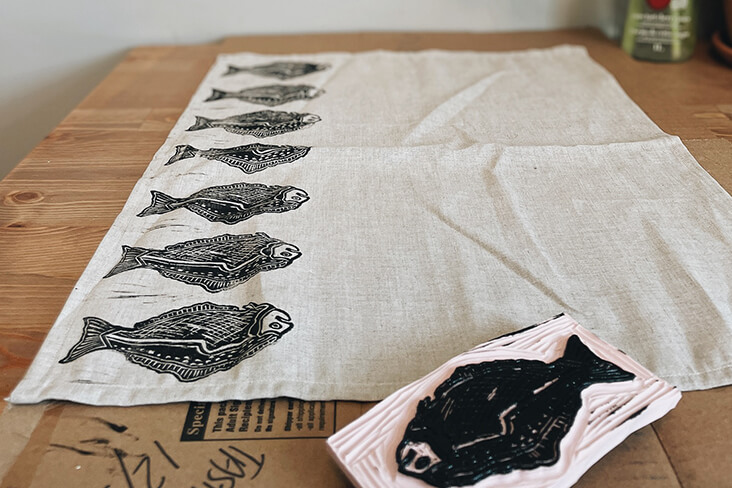 So here's to the simpler projects on our never-ending lists of to-makes. The basic projects are sometimes hard to sit down and do, but they will certainly get great use in your day-to-day activities and remind you of the simple joys of making – whatever craft(s) you may choose to do.
Subscribe