Curated By You: Vivian Shao Chen makes a linen Terra Dress
Tell us a bit about yourself and what you do.
I'm an architect, but also have been working in pottery, sewing, and knitting in my spare time. I have been pursuing pottery for almost four years. I learned sewing from my parents when I was a child. They ran a clothing manufacturing business, making high end women's clothing. I picked it back up as an adult in the last 20 months or so. I started with sewing with other designers' patterns, and now have transitioned to drafting almost all my own garments. I taught myself to knit about two years ago as a way to keep my hands busy when I couldn't physically be up and about!
Why do you sew?
Sewing has given me so much freedom of self expression. This is also true of pottery, but sewing has a very personal layer to it, in that I design my physical appearance through the garments I make myself. When you make something from scratch, there are many decisions you have to make, and each has the chance to reflect your values. I value comfort by choosing certain silhouettes. I value sustainability by choosing natural fibers. I always learn a lot about myself when I sew, because you are faced with the question of, what would you make if you could make anything?
 What do you like to listen to when you're working (and why)?
I almost never listen to anything when I work. Sewing and making pottery requires a lot of physical and mental coordination, and I tend to tune things out when I'm in that zone.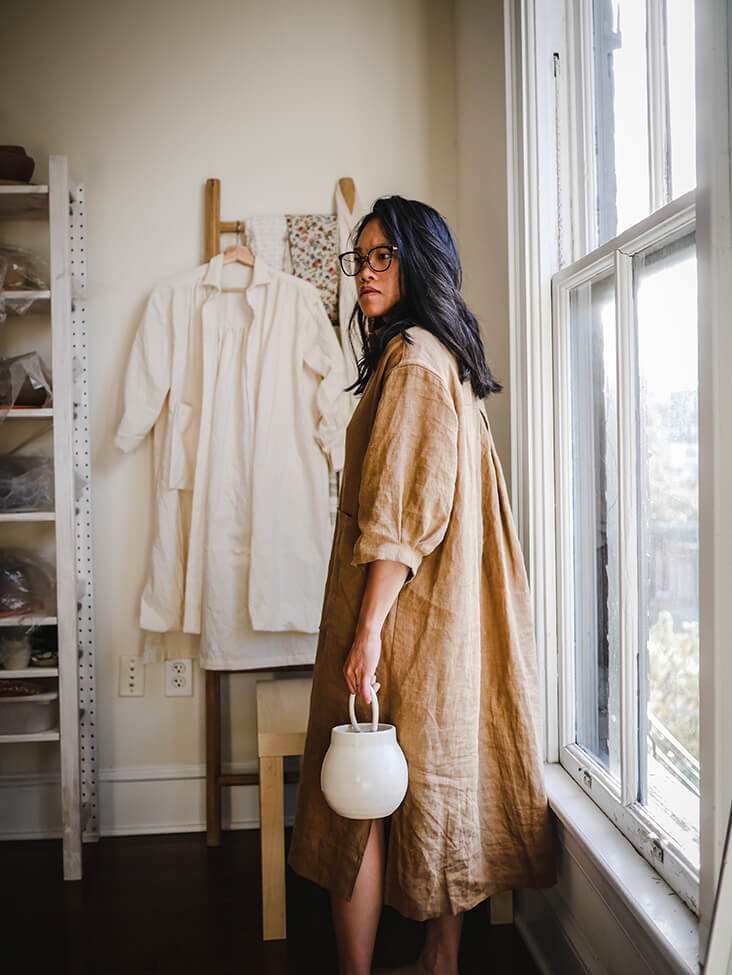 As a child, what was your first encounter and memory of beauty?
I remember pressed flowers that my mom would keep. But in general I don't remember ever realizing that something was "beautiful" as a child. Though I loved to draw, I was very practicality minded, and liked to follow the rules. I think my sensibility to beauty is more learned and practiced, and still changes.
Where is home and how does it affect what you do?
I currently live in Philadelphia, PA. My husband and I moved here about two years ago from Brooklyn, where we lived for about 6-7 years. Since moving to Philly, I've been able to move all my studio practices home, instead of renting studio space elsewhere. I take it for granted now, but it's amazing to have the space to be able to do pottery and sewing at home. I am a homebody for sure, and I love having my projects and materials nearby. My home is my studio and I love combining the two.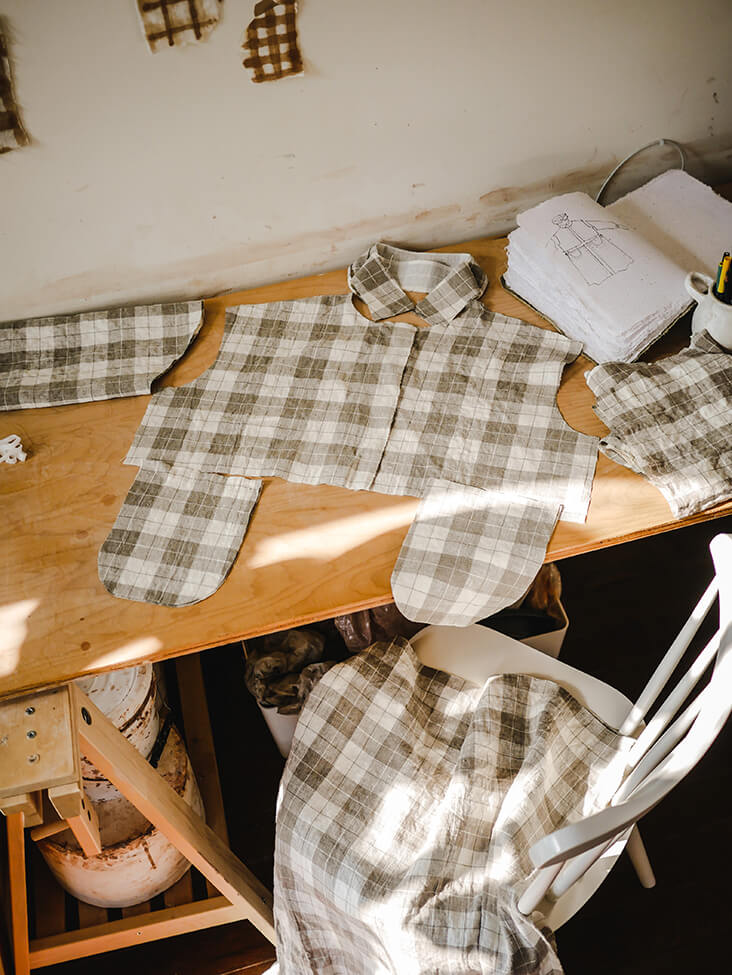 Name a book that you've recently read which inspired you and why?
Between my work and all my side projects I don't get to read much. My mind wanders and I probably now have attention span issues! Does a pattern drafting book count? 🙂 If so, I've been learning about grading from Jack Handford's Professional Pattern Grading!
 What was the first thing you ever remember making on your own? Tell us about this memory.
I have so many memories of making things as a kid, though I'm not sure what the correct chronological order is! Maybe a shirt for a moose stuffed animal, probably from fabric scraps from my parent's clothing manufacturing business.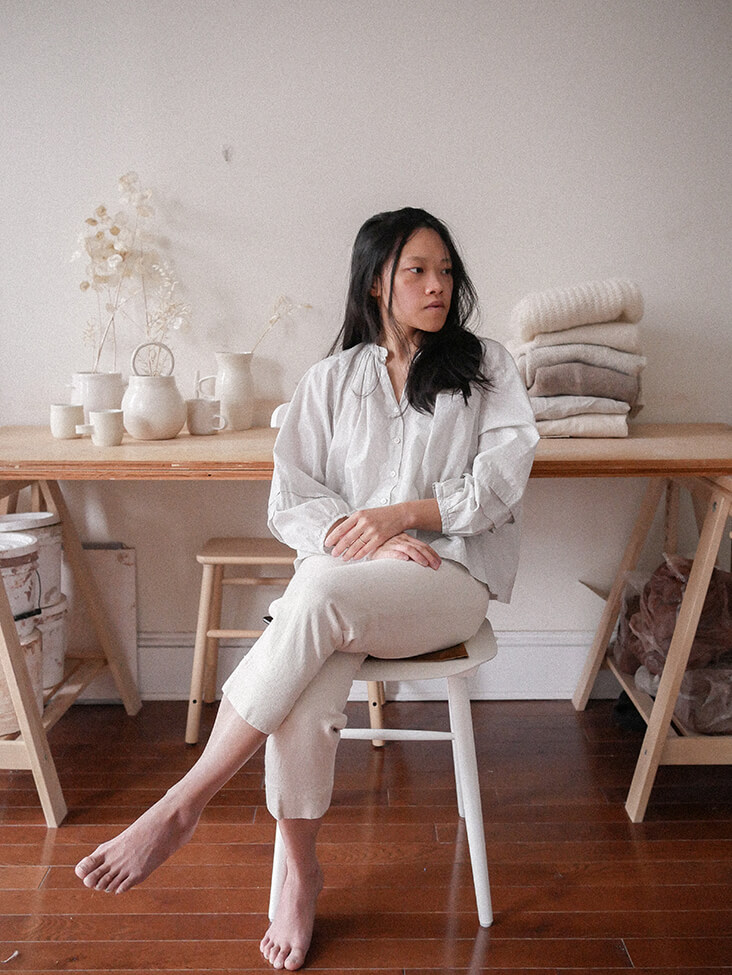 Who are your muses and inspiration?
I take inspiration from people who have a strong sense of self and worked hard for what they believe in. Sally Fox of Vreseis is someone that comes to mind. She pioneered the organic cotton industry with her research, before we even knew what organic cotton is.
Do you have a community of crafters/ makers around you or do you find you are on your own?
I have found a community through Instagram. I'm so grateful to have a space where I can share ideas, finished or unfinished, terrible or amazing. I've met many like-minded friends there, and have learned so much from them.
How important is it to make something with your hands?
10/10!!! I find that I get hungry to make something with my hands, in the same way my body needs food. I would explode with tension if I wasn't able to.
What does success mean to you?
Success is when I find fulfillment and joy in what I do, under my own terms.
What have you chosen to make out of FS linen and why?
I'm sewing a button-up shirt, using my upcoming sewing pattern, the Terra Dress in FS POTTING SOIL Medium Weight Linen. The pattern is for a dress, but it is really easy to turn it into a blouse! I've drafted a different collar for this one too. I love showing how versatile patterns can be, if you apply a little drafting knowledge.