A Newcomer's Guide to Secondhand Fabric in Portland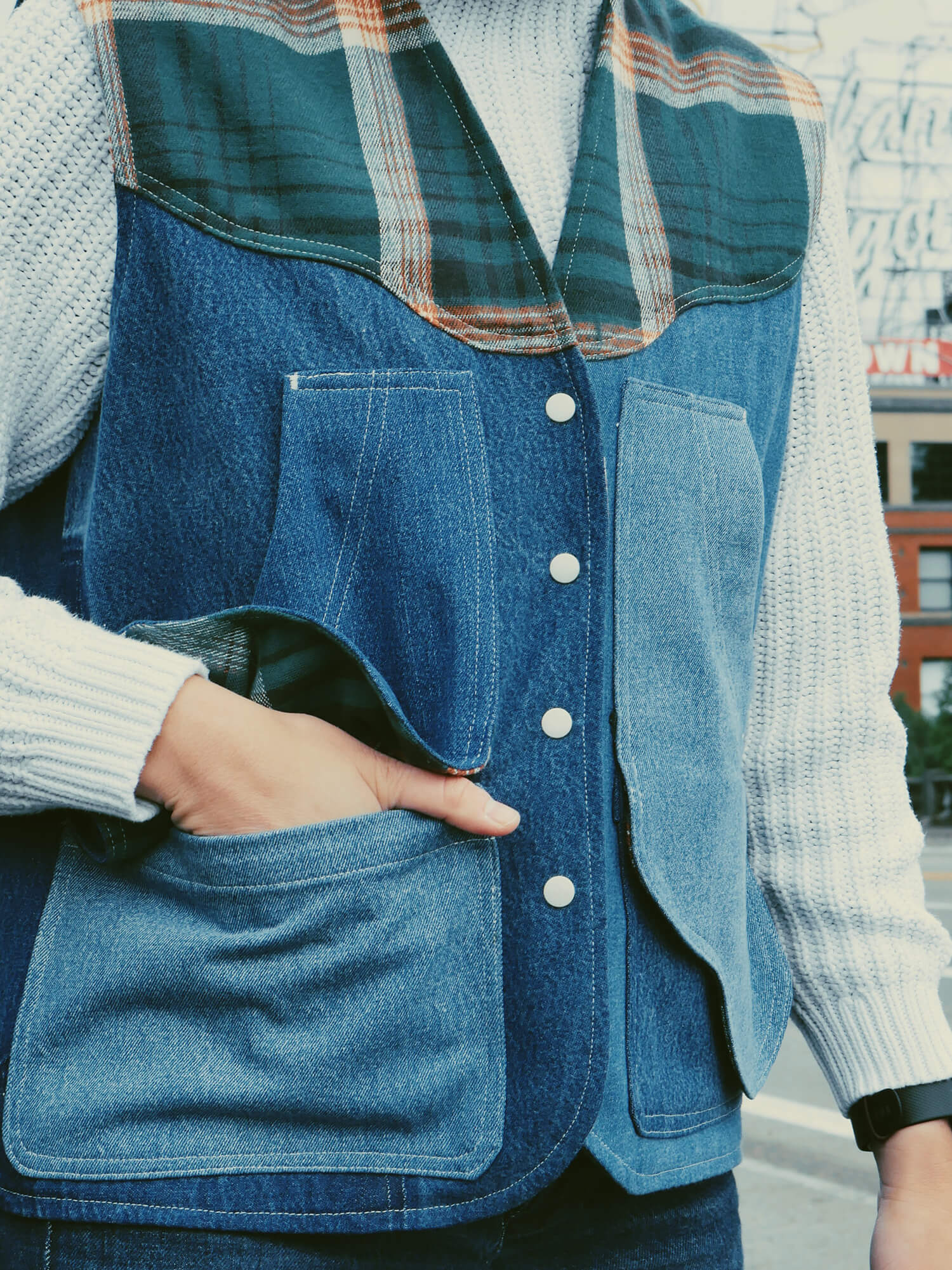 After living in the Southern part of the United States for the last six years, my husband and I packed up all of our belongings and drove over two-thousand miles across country to Portland, Oregon. To say this move was a long time coming is a bit of an understatement; we'd been looking for a way out of Arkansas pretty much the moment we got back. When we got the opportunity to move this August, we jumped. One of the first things on my mind was all the new fabric sourcing options now at my fingertips. In visiting Portland over the years, it always felt like a creative and environmental mecca, full of vibrant sustainability practices that I didn't have access to previously.
I have always been a diehard for sourcing fabric secondhand, primarily as a way to make sewing more economically accessible during my teaching days when I was first learning how to make garments, but also because of the sustainability lens it affords that helps me balance out some feelings of overconsumption. There are a plethora of old bedsheets and curtains that populate my wardrobe now, but I was delighted at the prospects of finding local businesses whose express purpose was to offer cuts of secondhand or sustainable fabric so that I could take a break from scrounging around the home goods section of Goodwill and leave the sheets for someone who needed them.
I put a call out to the sewing community on Instagram for suggestions on where to visit–as well as doing some online digging of my own–and two places came up again and again: SCRAP Creative Reuse and Josephine's Dry Goods.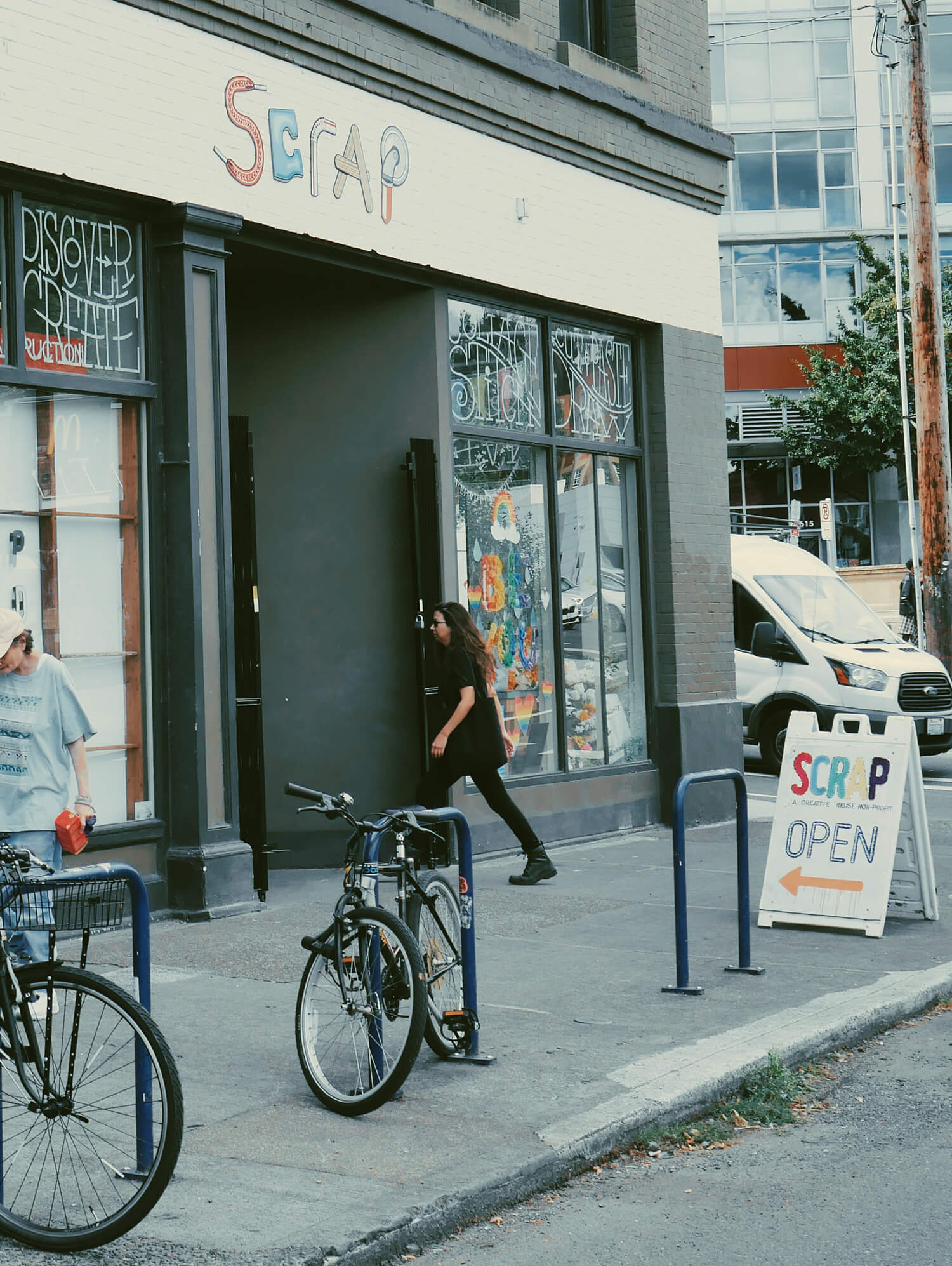 I stopped by SCRAP for the first time back in May when we came to visit, so I knew it could be a hit or miss. Founded in 1998, SCRAP started as a creative resource for teachers who didn't want their leftover classroom materials to go to waste. Shortly after it transformed into a nonprofit and opened a creative reuse center for the Portland community. 
Because the materials are donation-based, it operates largely like any other thrift store, with typical waxes and wanes in supply. In May, the fabric and notions bins were mostly empty, so I was hesitant to go again, especially since it's out of the way from our house in Montavilla. But when I visited this time, the cubbies were packed. I ended up scoring over two yards of a plaid wool blend that upon performing a burn test, seems to be made primarily of natural fibers. I also picked up several long zippers in fun colors for future projects. All told, I spent less than $15, which was less than my coffee run on the way there.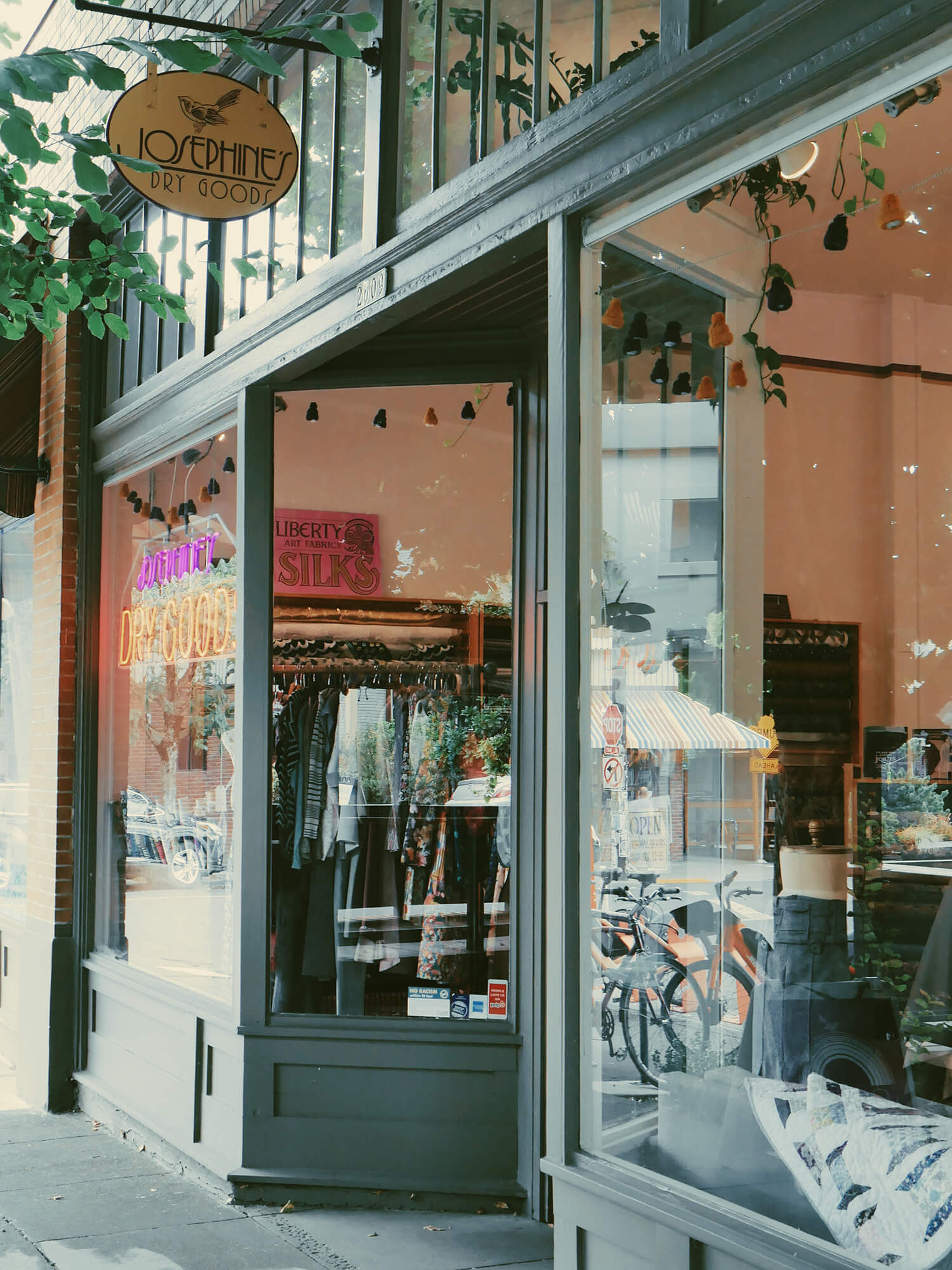 Next, I traveled toward the Richmond neighborhood to the bustling D-Street Village, where Josephine's Dry Goods has been located since 2014 after reopening under new owners, Bini and Dana. I had the fortune of meeting Bini when I stopped in, and she helped me navigate their generous selection of gorgeous deadstock fabrics. 
If you aren't familiar, deadstock is typically considered as leftovers in the fabric world, usually because the original buyer no longer wants them or as surplus from a brand's overproduction. While deadstock has become a bit of a buzzword in the sustainable fashion community and undergone its own form of greenwashing (there is criticism that deadstock can actually incentivize overproduction and isn't held to the same sourcing transparency standards), it's generally seen as an eco-friendly alternative that repurposes fabric that otherwise, historically speaking, would have been thrown away. 
Bini explained that Judith, the previous owner of Josephine's, is naturally well-connected after fifty years in the industry, sourcing only the finest apparel textiles for her shop during that time. In passing the torch to Bini, the shop has maintained its impressive and luxurious selection, the majority of which is interspersed with deadstock wools, linens, and denim–to name a few– sourced directly from Italy and Japan.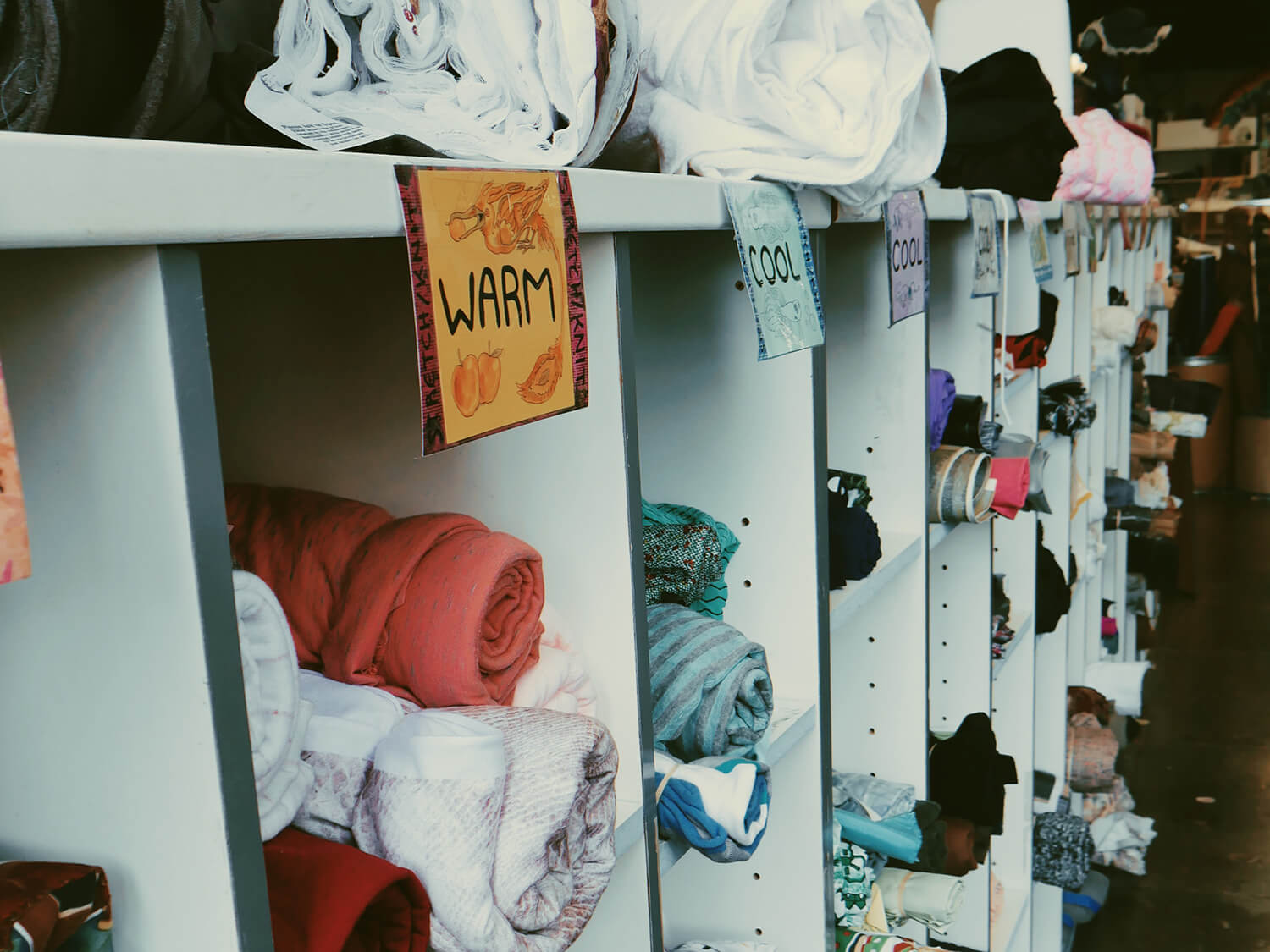 As expected, this fabric comes at a higher price point than what you'd find in a thrift bin, but the quality matches the cost. Josephine's maintains a high standard in transparency when sourcing their deadstock, which Bini was happy to chat about as she cut my Japanese linen-cotton blend I picked out after a lot of hemming and hawing. The fabric felt precious as I carried it out of the store, and while I had considered using it as the lining in this project, I decided to keep it for another garment where it could shine as intended.
The next Sunday, I had the pleasure of meeting up with some local sewers where I met Julie, the owner of JF Revival Studio, which specializes in turning textile and fast fashion waste into art. She suggested I check out ReClaim It, another nonprofit in the Humboldt neighborhood that specifically works with Portland's regional government to divert items already thrown away back into the community. By a stroke of luck, the store was less than two miles away from where I was, so I stopped by on my way back home.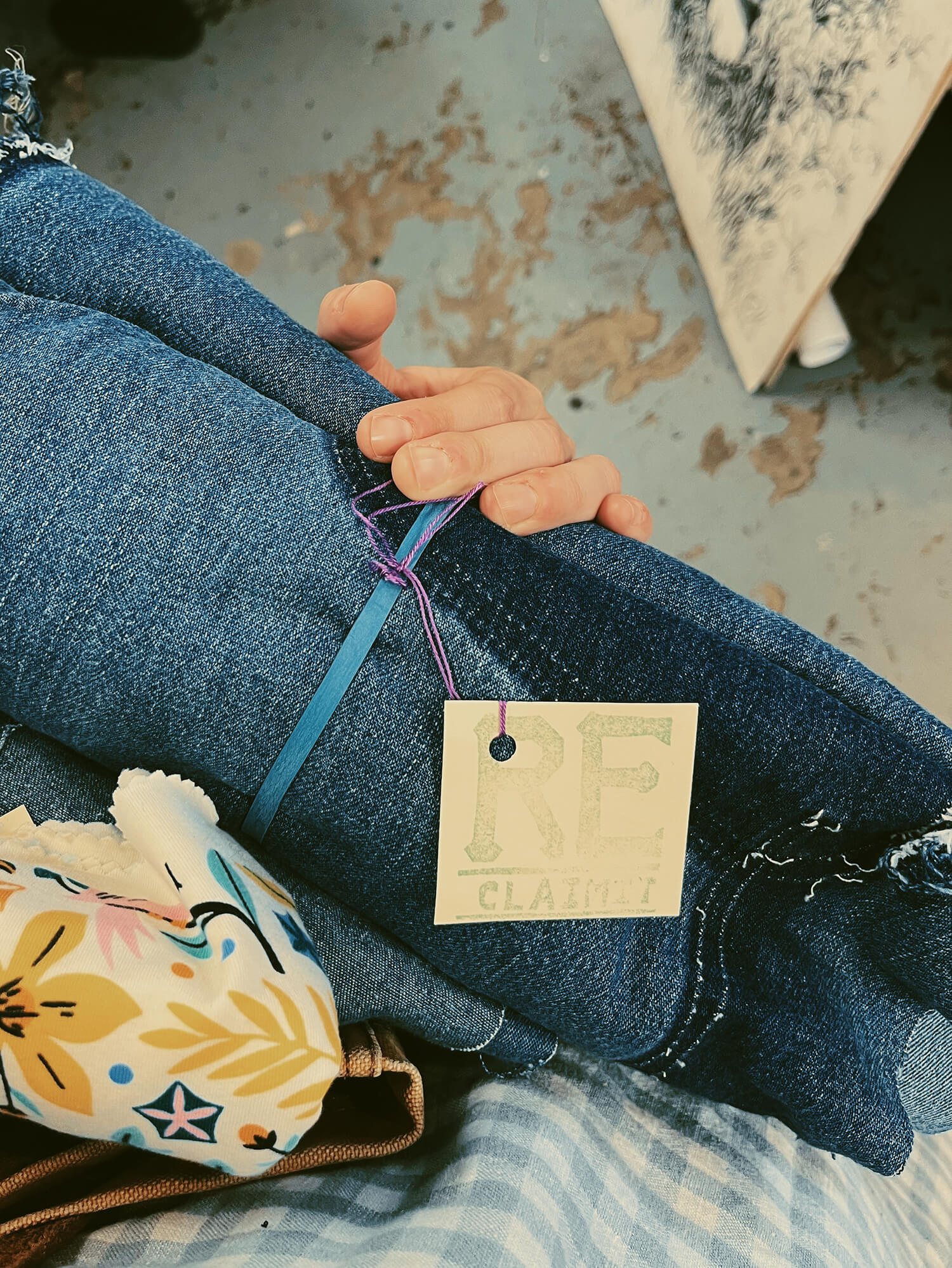 The store was fairly small but packed a punch, with goodies stashed in every nook and cranny. In the back, they have a dedicated crafts space, including a fabric corner. Similar to SCRAP, ReClaim It is a place where you'll need to dig a bit. A lot of the cuts offered are fairly small or look to be cut out graphic t-shirt panels, but there was a nice selection of different types of apparel and upholstery fabric. 
After scrounging around, I discovered two thick rolls of deconstructed denim pant legs that became the inspiration and final puzzle piece for my Daisy Chain Winona Vest. Up until this point, I had gone into this assignment with an open mind, unsure of what I was going to make with what I found, but the denim sealed the deal. It paired perfectly with the wool I found at SCRAP for a fun take on a western vest. I made a Size Small based on recommended body measurements, and the funky pockets and oversized silhouette feel like they'll fit in nicely for Portland Fall.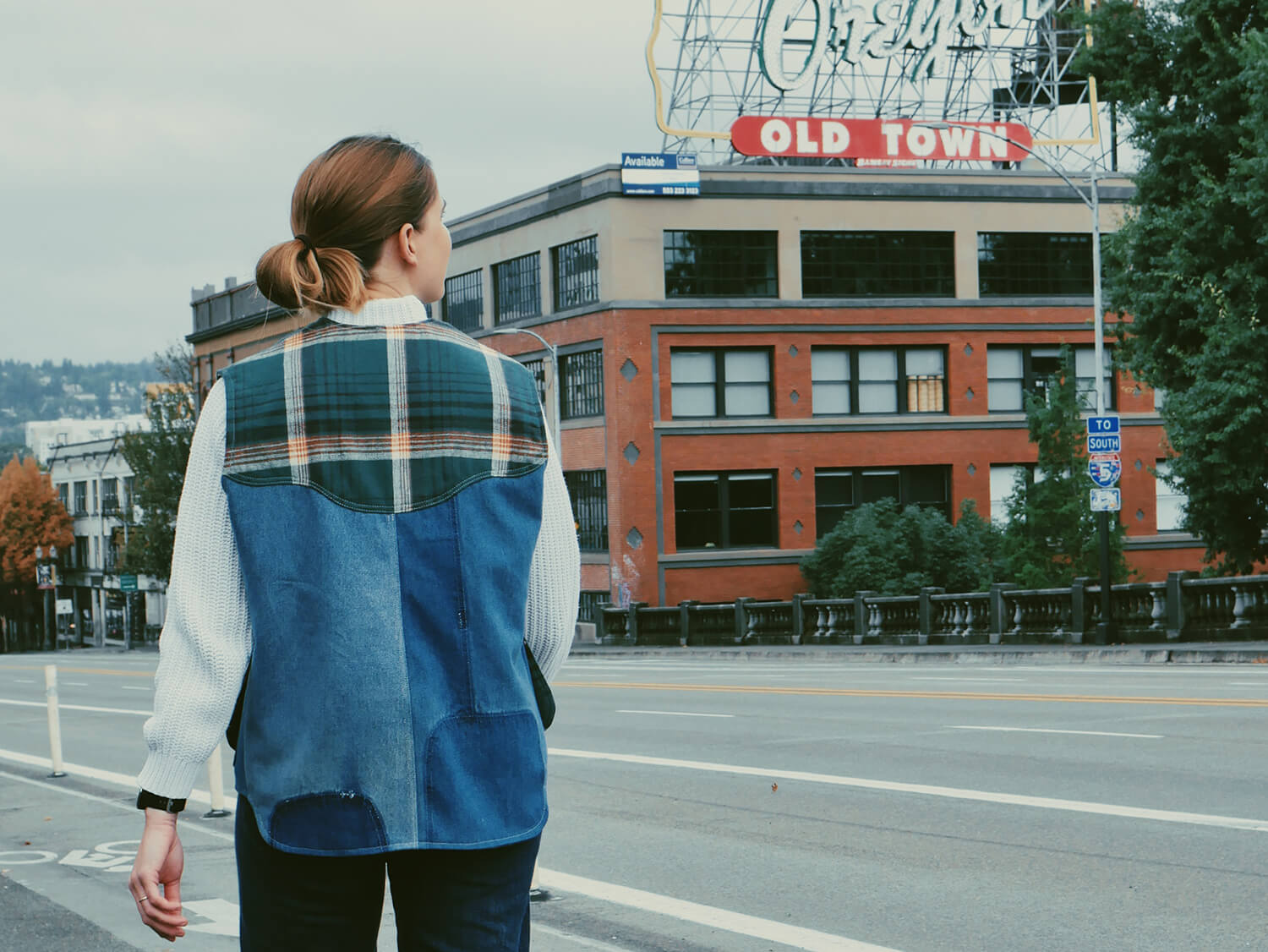 I'll be honest, I was a bit surprised that the city doesn't have a store that's solely dedicated to secondhand fabric. After living here for twenty years, Julie shared the same sentiment, saying that a lot of people will source from estate sales or online. When I moved here, I assumed there would be a place like that, similar to Overland Park's Fabric Recycles store or A Thrifty Notion's online shop, but unless there's a hidden gem out there I'm unaware of, there's a niche waiting to be filled. In the meantime, I look forward to using the occasionally slow weekend afternoon to pilfer around SCRAP and ReClaim It for their unexpected riches, or stopping by Josephine's when I have an extra special make in mind.
Subscribe