A Classic Gift For Christmas: Linen Aprons
When I was starting my company a few years ago, I had the honor of making aprons for the sweetest florist in Southwest Florida. Melissa and Sean are the talented designers/ owners of Kaleidoscope Floral – their resume is very impressive. They were opening a brick and mortar boutique store after years of providing stunning floral arrangements for weddings and special events. They believed in my small business that was only beginning just as their now not so small business was taking its next big steps and growing. Isn't it beautiful when people are mindful enough to work that way? Today, I want to share this little story and offer you a beautiful holiday gift idea to keep the kindness going.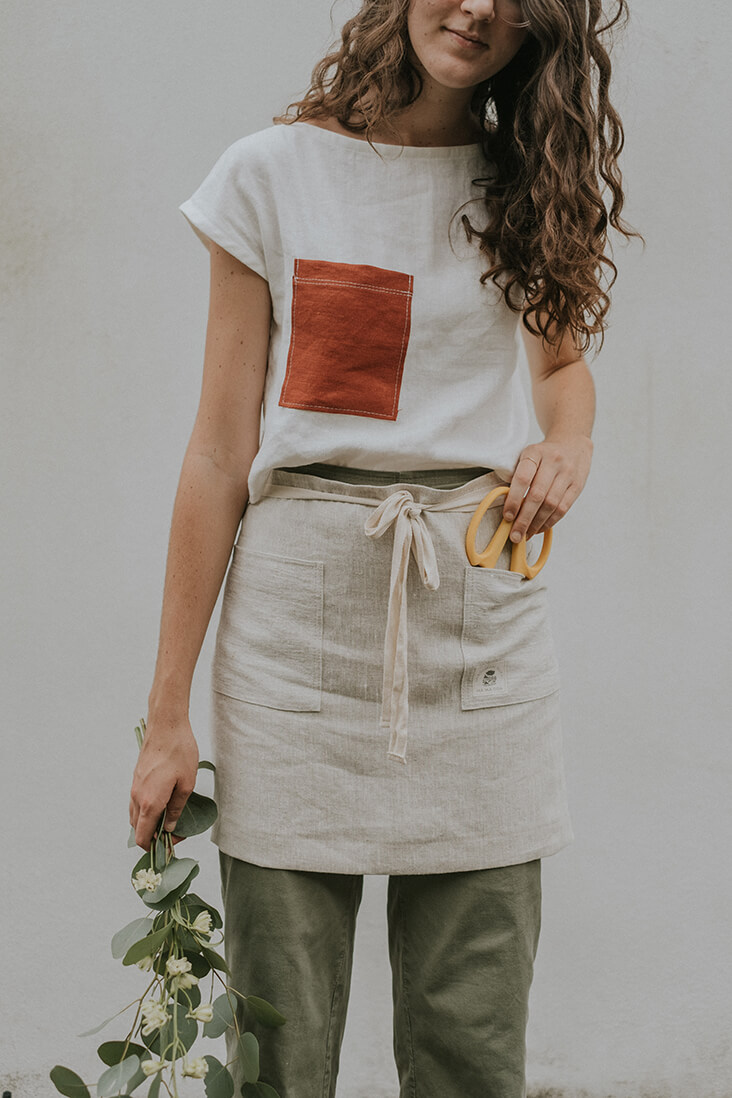 They asked me to design three apron styles for their employees to work in the boutique, wear for working with the floral designs and even to offer to customers for purchase. The styles would be full covering cross back, the bib style neck and waist tie apron and the small cafe style waist apron. They also collaborated with the graphic designer Anna Nunez to make a logo that combined both of our businesses. A detail I thought was very sweet. I asked an Etsy label maker to print the design on quality natural square labels for us. Look at that, additional business to business collaboration! The project just got better as my daughters jumped in to help me model them and my son in law photographed the aprons that turned out better than I could have imagined.
Aprons are such a practical and beautiful way to protect your clothing, or in this case, enhance the branding of your store as well! Here are all the details you'll need if this inspires you to make your own classic linen aprons OR make a beautiful gift for a friend. We chose Mixed Natural Softened 7.1 oz for all the aprons. I pre washed and dried the linen and a section of the twill tape to make sure all the shrinking was out of the way. I then pressed or ironed the fabric and started to work.
Measurements for the cafe style are 20×34 inches so you could get two aprons from one yard of this linen. Hem on the top and the two sides are ¼", press and then ½" and press. Hem on the bottom is ¼", press and then 1 ½" and press again. The pockets are cut 9×10 inches and pressed ¼" on all four sides and then 1 ½" on the top and the top sewn before positioning the two pockets evenly.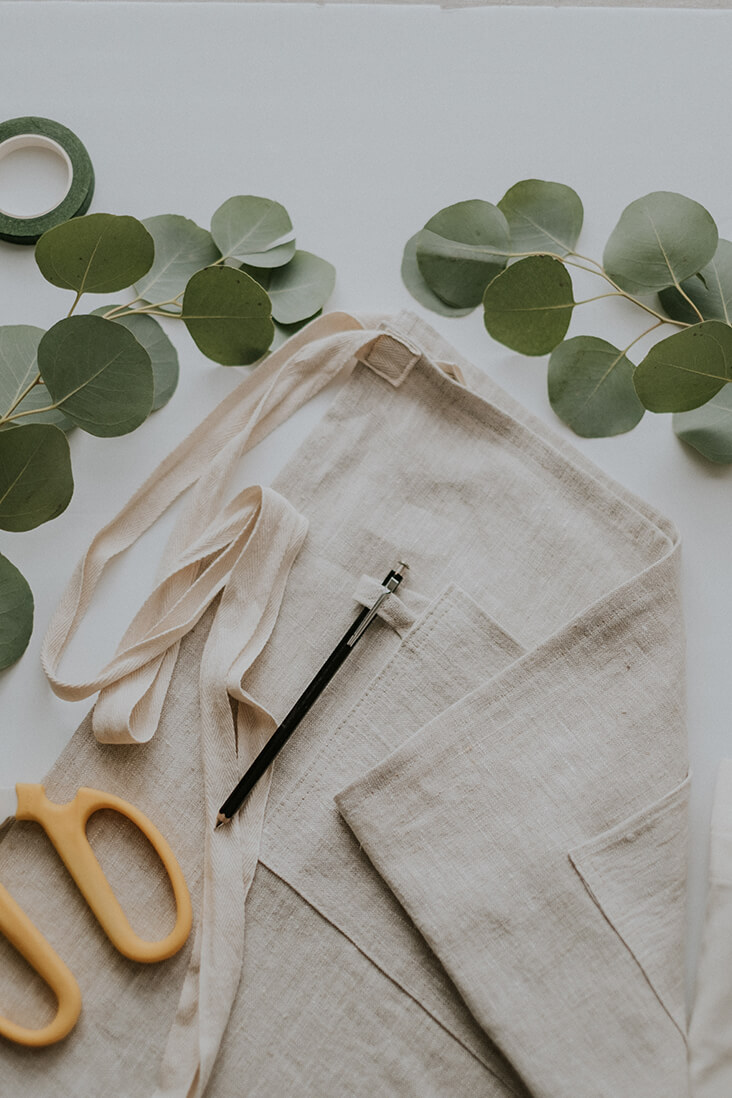 Pin in place and then stitch the pockets onto the apron. For the waist ties, I wanted natural cotton herringbone twill tape and I found that on Amazon. You won't need 50 yards of it but I wanted to make sure I had ample supply! One inch wide twill tape can most likely be found in your local fabric store sold by the yard ( you will need at least 2 yards for one apron) or make the ties from extra linen by folding, ironing and sewing 2 each 3×36" pieces.
Add extra details that suit your work needs. The cafe style apron pictured here has a little loop on the side of the pocket for a Sharpie marker to hang. Amanda is both a florist and a baker and she assured me this is a lovely bonus detail.

All three apron styles are offered in my online shop as well.
Subscribe