The Art of Reinvention: Martin Margiela's Recycled Garments
Sustainability and zero waste might be buzz words in the world of fashion today, but legendary Belgian designer Martin Margiela was one of the first to experiment with the genre. From 1988 to 2008 he produced some of the most bizarre and eccentric garments the fashion world had seen, making necklaces from champagne corks or broken crockery, turning plastic bags into clothing, stitching jackets from old gloves and socks, and using tape to hold it all together. Margiela's aim was to take the fashion world's cast-offs and reinvent them, in a deliberate and highly visible way, into a powerful statement about waste, mass-consumption and the magic of reinvention.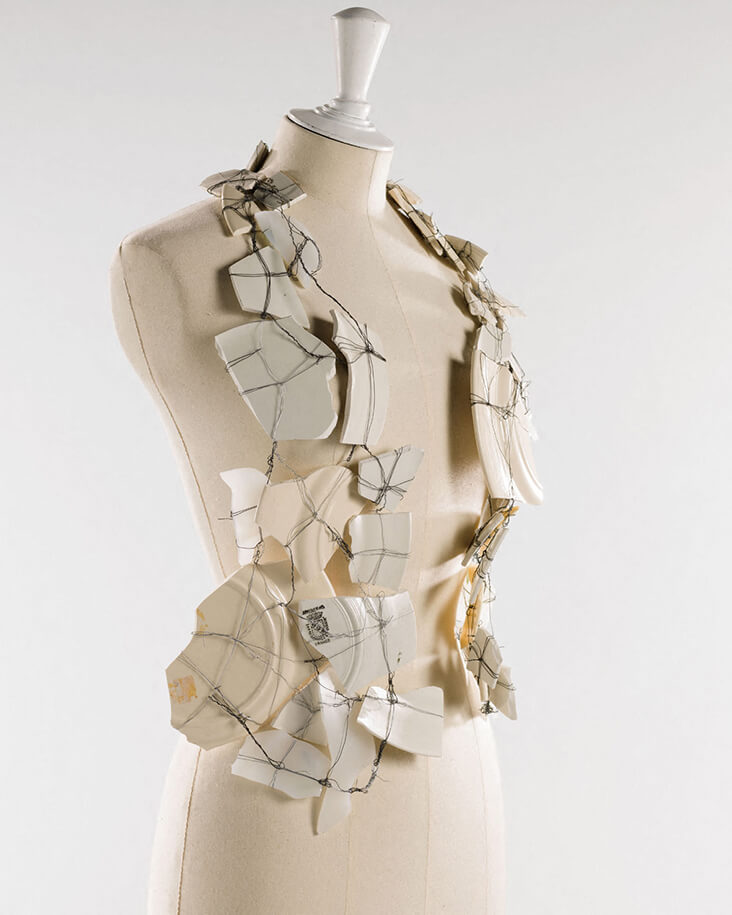 Margiela knew from a young age that he wanted to become a fashion designer. He tailored jackets for dolls and died their hair, echoing the practices of his father's hair salon and mother's wig business in the Belgian town of Genk where he grew up. From there, Margiela trained as a fashion designer at London's Royal Academy of Fine Arts, graduating in 1979. As a young adult Margiela cut his teeth working for the legendary French designer Jean Paul Gaultier between 1985 and 1987, before setting up his own eponymous label in 1989.
From the outset, Margiela's take on fashion was subversive, edgy, and some might even say anti-fashion. He deliberately rejected the flashy, showy side of the fashion industry, rarely making public appearances or performing interviews and choosing to keep his own identity as anonymous as possible. Margiela also kept his labels discreet and understated, and covered his model's faces with masks or make-up, to allow the quality of his designs to take centre stage. Bucking the slick styling of high fashion Margiela also hired non-models from all walks of life to showcase his designs, and staged legendary catwalk shows in warehouses, disused metro stations and bridge underpasses. But most radical of all was his take on raw materials. Margiela took what others might consider trash, and transformed it into haute couture fashion that was eccentric, bizarre, and unforgettable.
In 1990, Margiela launched a line of 'Artisanal' clothing made entirely from recycled flea shop fabrics, most notably upcycled 1940s tea dresses, repurposed into loose fitting, long-line silhouettes. In 1993, Margiela created a season of clothing from deadstock theatre costumes. He became fascinated by the weight of history and 'memory' embedded in these used and worn fabrics, which referenced historical periods ranging from the Renaissance to the French Revolution. The clothing he produced was exquisitely tailored, with neatly fitted jackets and lightly billowing skirts and trousers, but Margiela undercut its perfection with unusual additions, such as rose petals and foliage taped to models' arms, or slung around their necks on pieces of loose ribbon.
Never one to settle in a signature style, Margiela caused more surprise from 1994-95, by creating garments only from the fabrics of his own previous collections. Having only had a five-year career in the industry, this retrospective approach might have seemed an unlikely choice, but Margiela was full of surprises. From the late 1990s onwards Margiela's designs became increasingly experimental and avant-garde. He made puffer jackets and body warmers from discarded ski gloves, waistcoats from old canvas trainers, and biker jackets from old sports bags and satchels, integrating the handles into his designs. Making use of the smallest scraps of discarded material, he produced leather trousers and blousons from vintage leather belts, stitched together to create striped patchwork patterns, cardigans from men's dress socks, and even a leather jacket from flattened and cut up footballs.
Margiela quit the fashion industry in 2008, passing his label on to new hands. But his radical, deeply unconventional approach to clothing has been nothing short of monumental, proving just how much hidden potential can be found in the most unlikely and unexpected of places.
Subscribe