DIARY OF A NOVICE SEWIST: Oona Dress In Midweight Linen
In my last article, I asked you if you would be interested in some pattern recommendations for kids wear – and as I know timing is key, I did that the- day- before the photo shoot for today's post! So guess who had a relaxing evening while E. was sleeping…? Not me. No, I'm just kidding. I mean – yes – I sewed E's cap the night before, but it was such a fast and fun project – perfect for all your scraps! Whenever I have some leftover fabric, E. gets a new (matching) cap – a WinWin situation!
The pattern for the Mütze Mathilda is in German, but the pattern is so easy to follow and easy to make – nothing a little google translation can't help with. The pattern also has an option for earflaps which I find extremely practical for winter or windy season. For example – I made a winter version of it with some leftover teddy cloth from my Ayora Jacket (I'll put in a picture of it at the end of the article so you can see it), and I'm 100% jealous it doesn't fit me. Maybe I'll try making it in the biggest size with some extra seam allowance… mhm mhm… now that I think about it, I am definitely going to try that. Maybe with some patchwork. Don't be surprised if you read an article about patchwork caps in winter. You've been warned.
But enough about the cap.
Let's talk dresses.
When I first saw the fabric after I ordered it, I immediately knew that I wanted to sew something that says "Hi – I'm a cool and fun mum, and also I'm a confident woman". So I ended up sewing the Oona Dress from VikiSews.
But of course, it would not be me if there wasn't a bit of drama involved…
The pattern is described as intermediate with 3 difficulty stars. Well, as I said, I'm a confident woman – Intermediate? No problem for me.
And then I read the description…
To sum it up – one big question mark after another.
But somehow I got myself to start – and I have to say, the pattern is really well illustrated and described. I followed everything step by step, sewed slowly and carefully (normally I'm a quick and not exact kind of sewer) and tadaaa – I managed to finish it.
What I want to say is this: try and not get overwhelmed by the pattern just because you don't understand everything at first. Take baby steps – and take them slowly. You can't sew 5 steps at the same time, so why think about all of them all at once?
Some of you may know that I'm a flight attendant, so I love a good flying-related reference: Flying an airplane is difficult and you need a lot of training – and even our cockpit still always works with checklists. Every flight. Always. So sewing is more or less the same as flying…
With that said – get yourself some ice cream and don't forget: you can do it all if you give yourself some time.
Bussis
Sophie
PS: All analog photos (except of the last one of E.) are done by Sophie Nawratil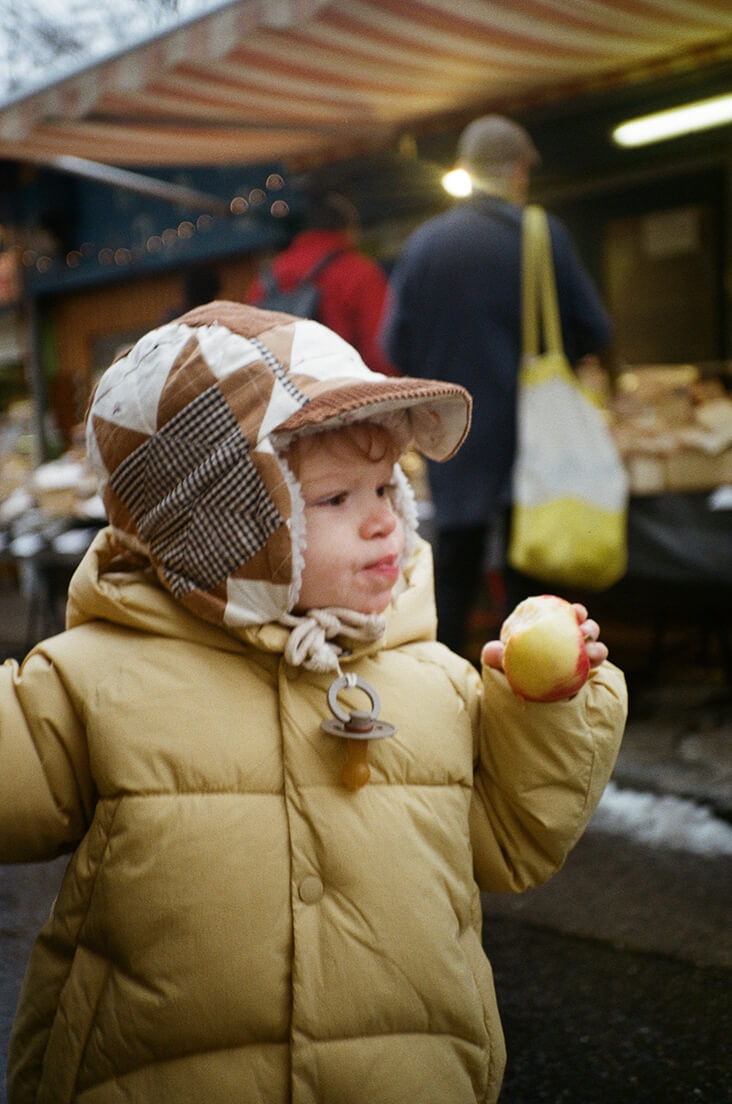 Subscribe