Shibori Dyeing Techniques Tutorial: Part TWO
Following on from Part One last weekend, here is Part Two of our Shibori techniques tutorial. Remember to check the Organic Indigo Vat Tutorial to use in combination with these techniques. The first method I will show you is a traditional Japanese technique known as Itajme. This is the name given to a method of creating a pattern by folding fabric in two or more directions, then clamping the fabric evenly between two equal size boards. Depending on how you fold the fabric before placing between the boards will determine the resulting pattern. If you fold the fabric with thick or wide folds this will give you larger size patterns and the smaller you fold it, the smaller the resulting pattern. 
Itajme Tools
Two wooden boards or two ceramic tiles
Fabric 
Clamp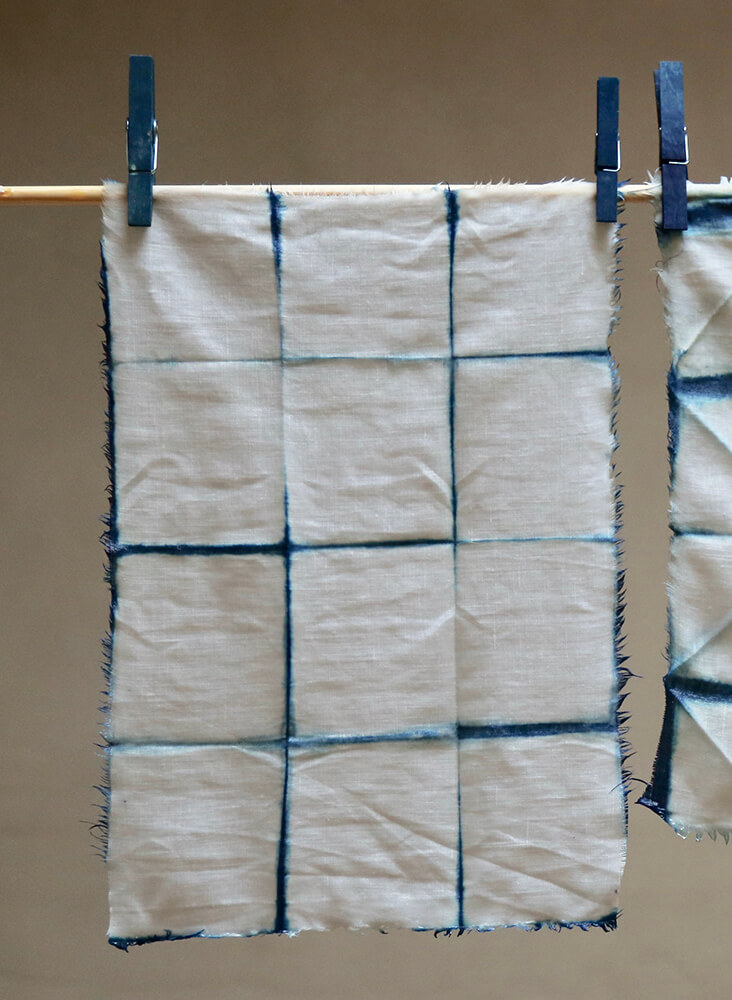 Fold the fabric lengthwise into accordion pleats, making sure to fold slowly and evenly.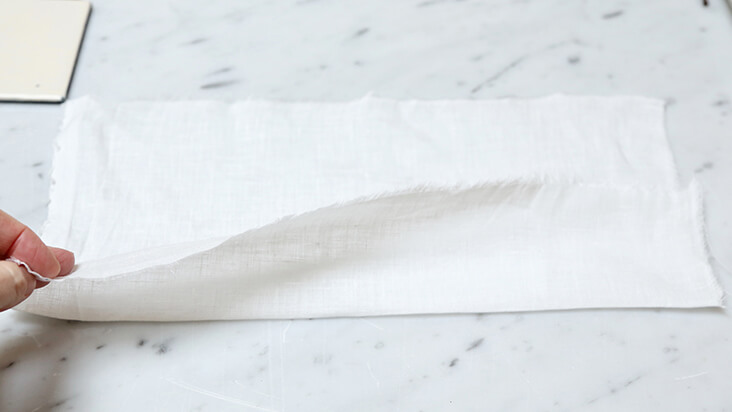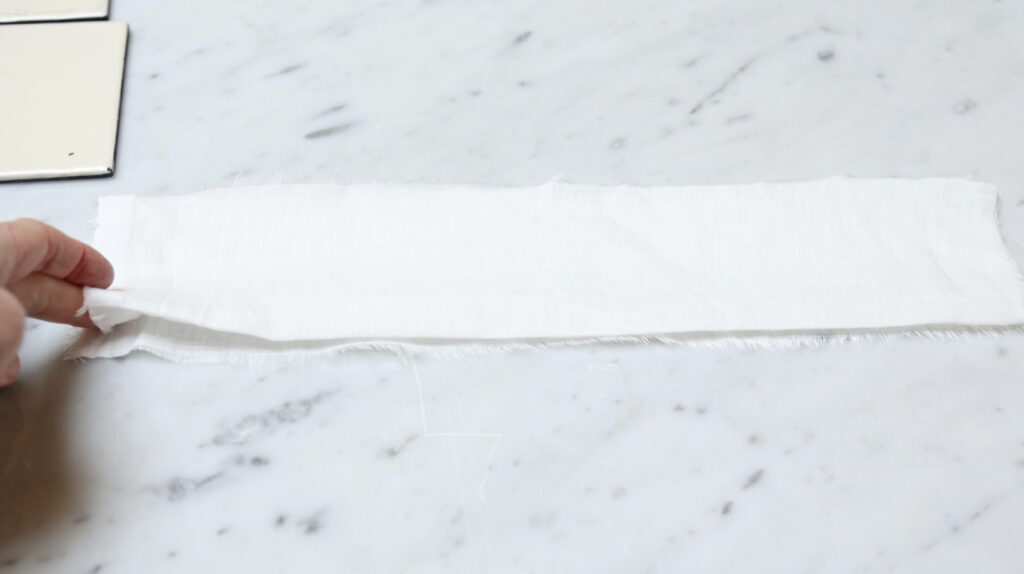 With your fabric laying horizontally & starting at the left side (you can do right or left but for the sake of explaining let's say left) fold the left edge in to create a folded square laying on top of the horizontal piece. Then turn the entire piece of fabric over & repeat the fold, now you will have a horizontal piece with two square folds.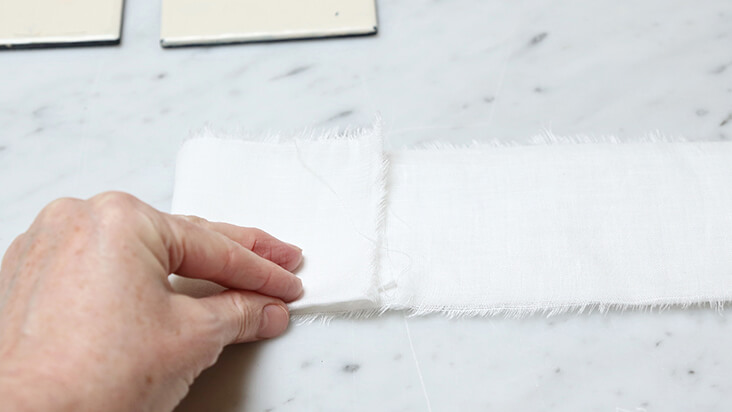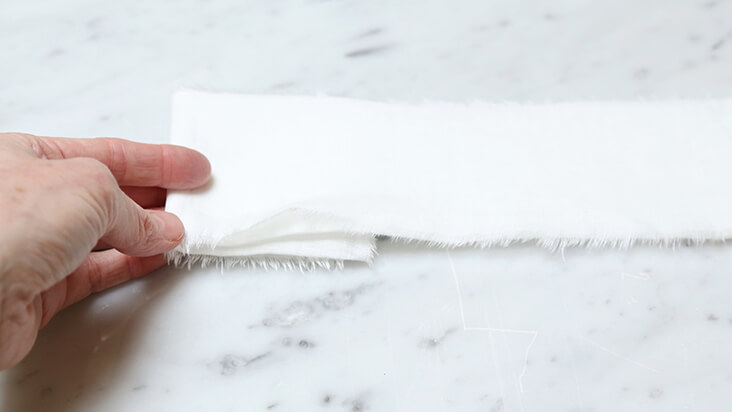 Continue this process of turning the fabric over and folding a square until you get to the end. Keep in mind that you are folding from back to front. If you have a small piece of fabric left just fold it on top of the last piece. When you reach the end, you should have a stack of folded squares.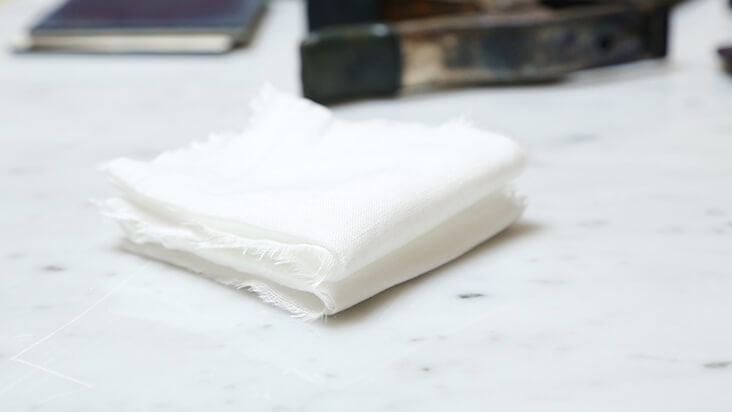 Take two square tiles or pieces of wood, I am using tiles for this piece ( equal in measurements). You are going to sandwich your fabric stack in between your chosen material. Lay the tile down, place your folded square neatly on top, place the other tile above then take a clamp and secure in place.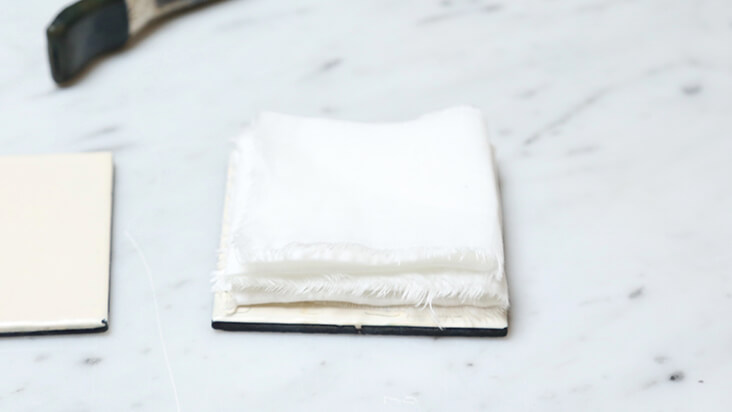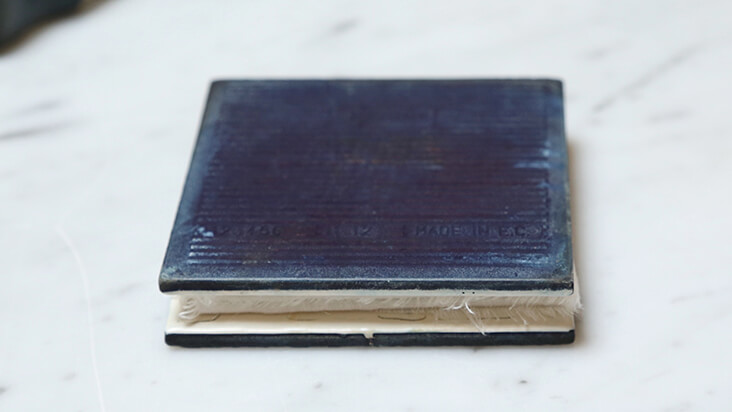 To Dye
Place your clamped piece in a basin of water to pre-soak for at least 30 minutes or until the fabric is soaked through.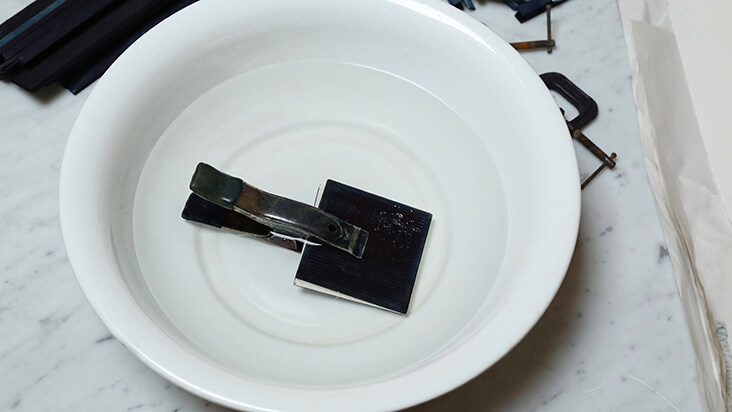 Once it is soaked through, remove from the water, let it drain so it's not dripping water directly into the vat. When the excess water has dripped off, carefully place the clamped fabric into the indigo vat. Let it sit in here for at least 5-10 minutes, longer if you like. I like to leave mine in the vat while I prepare other pieces.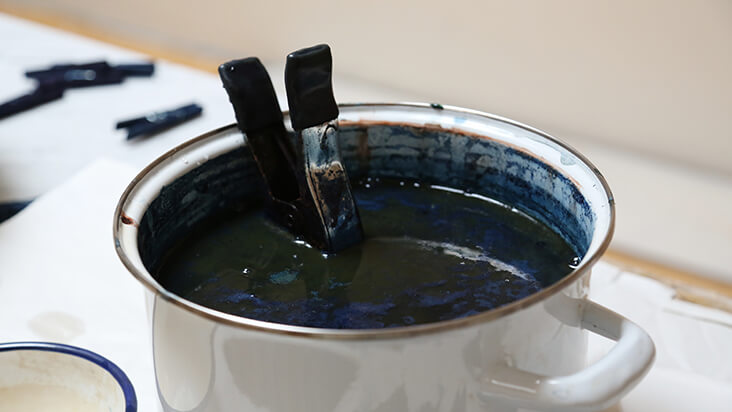 Remove your piece being careful to use your drip bowl to catch any excess indigo. You want to avoid letting it splash back into the vat.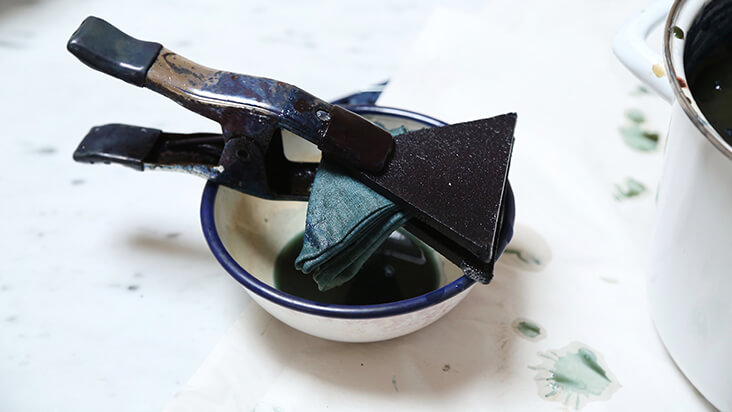 You will notice that the fabric is a greenish-blue when you remove it from the vat. As it and oxidises, the colour will keep developing and turning blue. If you would like darker shades of blue you will need to re-dip but remember to make sure it has oxidised fully (changed from green to blue) before re-dipping. 
Once you are happy with your shade, rinse thoroughly before removing the clamp & tiles. Once you remove the clamp & tiles, wash your piece in a basin of water with some eco-friendly detergent and hang to dry.
By using this method of placing fabric between two boards & adding resistance you can vary the folds or the placement of the boards to create an unlimited range of patterns.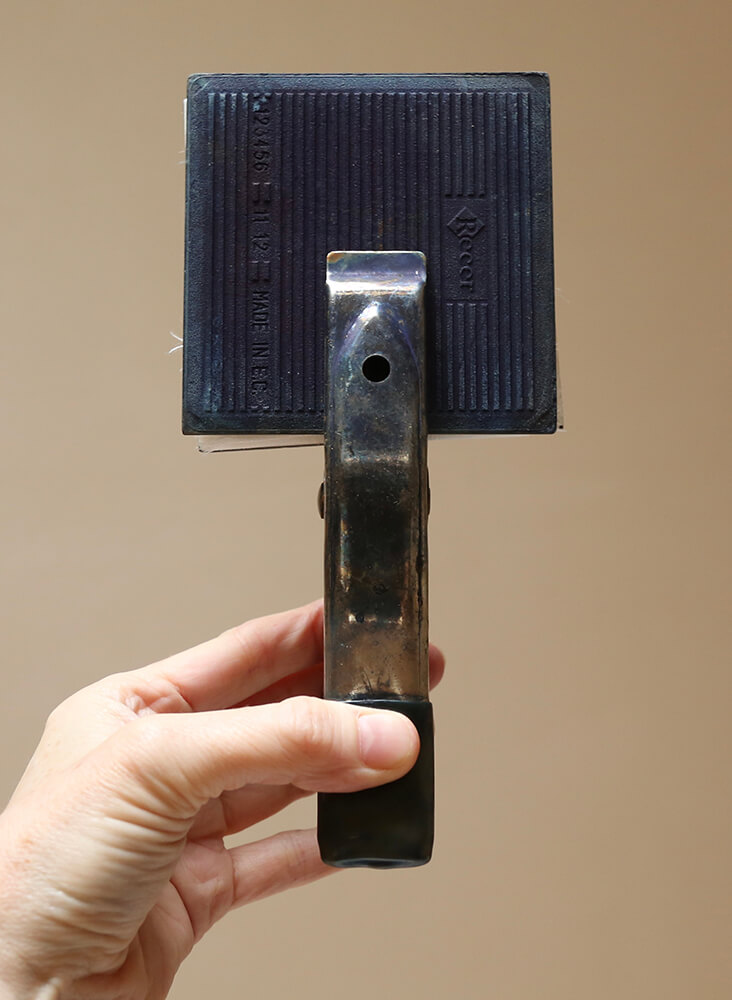 From here we will add to the itajme by incorporating a fold known as Kikko, this is a type of triangular fold which will create hexagonal patterns. 
Kikko Tools
Two wooden boards or two ceramic tiles
Fabric 
Clamp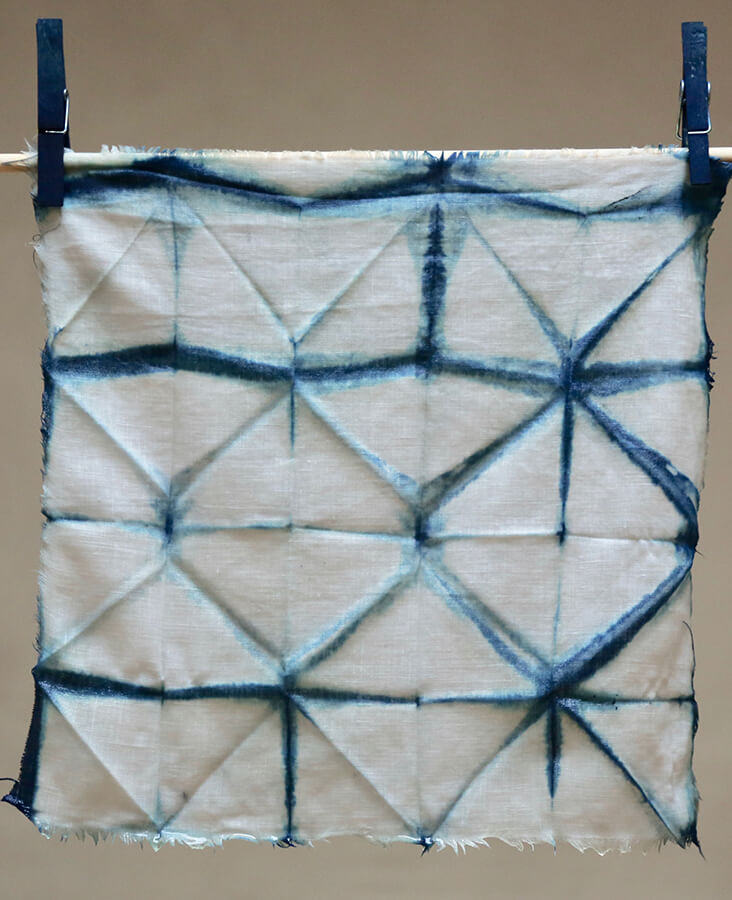 Lay your folded fabric flat & fold lengthwise into accordion folds. Place your left index finger at the top left corner, then take the bottom left corner & fold this so it meets the top edge creating a triangle shape.
Flip the fabric over and repeat the fold on this side, press the fold with your finger, then flip over and repeat until you get to the end. If you have any excess fabric at the end fold it on top. You should now have a stack of folded triangles.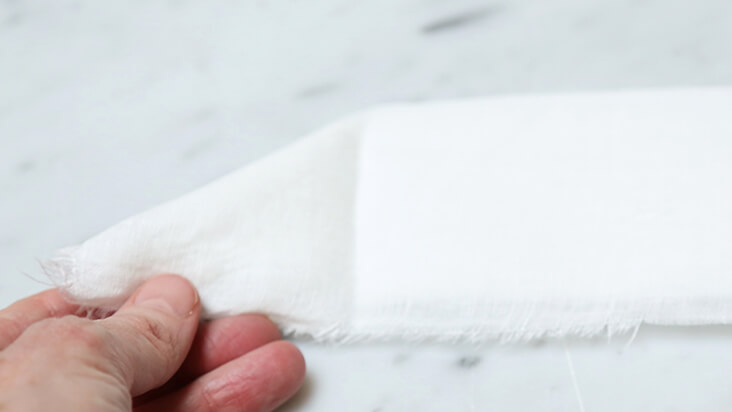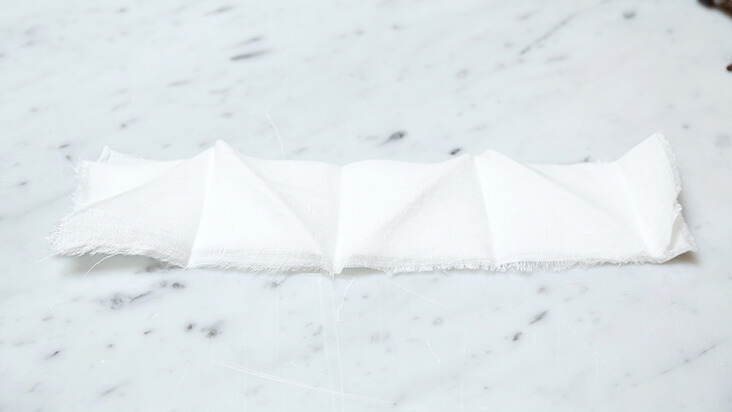 Place the folded stack in between two boards or tiles and clamp in place then repeat steps 5-9 above to dye in the indigo vat.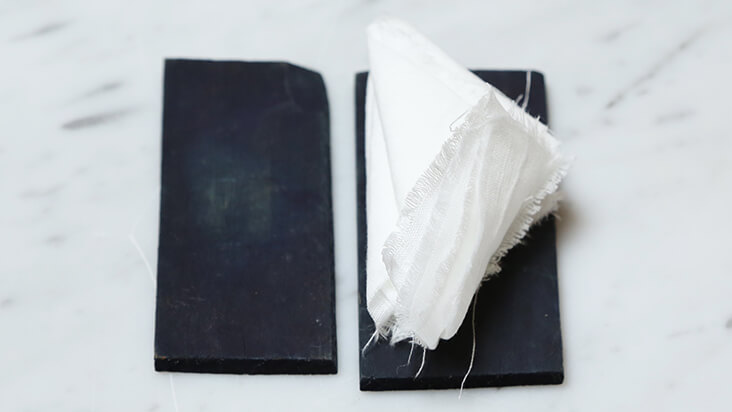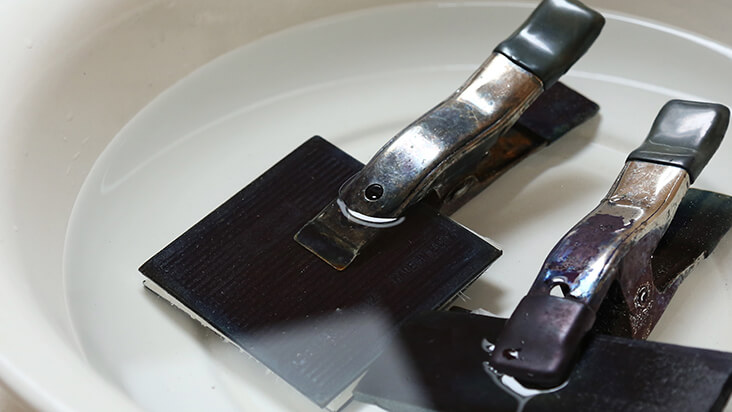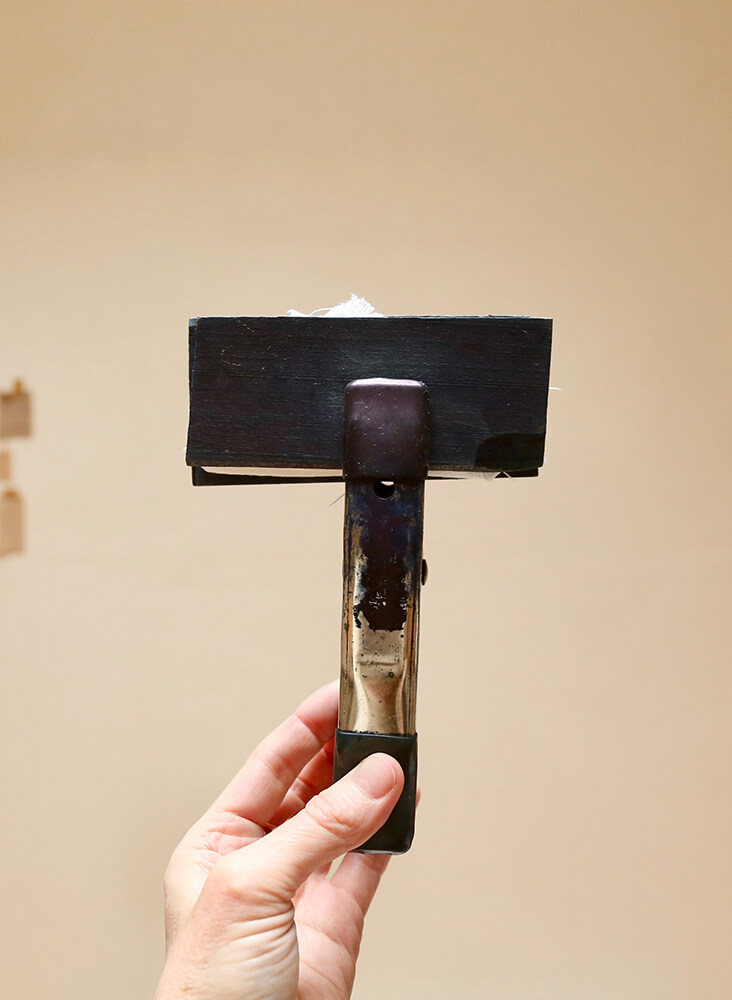 With this simple method of itajme and a kikko fold, you can create a variety of patterns. You will see that in the photo below, depending on how I position the wood will result in a different pattern.  
Subscribe