Marimekko: The Finnish Lifestyle Brand
"One has to dream. And one must stand out from the rest." Armi Ratia
Finnish design house Marimekko is world-renowned for its punchy, eye-catching patterns that have adorned everything from printed textiles to clothing, wallpaper, tableware and furniture. Founded by the power couple Viljo and Armi Ratia in the 1950s, the Marimekko brand transformed the textile landscape of Finland, bringing exuberance, optimism and hope in a broken post-war society. As business partners the couple worked closely with a team of in-house designers, marketing themselves as the architects of a new brand that could significantly improve lives through high quality, accessible Finnish design. Armi Ratia observed, "I really don't sell clothes. I sell a way of living. They are designs, not fashions. … I sell an idea rather than dresses."
Before founding Marimekko together in the early 1950s, both Armi and Viljo had experience running their own businesses apart from one another. Armi trained as a textile designer in Helsinki and her first business venture was a small craft company which employed weavers to produce textiles under her supervision. Viljo was an officer cadet when he met Ratia, but he later set up the oilcloth printing company Printex with his business partner Arvo Nurmi in 1949.
After the war Armi became more closely involved with Printex, particularly when the company's oilcloth market sales fell; it was she who suggested they branch out into the production of modern textiles. Sociable and well-connected, Armi invited her artistic friends to create textile designs for Printex – one of the first, and most celebrated was the innovative artist Maija Isola, who became the company's first full-time product designer and introduced what would become Marimekkos' trademark large, geometric patterns and brilliantly bold colours. Isola's unconventional and rebellious Unikko (poppy) is still one of the company's most famous prints.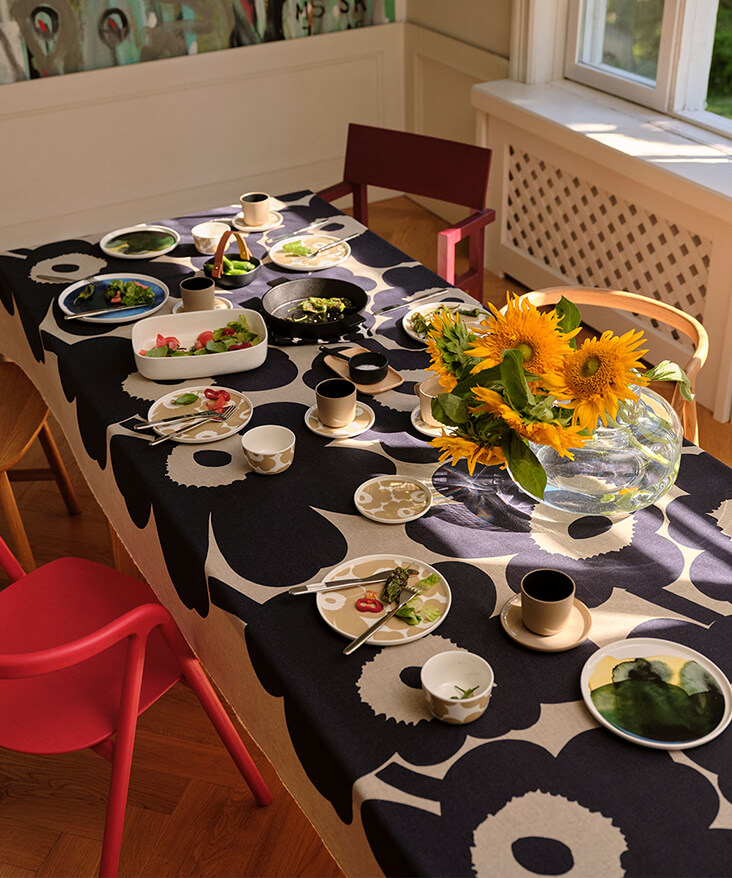 Beautifully hand-printed via a silkscreen press onto crisp, organic cotton, their fabrics were undeniably seductive, but they were also racy and radical, and buyers weren't sure what to do with them. In a bid to boost textile sales, Armi asked fashion designer Riitta Immonen to design a series of simple, wearable dresses that could display the possibilities of this daring new fabric and unveiled them during a fashion showcase in 1951. To keep this venture separate from Printex, Armi named the display Marimekko, translated as "little dress for Mary", with the name Mary referencing the eternal, everyday woman. From the outset the focus was on wearing simple, comfortable, yet immaculately made cotton dresses to exemplify the ease of Finnish life. Within a day of hosting the event, the entire clothing line had sold, heralding the dawn of Marimekko – just a year later the company opened their first store.
Both Armi and Viljo invested their energies into expanding Marimekko as popularity for the business grew and eclipsed Printex. Armi remained true to the company's first designs by Isola, encouraging in-house designers to continue with the same brilliantly bold, exuberant colours and geometric patterns, while shifting her role from Artistic Director to Managing Director. She was particularly keen to employ young graduates from the Helsinki Institute of Industrial Arts who brought in a fresh, unfiltered eye. Along with Isola, other prominent designers who pushed forward Marimekko's vision were Annika Rimala and Vuokko Nurmesniemi, both of whose striking pattern designs are still selling today under the Marimekko brand.
Marimekko's dazzling designs quickly spread in popularity across Finland, reaching an international audience by the 1960s. The popularity of their business was beneficial for Finland, presenting a vision of a new, prosperous and optimistic nation to the wider world, and many of their motifs made during this time are recognised as an iconic emblem of the era. Through powerful advertising, Marimekko presented not just clothing but interiors including wallpaper, curtains, upholstered furniture and bedding, offering an entire lifestyle brand that was quintessentially Finnish. Part of their popularity was in the eclecticism of their designs, fusing Finish rural aesthetics with the cool geometries of an international city-style, creating a look that appealed as much to young radicals as mature audiences.
Following Armi's death in 1979 the Marimekko company was facing an uncertain future; it wasn't until 1991, when Finnish business owner Kirsti Paakkanen took hold of the reigns that the company truly resurfaced for a new generation. Today Marimekko is a multinational organisation that employs leading designers from around the world including Maija Louekari, Aino-Maija Metsola and Jenni Tuominen, who continue to pursue Armi's cutting edge yet distinctly Finnish design vision. In keeping with both Armi and Viljo's focus on innovation, many of the company's textiles are printed using flat screen, rotary and digital printing to produce high quality, brilliant colours on a wide array of fabrics include cotton, linen and coated finishes that would make Armi and Viljo proud. The Marimekko company are also dedicated to sustainability and longevity, focussing on designs that are built to last, and working closely with leaders in the research of ethical  fabric production, including biodegradable textile fibres and wood-based textiles, carrying on Armi and Viljo's remarkable vision to improve the lives of everyone.