PATTERN REVIEW: Persephone Pants By Anna Allen
The whole sewing community has been going crazy about Anna Allen's Persephone Pants and Shorts pattern since its release in 2018. If you've been following some sewing blogs or makers on Instagram, chances are that you've already seen versions of it in your feed. It's been so popular online that we just had to try our hand at it. And truth be told, this Instagram favorite didn't disappoint. It really is an amazing pant pattern with clever drafting and interesting features.
The reason why we are so excited about sharing this pattern with you today is that we feel that we have found the perfect pant pattern that looks great on virtually anyone. The multitude of positive reviews is there to prove it.
Anna Allen, the designer of this pattern, drew inspiration from the sailor pants from the 20-40s. The Persephone pants have a truly high waist, wide legs, and a vintage-inspired button fly, a true reminder of their origins. Other cool features include hidden front pockets, belt loops, and a lot of topstitching. But the element that makes them so unique is that there are no side seams. The front and back pant legs are cut from one piece, which wraps all the way around your leg. The pattern also includes options for two lengths: cropped leg pants and shorts.
If you are tired of your skinny jeans and are in search of a perfect wide-leg pants pattern then you should definitively give the Persephone pants a try. It is amazing what sewing a pair of proper pants can do to your sewing confidence! When you assemble all the flat pieces of fabric and they start to form the shape and hug your body.
Use your hip measurement to select your size because fit at the hip is difficult to alter without any side seams. If you fall in between the sizes at the waist, use back darts to get the fit right. Many sewists suggest that the lack of side seams make the fitting process quite unique, as you'll need to play with the back darts intake to achieve a snug fit at the waist without distorting the lines. You can easily adjust the front/back rise length using the lengthen/shorten lines in the pattern.
The Persephone pants are accompanied by excellent instructions and great illustrations, making the sewing process a breeze and quite fun. The only challenge is the front button fly construction. But Anna provides super detailed step-by-step instructions that will guide you through the process. And if you think that you might require some extra help with this technique, check out this step-by-step tutorial that we posted a while back. It is based on Anna's technique and works perfectly with the pattern.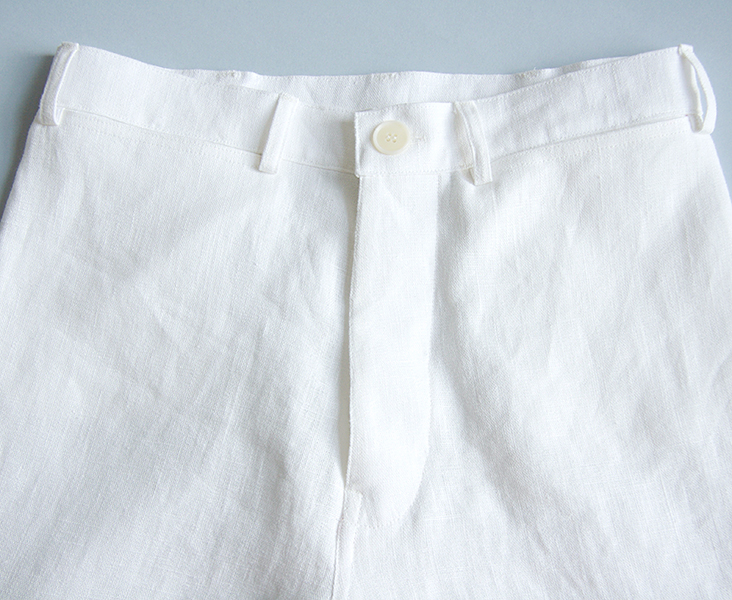 Please note that there's a zipper fly extension pack available as an extra option (instead of the included button fly).
Now let's talk about pockets because every pair of pants needs pockets. The pattern has two front inseam pockets nestled in-between two belt loops. Although they look pretty small, they are big enough to fit your phone and cards. The lack of back pockets make these pants a bit less functional but Anna has a free pocket template available for download if you feel like adding pockets to the back.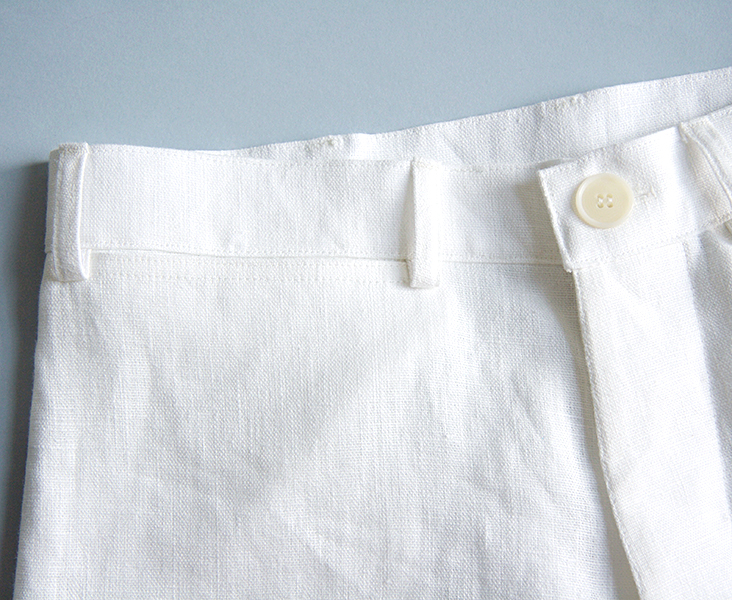 You can also decide to use contrasting thread for topstitching to add a little extra detailing to your pair.
The pattern is drafted for woven non-stretch bottom-weight fabrics like denim. corduroy, cotton canvas and twill. But heavy-weight linen works great with this pattern too making it a perfect pair of pants for warmer days. We decided to make our version of the Persephone Pants in a straight size 6 with no alterations using our gorgeous FS BLEACHED Softened Heavyweight Linen in a beautiful off-white shade. At a heavier weight of 7.1 ounces, this 100% linen is durable and perfect for projects that require just a bit more substance. We just love how it looks in white! Plus, there are few things in life as delightful as white linen pants on a hot summer day.
The Persephone Pants and Shorts sewing pattern is available as an instant PDF download from Anna Allen's Etsy shop in US sizes 0 to 20.
The bottom line, this is a terrific pattern suitable even for beginner sewists. Maybe you've never sewn a fitted pair of pants before or never made a button fly, or maybe you are simply afraid that it won't fit your particular body type. Do not fear and try this wonderful pattern. With its flattering shape, surprisingly easy fit and excellent instructions, the Persephone pants are sure to become your wardrobe favorite!
And if you are looking for more maker inspiration, check out all the amazing makes on Instagram with the #persephonepants hashtag.
Subscribe