Indigo in China: Ancient Roots
Chinese textiles have a rich, fascinating history that stretches back millennia, telling wondrous tales of their most ancient civilizations. From textured, hand-woven hemp and ramie to embroidered cotton and hand-dyed silk, the hard-won textile traditions of China have produced some of the most exquisite and desirable fabrics of all time. Indigo is a vital strand of this history; it is here where the colour first emerged as a potent sartorial powerhouse and quickly achieved its status as a symbol of luxury and wealth.
Astonishingly, natural indigo has such a long history in China that it can be traced back to the ancient Qin and Han Dynasties beginning in 221 B.C. During this era, Chinese developed indigo production from a wide range of plants, including the famous indigofera tinctoria but also the strobilanthes cusia, polygonum tinctorum and isatis tinctorial. Any plant with a distinctive, magical ability to produce blue dye was labelled as "Lan Cao", meaning 'blue plants.'
Over the centuries, the ancient Chinese developed their own methods and rituals surrounding the production of indigo, some of which are still being practiced in rural Chinese farms today, predominantly by women. The dye is first made by mixing together indigo leaves, rice alcohol, wild plants, and lye. This precious blend of fermenting mixture has a sacred quality, and must be kept inside the home by women in a place only with good feng shui – otherwise, they believe the dye will be destroyed. It is also thought that pregnant or menstruating women can destroy the dye simply through their presence, so they must stay away.
To stain the fabric, it is submerged into dye baths of fermented indigo and hung out to dry on poles, before being re-submerged and dried out repeatedly, sometimes for up to two weeks on a single bolt of fabric. To create the colour's distinctive shiny patina, the fabric must be beaten repeatedly with wooden mallets and sometimes treated with cowhide extract or egg whites to add greater gloss and sheen. Traditional Chinese indigo fabrics were also known for retaining a faint floral fragrance and for being naturally moth repellent, a quality that made them popular for the domestic sphere.
Like many rural indigo makers, the Chinese became known not just for single toned fabric, but also for producing finely detailed patterns. During the Golden Age of the Han Dynasty from 206 B.C. to 220 A.D., Chinese textile manufacturers began treating pre-dyed fabric to various resist dyeing techniques to retain white areas, including stenciling paste in intricately detailed patterns onto fabric, as well as hand-painting on designs in wax batik. Other popular processes developed for patterning Chinese indigo fabrics also included block printing, tie-dyeing, and clamp-resist.
Through the use of these techniques, designs were made with either blue on white or white on blue, often featuring traditional Chinese plants, mythical creatures or animals with organic, fluid shapes suggesting endlessly flowing energy as a symbol of happiness and good luck. Chinese dyed silks were world-renowned and highly-prized across the ancient kingdom, but when cotton production in China began in around the eighth century it quickly became the dominant fabric for indigo farms. These patterned or single-toned blue cottons were often used to line the most sumptuous, luxurious silk garments, particularly those for ceremonial use by high profile royal or political figures.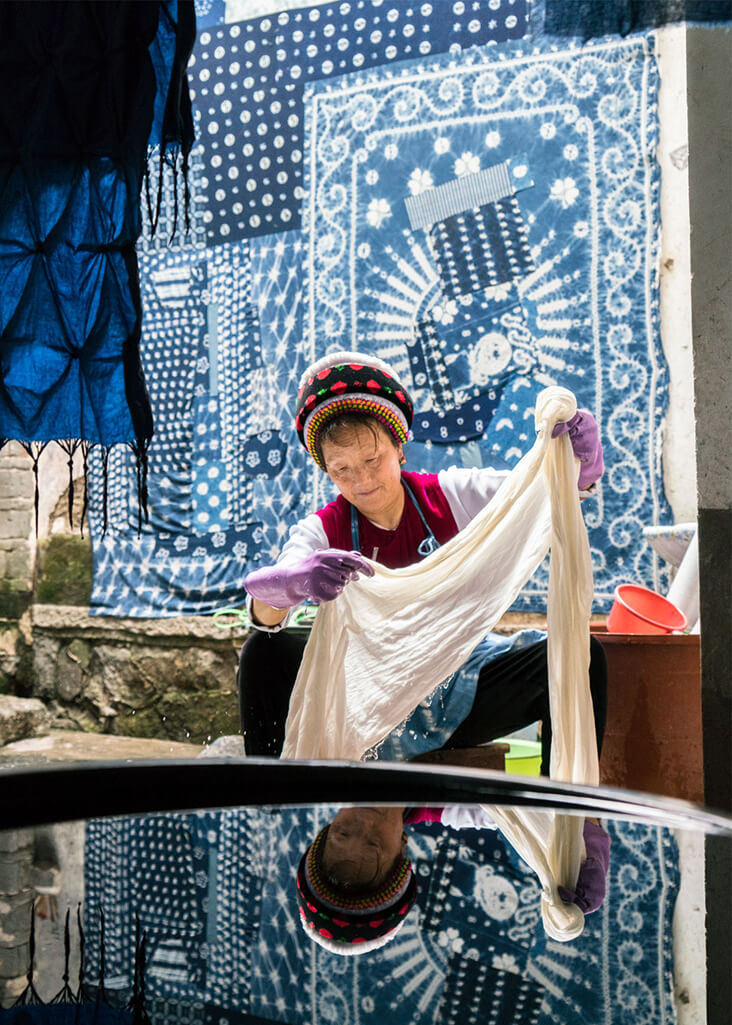 Much like the indigenous indigo farms of India, Africa, and Japan, the international manufacture of synthetic indigo in the nineteenth century largely made China's localised production lines obsolete, but a small few still exist today in the minority or ethnic communities of rural China. Those that have survived include the Miao of Guizhou and Yunnan provinces, where traditions for producing indigo have been passed from one generation of women to another for hundreds of years, while garments made in this most cherished fabric are reserved for local festivities and holidays where women can showcase their dyeing skills to one another. Yang Xiuying, an indigo maker from the Dali village in the southern Chinese province of Guizhou reveals just how prized the ancient, hard-won craft still is in their untouched indigo oasis, a far cry from the industrialised urban sprawl, observing, "They say whoever has the darkest stains on her hands makes the best cloth."