Natural Dyeing: How to Dye Linen with Yellow Onion Skins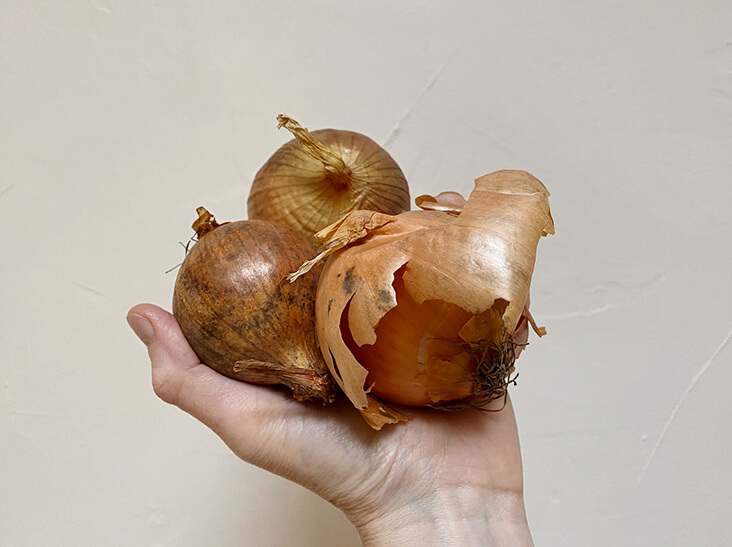 When it comes to sharing the process of natural dyeing, I like to make it as simple as possible for those of you that are new to this. With that in mind, I have put together another tutorial for you, this time using yellow onion skins. The yellow onion, which is botanically classified as Allium Cepa is apparently one of the oldest cultivated vegetables. The skins from the yellow onion can give a beautiful range of soft yellow to rich gold and all shades in between. Similar to Avocado stones the skins are high in tannin and because of this, the colour will bind to the fabric without the addition of any other ingredients or a mordant. A mordant is something you add when natural dyeing to help the bind & increase colourfastness. See my previous article " Making Colour Stick" for more detailed information on mordants.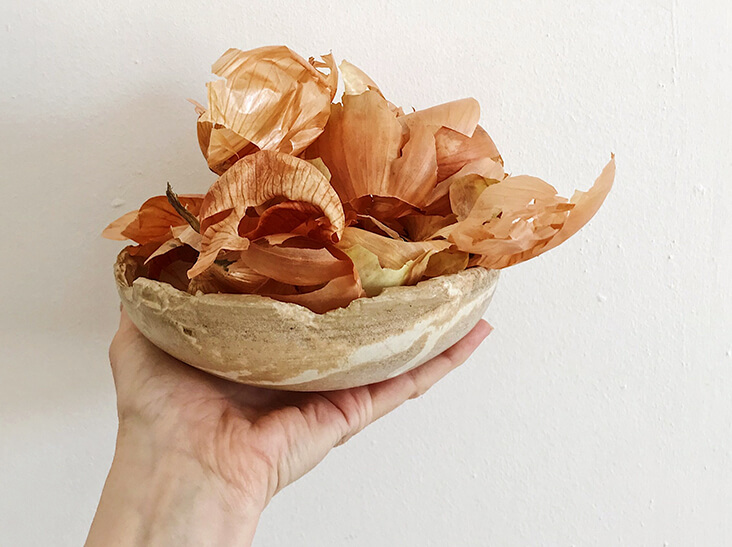 When you start saving your onion skins, be sure to store them in a bowl or brown paper bag until you have gathered enough, don't store in a plastic or airtight container as they will sweat & go mouldy! Also don't mix the red onion skins in with the yellow. Red onion skins give shades of brown which will muddy the rich yellow hues from the yellow onion.
Before you get started with this project, make sure you prepare your fabric correctly. Traditionally, the fabric has to be prepared by a method known as "scouring" which removes any residual impurities from the fibres of the fabric. If this is not done correctly you might get blotchy or inconsistent results. For a simple method pre-wash your fabric in your washing machine using 1 tsp. per yard of fabric with any of the following: soda crystals, baking soda, baking powder. If you are using Fabric Store linen PFD, this has already been "Prepared For Dye" & you can just rinse this with 1 tsp of detergent per yard of linen.
Tools
Water
Gloves
Strainer
Heat source
Wooden Spoon
PFD (Prepared for Dye) Linen
Skins from 10-16 yellow onions, the more you use the darker your shades will be.
A big Pot ( big enough to hold whatever you're dyeing)
Container or bucket to soak your fabric after it has been washed & before it is added to the dye pot
Steps
Wash your fabric with 1tsp of any of the following baking soda, baking powder, soda crystals or dish soap, do not use detergent.
Fill your pot 3/4 with water & add your onion skins. The more onion skins the darker/ stronger your colours.
Bring to a boil, then reduce to a low simmer. Simmer for 1-2 hours then strain out your onion skins, these can be added to the compost.
Carefully place your prewashed & soaked linen into the dye pot & simmer on the lowest heat for at least 30 minutes.
Turn off the heat. If you want darker colours, leave your piece soaking in the pot overnight. If you want softer pale shades, remove your item once you have the colour you like.
Wash with an eco-friendly gentle detergent on a normal cycle and hang to dry.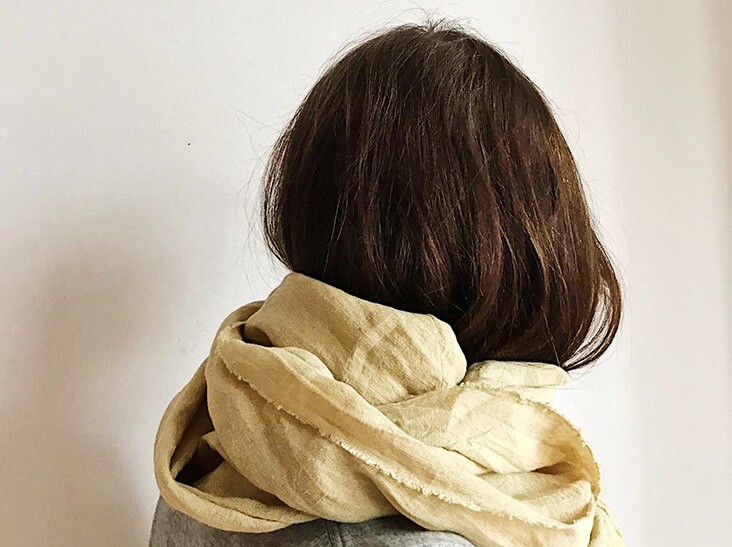 FS PFD (Prepared for Dye) Linen comes in a variety of weights