Curated by you: Karina Akopyan makes a Romantic Linen Dress with ruffles.
Tell us abit about yourself and what you do.
Back in Russia I was a history teacher, last summer my family and I moved to the United States and it is here that I started to pursue my newly found passion for sewing. It all began with me looking for a dress for my one year old daughter, and in the pursuit of finding one I realized that I can, in fact, make one myself, so I did and this is precisely when the sewing muse and inspiration paid me a visit. Linen has become my most favoured fabric to work with. I am thrilled with the qualities of line's texture, its earthy scent, and wrinkles formed whilst wearing it. I started to sew a fair amount, learn about sewing techniques and pattern making. You can find my work on my little Etsy store. I also love to sew clothes for myself and my family.
Why do you sew?
I love the process of sewing, it's really engaging for me. I could sew non stop, only breaking for sleep and food! Yes, indeed, this is true! But I have a little daughter, so of course, for the moment, her needs are my priority. I like the process of noticing how an idea in my head starts to slowly come to life. Sewing is a way to make unique clothes from sustainable materials, which I prefer when choosing what to wear. I love every garment that I have made with my heart.
As a child what was your first encounter and memory of beauty?
I have a few stark memories of beauty from my childhood. The first, I remember as a child me and my mother would go out picking wild tulips in the steppe, and because they were hard to find, you had to search intently for them, just like mushroom picking, I still remember their colours and scents, which is why the tulip is still my favourite flower. My second memory is when my grandmother and grandfather gave me and my sister a pair of new red shoes, the level of joy and excitement was overwhelming at how beautiful they seemed to us.
Where is home and how does it affect what you do?
My home is on a different continent, I was born in a small steppe village, but I spent most of my life living in the cold of Siberia. Russia is a country where linen was grown and valued from ancient times. Perhaps the love for this material runs in our blood and is passed down by our ancestors. Right now I live in Las Vegas, the Nevada nature is really inspiring to me, there are so many beautiful places out here! Mountains, rivers, canyons, it cannot stay indifferent to this beauty.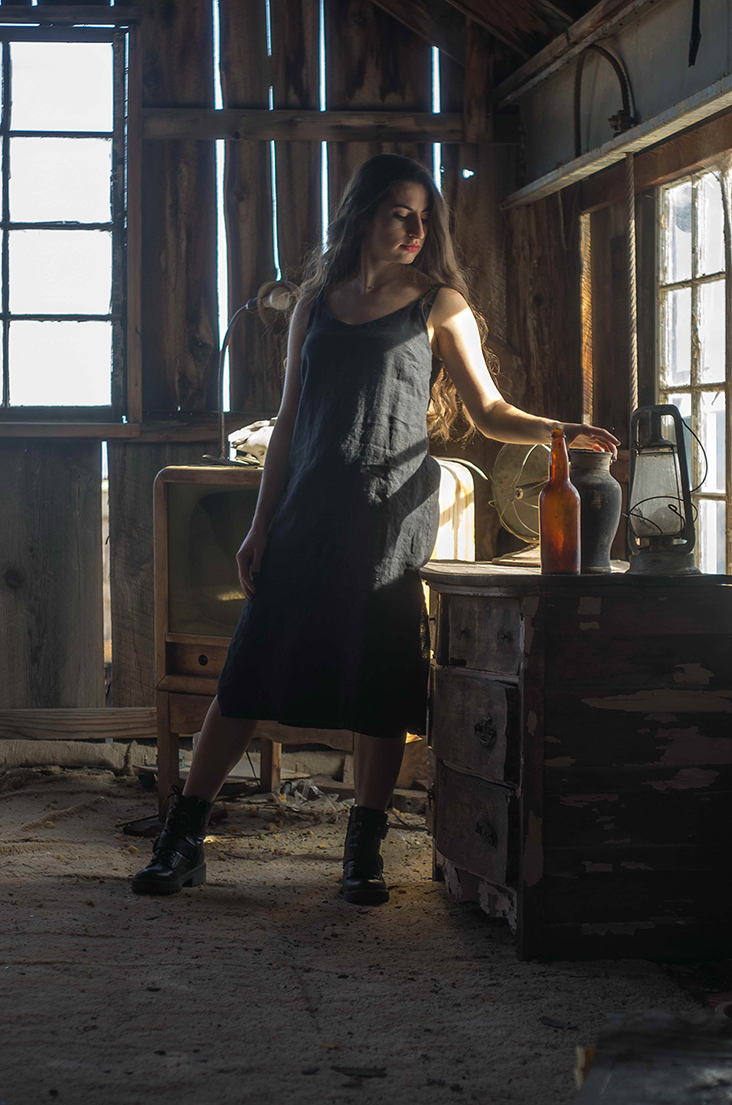 Name a book that you've recently read which inspired you and why?
Master and Margarita by Bulgakov, you can reread this novel countless times and keep finding something new for yourself. Take this citation for instance: "What would your good be doing, if evil  didn't exist, and what would the earth look like if all shadows would no longer exist upon it." Think about what this sentence really means, and remember it, when something doesn't go right in your life, 'good and evil' are the integral opposites of our existence, so are 'light and dark', we cannot perceive the good if nothing bad happens to us. A lot can be said about this novel, but it is best to read it once, it is available as an English translation.
What was the first thing you ever remember making on your own? Tell us about this
memory.
If I remember correctly, I first knitted a small sack using thin cotton thread to keep small things in it. I still enjoy knitting, but I choose to concentrate on making more practical things like carpets or interior baskets!
Who are your muses and inspiration?
I can't name one particular individual who inspires me, rather its a combination of many people, whose work I follow, all thanks to the advancements of internet and social media which in my opinion is a great achievement of our time, enabling anyone to gather information, and learn from the comfort of their home.
Do you have a community of crafters/ makers around you or do you find you are on your
own?
At the moment I don't personally know makers and am not part of the community of crafters, but I do attend local artisan fairs, and am keen on what my local community are producing, so I am hoping I can soon make friends who share the same interests as I for sewing and design.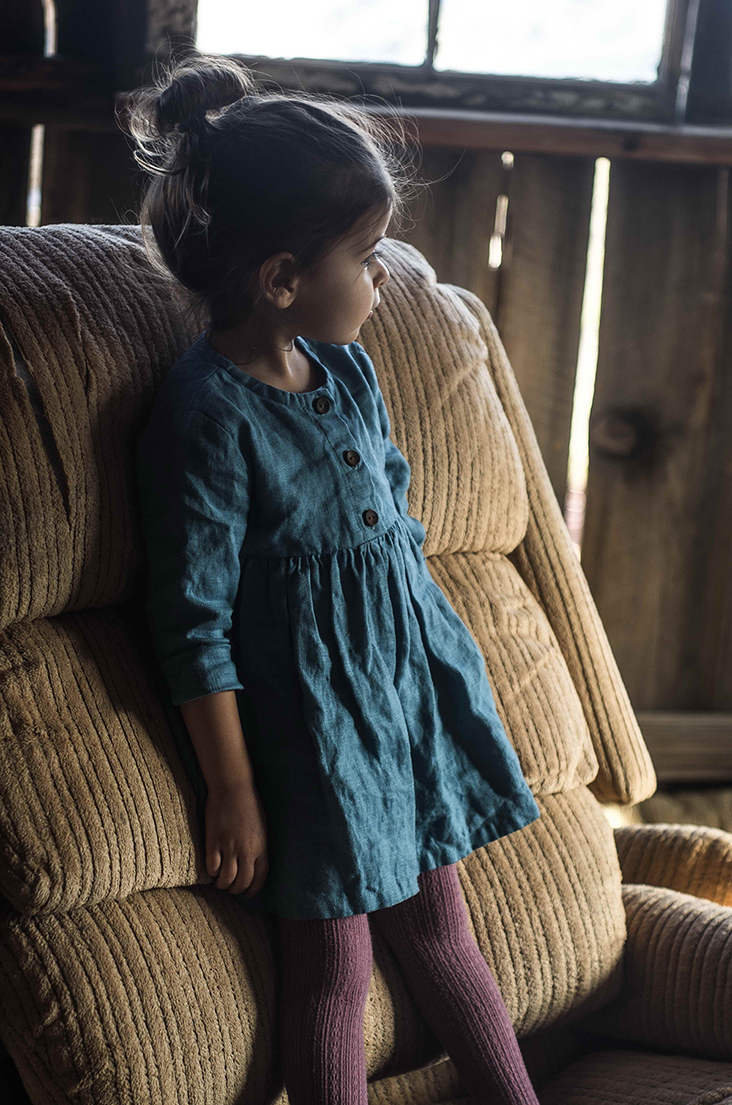 How important is it to make something with your hands?
Making something with my hands has always been really important to me since I was a girl, I was crafting from a young age, knitting, embroidering, and now I sew. I have many ideas brewing in my head which I immediately feel the need to realise into life, and until I sit down and make them, the ideas will persist to fester my mind. When I make something with my hands, I rest.
What does success mean to you?
I feel success for me is the state where my hobby will transform into means of making it into a business.
What have you chosen to make out of FS linen and why?
I used AUTUMN GOLD Softened 100% Linen. I fell in love with this colour when I first began to sew. I used this precise colour to make my one year old daughter's first dress I talked about earlier. This fabric is fantastic and will be perfect for anything you will decide to make. This time I wanted to make a romantic dress for myself and a festive dress with cotton embroidery and a tulle skirt fro my daughter Emma.
Fabrics On Sale Right Now