How to Bind a Neckline With a Bias Band Tutorial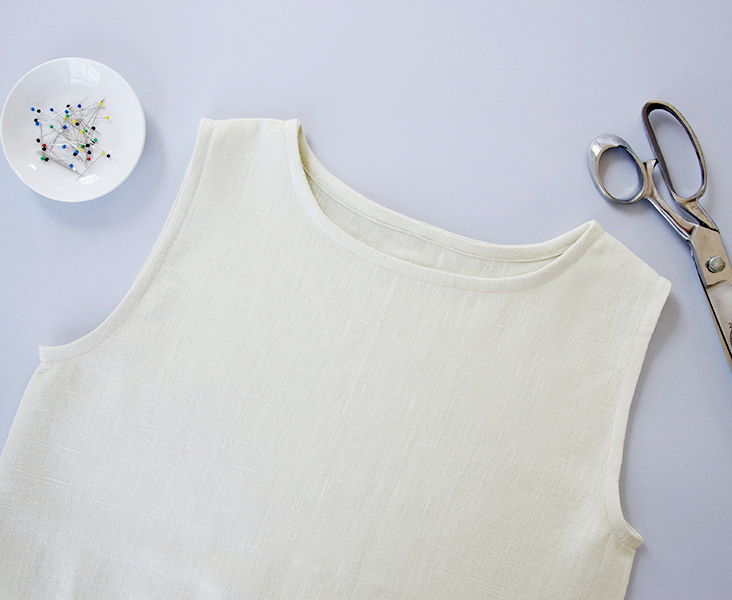 There are several ways to finish a neckline: you can either use a bias tape, invisible (or visible) binding or opt for a facing. But we decided to share with you this very simple band binding method which is a great (and quick) alternative to the traditional techniques. It consists in folding a band of fabric cut on bias in half and then stitching it directly into a neckline opening. The seam allowance is then turned to the wrong side and stitched in place enclosing all the raw edges under the seam. With this method you won't need to make a bias tape if you don't have a matching one from the shop or to fold your band twice to hide the raw edges.
It's a great and neat finish that can be used both for necklines and armholes.
Materials & Tools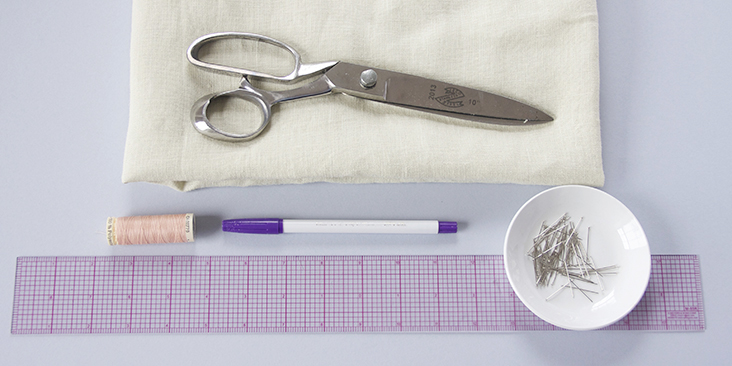 Fabric of your choice. We are using our beautiful medium weight linen in IL019 KRISTA NATURAL Softened.
Matching sewing thread (for the purpose of this tutorial we have used a contrasting colour thread), pins, scissors, ruler, fabric pencil/marker, sewing machine
Difficulty
Beginner
Steps
Note: To avoid shrinking and wrinkling, prewash your fabric and tumble dry it until it is still slightly moist, let it dry in room temperature and then iron.
1. Iron the fabric so it is easier to work with.
2. Let's start by making our bands of fabric for the binding. Place the fabric flat onto the table and make sure that the selvage line is straight.
3. Draw a diagonal line ( at a 45° angle) across your piece of fabric, from one corner to the opposite corner, using your ruler. Then draw a second parallel line 1,5" apart.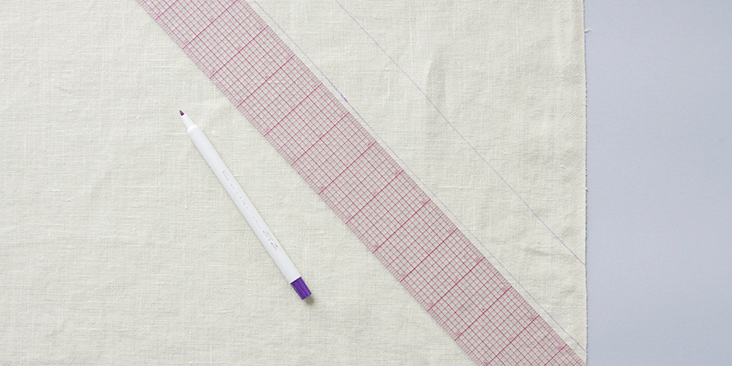 4. Cut your bias band. Try to make a continuous band a few inches longer than your neck opening.
5. Fold it in two lengthwise (wrong sides together) and press. Be careful not to stretch the fabric too much.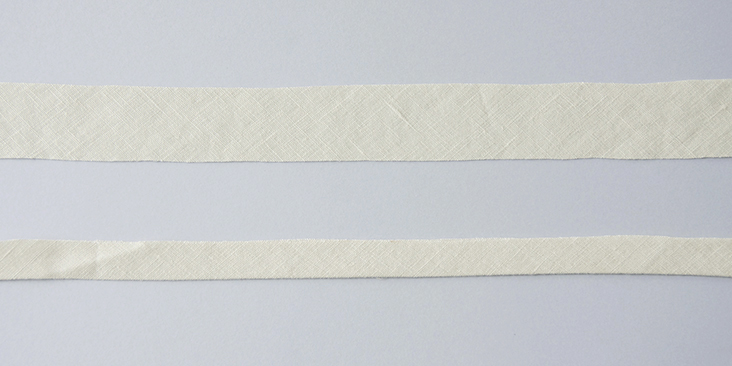 6. Prepare your garment by pinning and sewing your shoulder seams right sides together. Note that its best to leave the side seams open for now as it will be easier for you to attach the binding when you have an easy access to the neckline area.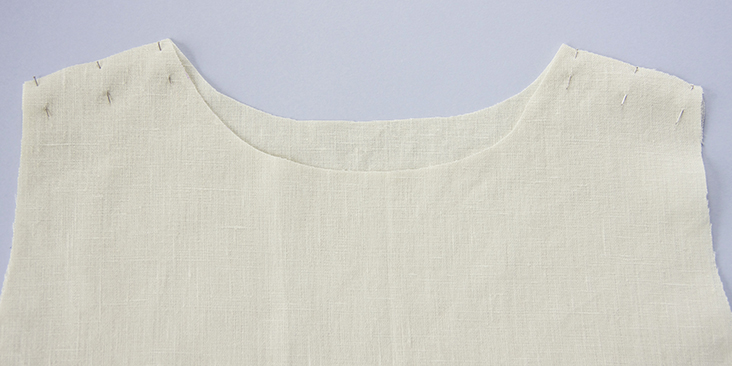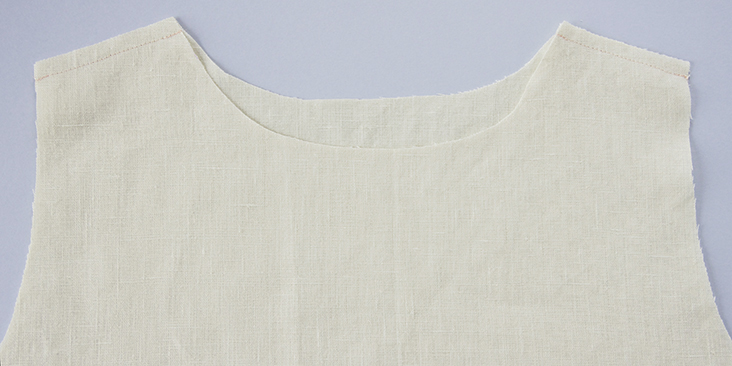 7. Press the seams open and turn your garment right side out.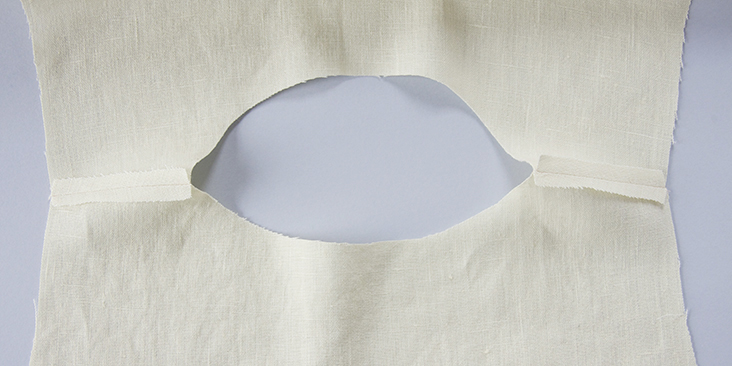 8. Take your bias band (folded in half) and pin it to the right side of your neckline starting and ending in the center back and leaving a couple of inches on each side for the overlap. Make sure that the band is evenly distributed (use as many pins as you need), if it's too long or too short your neckline may not lay flat.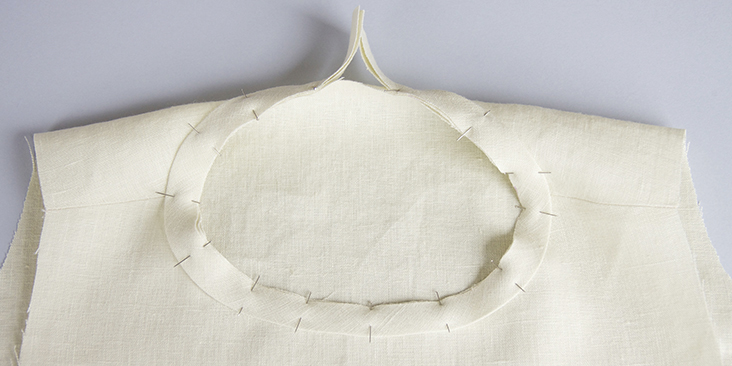 9. When you reach the center back, unfold and overlap the two ends of the band and pin them right sides together to perfectly fit the opening.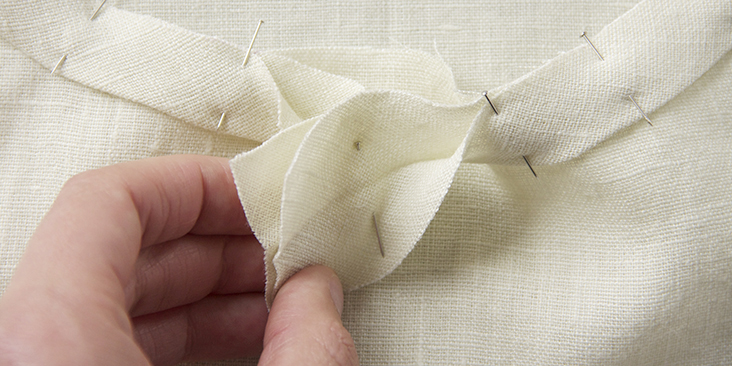 10. Sew along the pinned spot and press it open.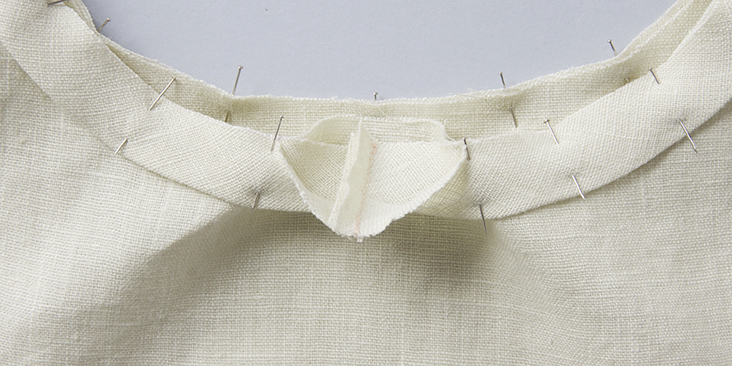 11. Fold the band again and pin it to the neckline.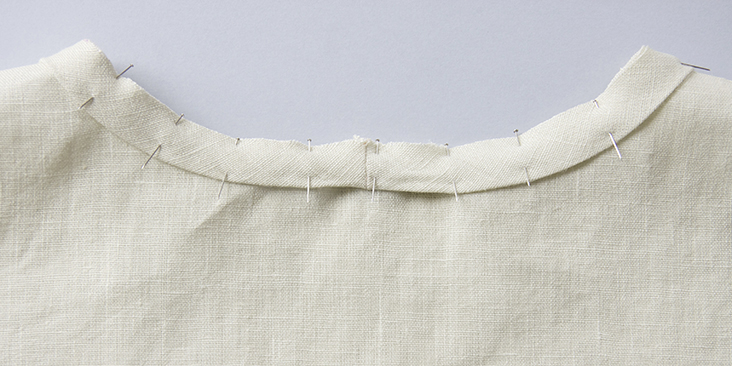 12. Stitch the band to the neckline at the usual 3/8" (1 cm) seam allowance. Start and end at the center back and remember to backstitch. Keep your sewing line parallel to the fold edge (and not to the raw edge).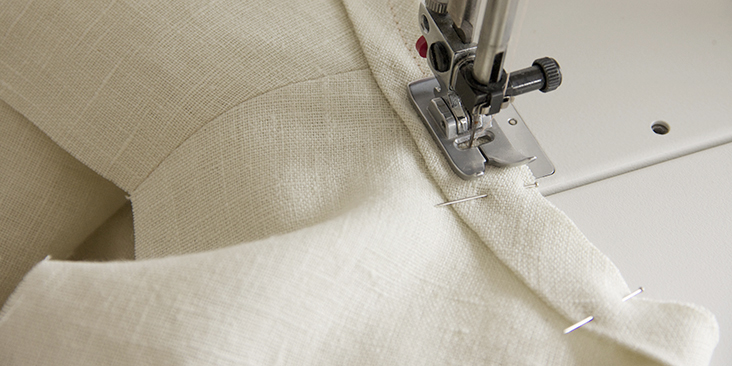 13. Make a few notches along the curves. Take your scissors and clip to (but not through) the stitched line.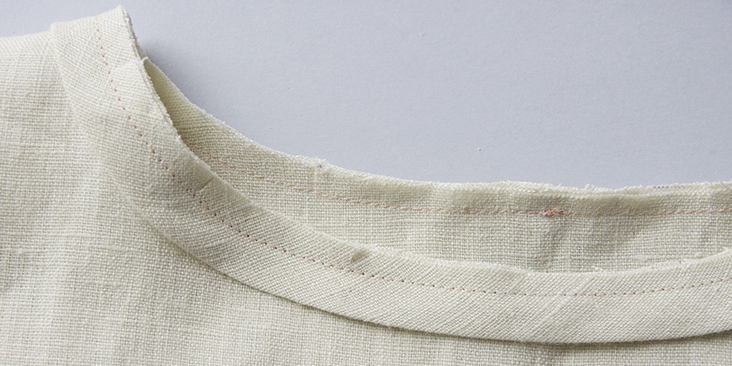 14. Press the binding away from the right side.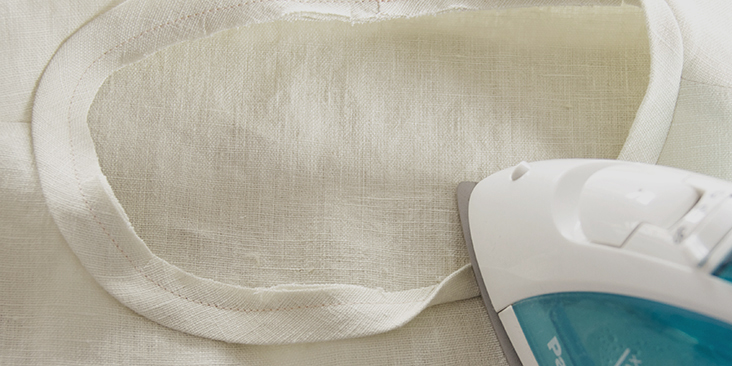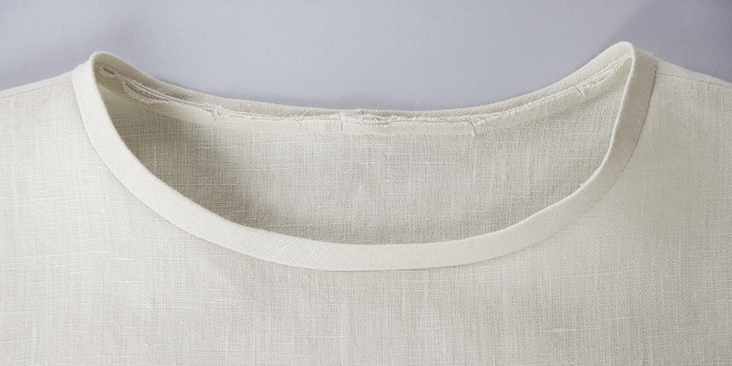 15. Turn your garment wrong side out and carefully press and pin the folded binding to the wrong side to create a neat curve. You don't want your binding to peak out or be visible from the right side.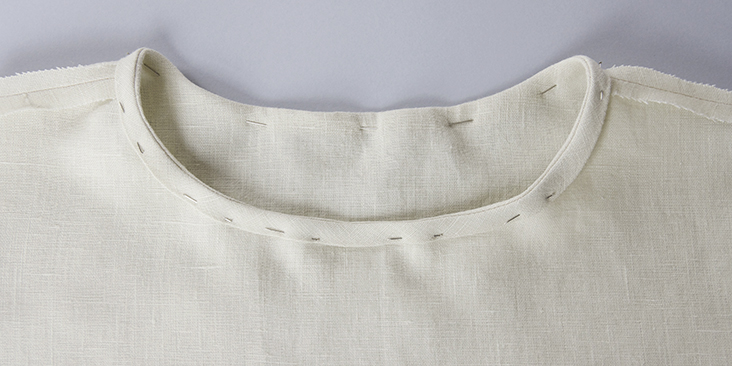 16. Stitch around the entire neckline (starting and ending at the center back) right along the fold of your binding. Again, keep your sewing line parallel to the outer folded edge.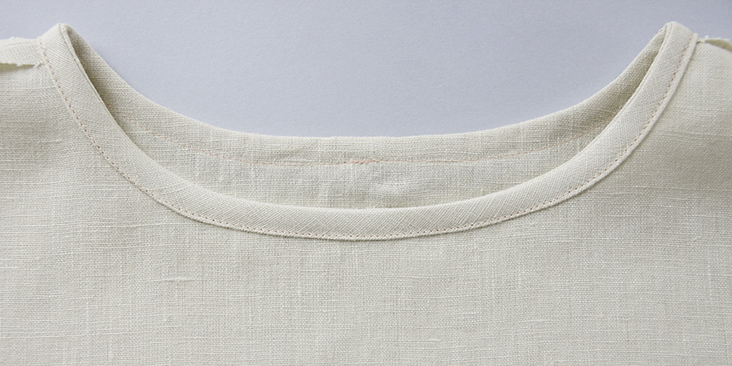 17. Give the neckline a good press and you are all done!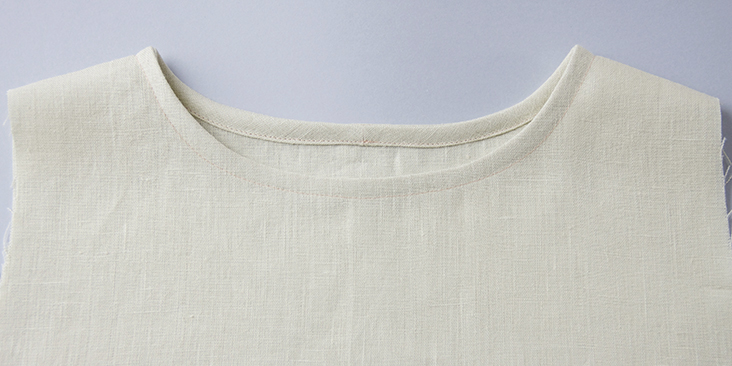 As you can see, all the raw edges are now enclosed and you have your lovely bound neckline.
You can also use this technique for binding the armholes.
Have a browse through 

our selection

 of linen and see if which of our fabrics inspire to use your new skill!
Subscribe