Artisan Crafting and Embroidery: An Introduction
Similar to our exploration of the Bohemian Modern trend, we've noticed a revival of artisan craftsmanship across the western world. Young people are stepping away from technology and learning a more traditional craft – be it woodwork, beer brewing or knitting – and turning that craft into a business. The last few decades have seen the pace of life get faster and faster, particularly in big cities and now many are craving a calmer, slower way of life. Even those not using their crafting skills to form a business are enjoying it for its meditative qualities, as a chance to switch off, spend some time with themselves and be creative. The modern 9 to 5 lifestyle is being sidestepped for a more flexible, family-oriented approach to living by learning crafts and trades that business used to be built on.
One of the earliest surviving examples of embroidery from the 4th century BC, found in China
One of the crafts that has seen a huge resurgence is embroidery, the art of decoration with a needle and thread. Wool, linen and silk have been used for thousands of years for both fabric and yarn and some of the earliest lasting examples feature these and stitching techniques still used today.'  The precise origin of embroidery is not known, but many trace it back to China, where samples featuring satin and chain-stitch embroidery worked in to silk thread have been found, dating back to the Zhou Dynasty era (1045BC-246BC). The craft made its way across the Middle East and Europe – archeologists have found mosaics, sculptures and paintings of human life 3,000 years ago, depicting people from ancient Greek, Babylonian and Syrian times dressed in rich silk robes intricately decorated with silk thread and pearls.
A scene from the Bayeux Tapestry (1070s) one of the most famous pieces of embroidery' 
In the cultures of Persia, India, China, Japan, Greece and Baroque European this kind of detailed embroidered clothing was a sign of wealth and prestige. In Medieval Islamic world, embroidery was an important part of life and became extremely popular because of this indicator of social status. In the Western world, embroidery was also mostly seen in the rich and powerful Medieval Church, where ecclesiastic luxury textiles were richly decorated and saved for the leaders of the Church and the monarchy. Garments were then being commissioned for the nobility in the 1700s and standard dress for the wealthy featured gowns and robes made of heavy embroidered silks.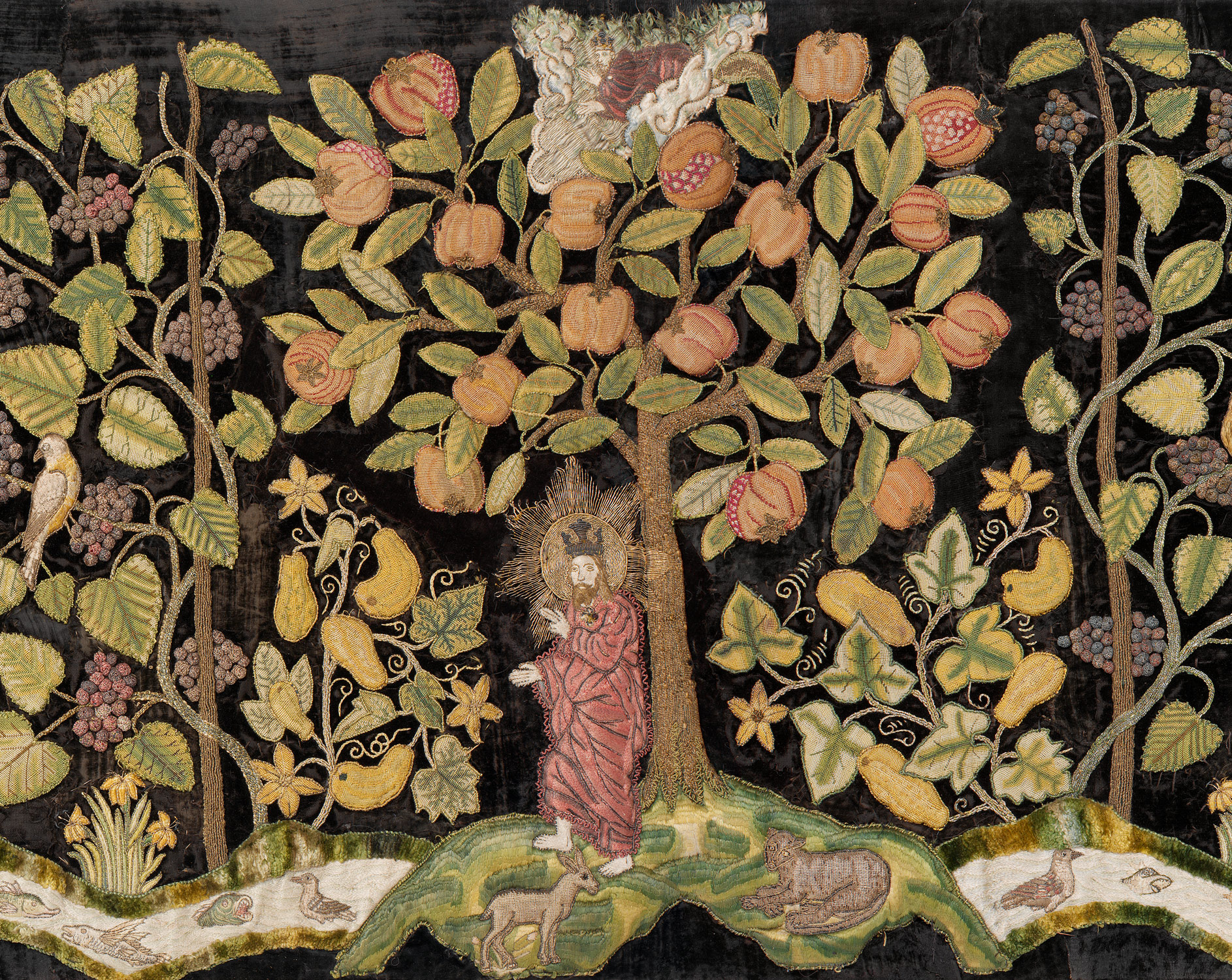 Garden of Eden, last quarter of 16th century -' Velvet worked with silk and metal thread
By the Victorian age,'  needlework had become a popular and encouraged pastime for wealthy young girls and women. It kept them safely occupied, and was considered much more preferable in this "˜moral' age to less respectable activities such as dancing or playing card games. The embroidery was mostly decorative, on linen, silk and velvet and they used techniques such as cross-stitch, lace work and tassel trimmings. Embroidery mostly stayed as a domestic past time throughout the early 1900s, but became more widespread thanks to patterns and instructions featuring in women's weekly consumer magazines in the 1920s and 1930s. These sorts of publications promoted the idea of an ideal homemaker where the woman stayed at home and cooked, cleaned and sewed – embroidery supported the creation of an ideal home through decoration and self expression.
Decorative embroidery from the Victorian period
It wasn't until women like Rebecca Crompton and Constance Howard came along in the middle of the 20th century that the approach to embroidery really changed and became more design-led, rather than simply domestic. Many needleworkers didn't consider that creativity fell into what they did, technique was the focus, but Crompton and Howard published guides including insight on texture, color, direction and sources of inspiration to produce more artistic embroidery, not just following patterns. Howard established the Department of Embroidery at the Arts School in Goldsmiths College in London and her teaching signaled the start of a new era – no longer was embroidery to be considered a sedentary occupation for kept women, it was given credibility and recognized as an art form in its own right.
Details from The Country Wife by Constance Howard, 1957
The 62 group, set up in 1962, was created as a support group for its members, who knew their work should be considered as a live art form, rather than a lady-like hobby and committed to working towards critical recognition for embroidery – they continue to promote the work of some of the best contemporary embroidery and textile artists to this day.'  The artists within this group are those who continue to push the boundaries of embroidery and solidify its position within the art world now, and includes some of the artists we will feature in our next series, such as Emily Jo Gibbs. These artists incorporate different creative techniques such as illustration and calligraphy into their embroidery, taking their craft to the next level and differentiating themselves from other artists. Many have also turned their craft into sustainable businesses, whether as art in its purest form – Emily Jo creates modern portraiture with her embroidery – or commercially – Evelin Kasikov's produces hand-sewn graphics for huge brands and magazines.
'Don't rush it takes time to do things well' – Emily Jo Gibbs, 2011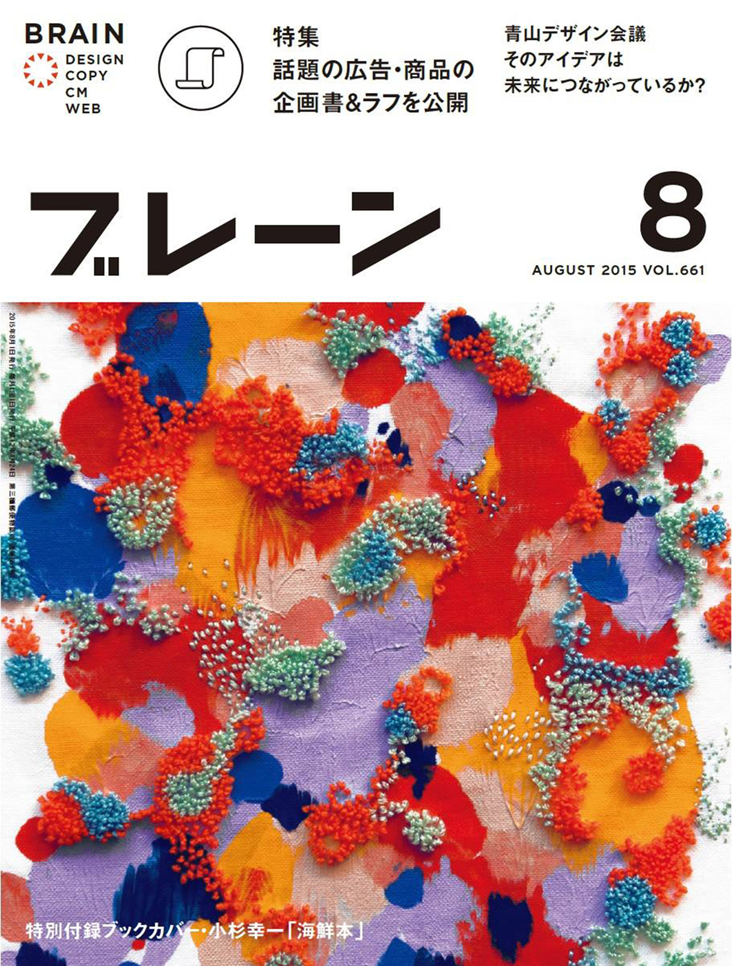 Artwork by Maricor / Maricar created for the August issue of BRAIN magazine using acrylics and cotton thread
In our series we'll also be taking a look at Maricor/Maricar, Rosalind Wyatt and Aimee Betts who all blur the lines between crafting and art and have created unique and sustainable business from their skills. Embroidery has risen from a luxury reserved for the textiles of the elite, then just a pasttime expected of women in high society, to a craft chosen by women and men for the sake of both art and business. In our next series we will look at some of these men and women and explore the art they are producing as well as the impact they are having on the handmade boom.
Subscribe