Top Talent Showdown Winners!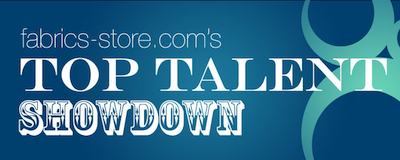 The Top Talent winner is Stevie from Oakland, CA!
Congratulations Stevie for creating an awesome design that showed us your unbeatable sewing skills and innovative use of linen!

Here is Stevie's winning design!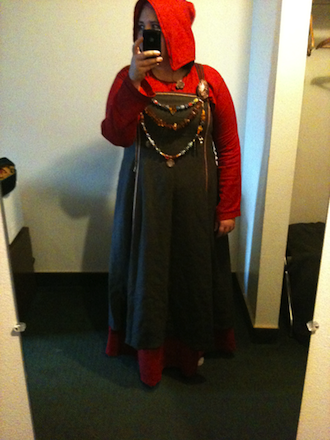 Complete early period Norse outfit. Apron- mid weight chocolate linen; dress & hat- mid weight crimson linen.

Stevie gathered a total of 715 votes with her linen design!
And a BIG shout out to our eight other winners who really should us their stuff too!
Here are our fantastic second-place winners: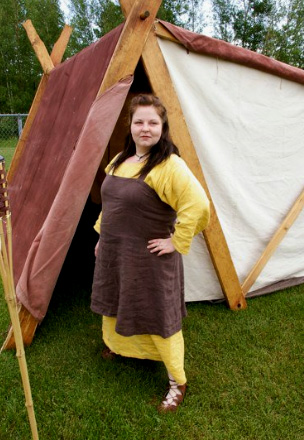 Vicky from Saguenay received 679 votes.
Viking Re-enactment.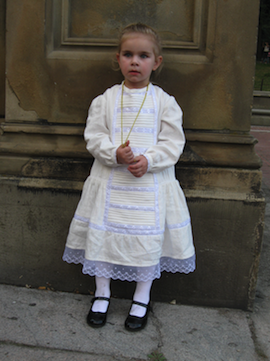 Amy from Oneconta, NY received 561 votes.
1915's era linen dress for a wedding for my 3.5 year old. Pintucks on the side panels and back from shoulder to skirt. Center panel pieced together with entredeaux, laces and pintucked linen. Linen piping where the skirt joins the top. Hand made linen bias around the neck.

Jean from Madison received 468 votes.
16th c Ruffs – neck and wrists – from Janet Arnold's Patterns of Fashion 4 – white linen with hand-woven black and white linen trim and ties. All hand-stitched.

Third places winners came pretty close and the competition was fierce!
Take a look at the great third-place winners: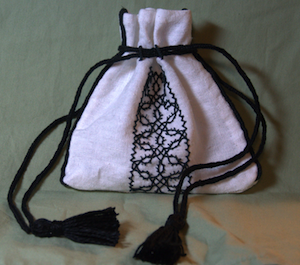 Ledonna from Houston area received 392 votes.
A Renaissance Sweet Bag. Made from IL019 white linen. I made the bobbin lace our of black linen and the tie/trim using a lucet loom. This bag was completely hand made.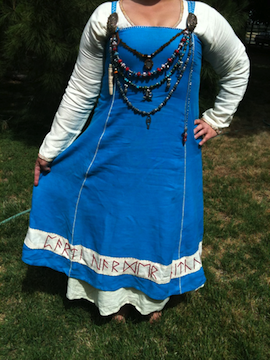 Rachelle received 388 votes.
Early period Norse emsemble. Dress and band are medium weight Krista Natural linen. Apron is medium weight Paciic Blue linen.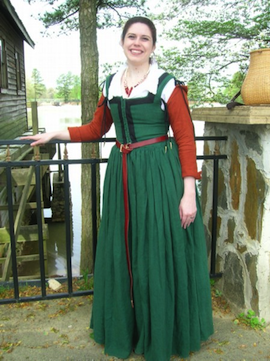 Laura from Raleigh, NC received 370 votes.
16th century Italian Renaissance working-class outfit. Done in medium weight green linen, with medium weight pumpkin linen sleeves. Shift, partlet, and coif done in lightweight white linen. Black linen guards hand-applied to the dress, skirt hand-pleated onto the bodice using cartridge pleating.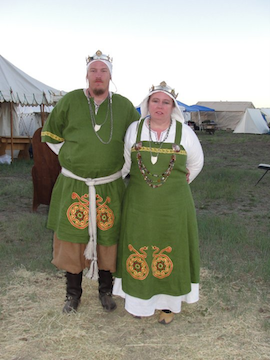 Margaret from Blythe, CA received 334 votes.
Viking apron Dress and tunic hand embroidered with perle cotton floss.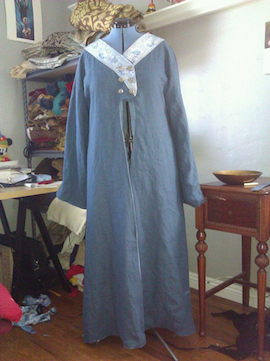 Lauren from San Diego received 303 votes.
Harry Potter robes for an adult based off of a Victorian Tuxedo jacket for design ideas. Blue bonnet mid weight linen lined with Dutch blue light weight linen.
Thank you to everyone that participated!
We were overjoyed with the amount of designs that were eagerly submitted. Thank you to everyone who voted too! Everyone really proved that when it comes to linen, you can design just about anything. Keep on designing and showing off your incredibly talent!
Fabrics On Sale Right Now