It takes a village: embroidering the Wikipedia page on Magna Carta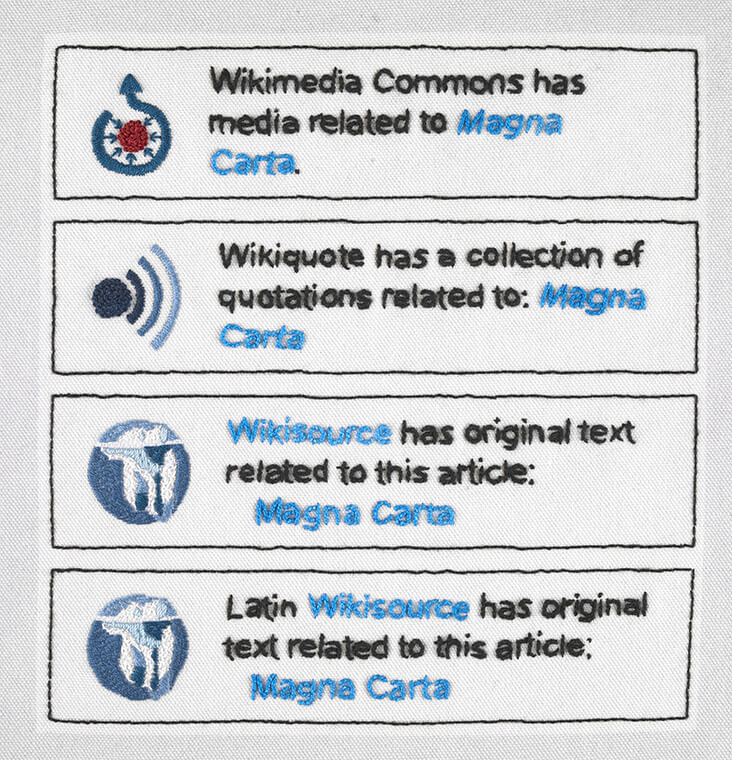 What do the Royal School of Needlework, Julian Assange and Philip Pullman have in common? They all stitched parts of the 13-meter-long Magna Carta (An Embroidery) by British artist Cornelia Parker.
Parker turns everyday objects into mesmerizing and thought-provoking artworks. In this case, she asked 250 people to help her recreate in thread-on-fabric the Wikipedia page dedicated to the historic 1215 document that established for the first time that everyone, including the king, was subject to the law.
The piece is currently on display at Tate Britain in London as part of Cornelia Parker's exhibition. It was commissioned by the Ruskin College of Art at Oxford University and had its first public outing at the British Library for the 800-year-anniversary exhibition on Magna Carta.
Parker invited people whose lives and actions are linked to the intertwined concepts of law and liberty. From members of parliament and lawyers, via civil rights campaigners, writers, and artists, to prison inmates. Some were asked to embroider specific words. The author of 'His Dark Materials' did 'Oxford'; the co-founder of Wikipedia, Jimmy Wales, got 'user's manual'. Baroness Eliza Manningham-Buller – a former Director General of the MI5 (British internal security service) – was among many given 'freedom'.
It was first digitally printed on half panama cotton fabric and then divided into sections. Fine Cell Work – a charity that trains convicts in paid, professional needlework – supervised inmates from various prisons to complete the majority of the work. Technically challenging images were sewn on by members of the Embroiderers' Guild, students of the Royal School of Needlework and staff of an embroidery company Hand & Lock. To include all parts of the UK in making it, at least one member of the Embroiderers' Guild from each region was given a section.
Cornelia Parker has a talent for clever collaborations in creation of her works. Here she draws attention to the communal nature that is required of democracy, politics, and law to function properly. She takes a Wikipedia page, that is, by definition, a result of concerted effort, and renders it in a collaborative embroidered form. Parker makes something transitory into a tangible testament and, just like the original document, it offers us a glimpse into its time. It becomes a snapshot of our understanding of history and its role, our political structures, our modes of communication and storage of information.
If you visit the Magna Carta Wikipedia page today, it is not going to be the same as Parker's embroidered one. While Magna Carta is seen as an icon of democracy and rule of law, Wikipedia is an icon of freedom of information. Anyone can contribute and change the entries, and anyone can read them. It is for this reason that it is never static – a version you get depends on when you access it.
By a twist representative of modern society, Magna Carta (An Embroidery) now has its own Wikipedia page, letting the cycle of eternal and ephemeral continue. But are we still sure which is which?
Subscribe