PATTERN REVIEW: FS CHARLIE Sleeveless Blouse in Lightweight Linen
Billowy linen shirts are my favourite things to wear in the warmer months, I love how they seemingly float over my body without clinging to it, and I love how they look tucked into a pair of high waisted trousers or shorts. I fell in love with the sleeveless version of the CHARLIE blouse the moment I saw it because it fit the bill so perfectly! 
This sleeveless view features a lovely oversized fit, dropped shoulders, bias faced armholes, a classic collar stand and a unique placket detail on the front and the back. It also comes with a long sleeve view and a dress length, as well as some beautiful trousers with different length options.
I decided to go with the size 2, as it was the closest match to my measurements. For reference, I'm a 30" bust and a 23" waist, and the size 2 is drafted for a 33" bust and 25" waist. I have quite broad shoulders and a bigger upper bust measurement which means I usually need to size up a couple of sizes for tops, so I decided to go with a straight size 2. The only modification I made was to shorten it by 7 cm, as the original length was way too long on my short torso – I'm 5'3" with a shorter upper half for reference. 
I love how the finished piece fits, it's exactly the super voluminous, balloon shaped top I was dreaming of! It creates such a nice, strong yet soft silhouette when tucked into high waisted bottoms. The only thing I don't love about the fit is how big the neckline is – I'm more used to wearing shirts with a closer fit at the neck so I will bring this neckline up for my next version. 
The placket details on the front and the back were really interesting to construct and I think they add a really cool touch to an otherwise quite simple pattern. But my favourite part of this pattern has to be the sleeves – the generously dropped shoulders create this beautiful dolman sleeve look and I just can't get enough of this specific silhouette. In my opinion tops with this sleeve shape serve as the perfect basic-white-tee alternatives, you can wear them in place of a simple white t-shirt and they instantly elevate the whole outfit. I went with the FS Softened lightweight linen in the bleached colourway to further play into the white-tee-alternative look. The fabric was just a dream to work with and I think it's the perfect match for this pattern, I can already tell how nice and cool it will feel in the dead of summer.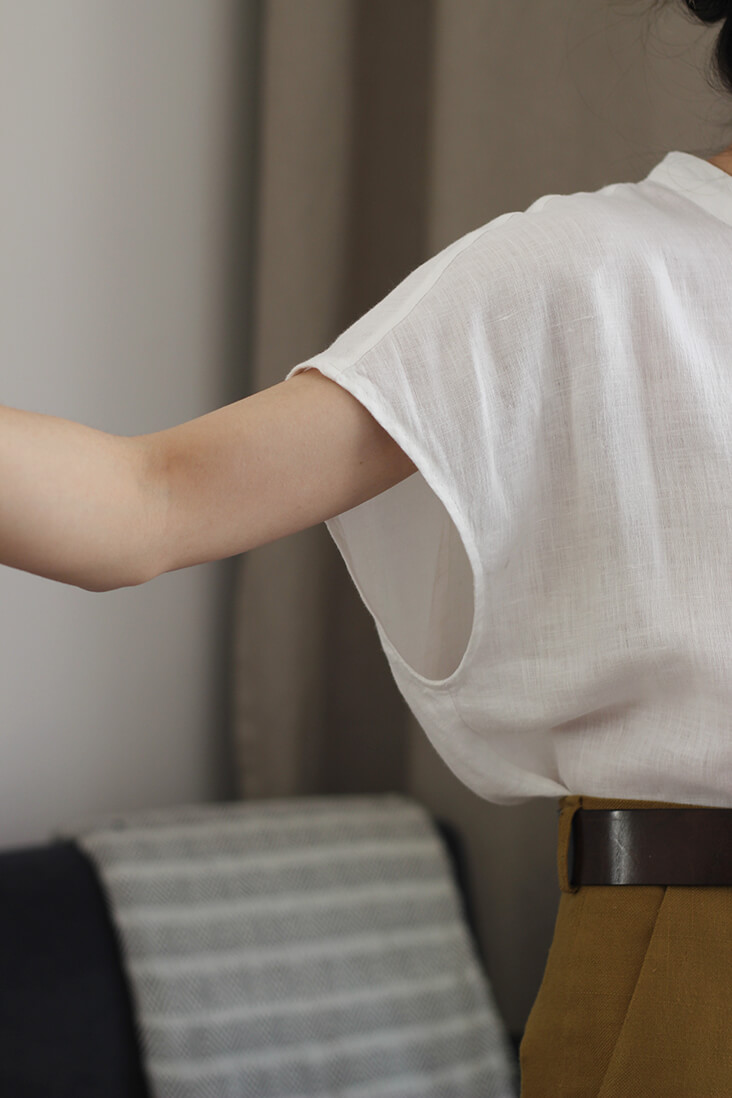 I was pleasantly surprised by the instruction booklet – it is so beautifully designed and executed that I just wanted to keep reading it! I felt so inspired by the beautiful photos of the samples, and the instructions were very well written. Every single step is illustrated in a really clear way, and it was a pleasure to just follow them and end up with this gorgeous piece. The blouse is put together with French seams, and the armholes are finished with bias facings. I love that you don't need an overlocker to beautifully finish the seams on this pattern, making it a perfect project for those who don't have access to an overlocker. I know that I will enjoy this piece for many years to come, and my wardrobe will be a happier place with this shirt in it. 
Subscribe