PATTERN REVIEW: Sunday Dressing Gown by Merchant & Mills in Midweight Linen
We are all spending more time at home these days so finding a comfortable outfit to lounge in style is more essential than ever. We tested the new Merchant & Mills Sunday Dressing Gown pattern for you and we can say that it might be just the perfect fit!
Merchant & Mills is a UK-based fabric, notions and patterns company well known in the sewing community. Their original patterns reflect the brand's image: simple yet sophisticated designs for a timeless, functional wardrobe. And the Sunday gown is no exception to this rule. It offers a simple and stylish take on the traditional robe and provides a pleasant sewing experience.
The Sunday dressing gown has a straight silhouette and features a shawl collar, patch pockets, inner ties and a belt with two belt loops. The fact that there's even a hanging loop included in the pattern proves that the designers have carefully thought about even the smallest details. Another great thing about the Sunday gown is that it is actually a unisex pattern and is suitable for both men and women with some minor length adjustments. Think matching robes for couples and perfect gifts for the whole family.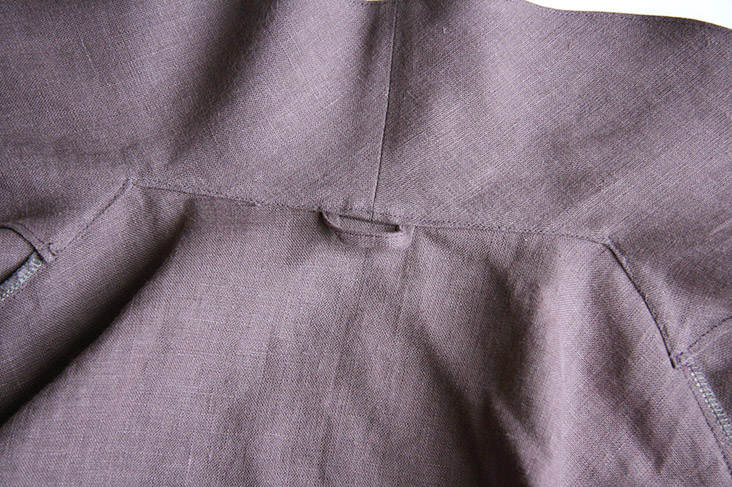 The pattern exists both in PDF and paper versions and comes in sizes XXS to XXL (which is equivalent to a UK 6 – 28). Merchant & Mills have recently extended their size range to include larger sizes and Sunday is one of the few patterns available in the new size range. We chose the size S based on our model's measurements and made no alterations to the pattern. It turned out quite roomy which is not a bad thing when it comes to lounging. You may consider going down one size if you prefer a more snug fit. Also, you could adapt the overall length to your height and stature at the lengthen/shorten line and the pattern offers clear instructions on how to do this manipulation.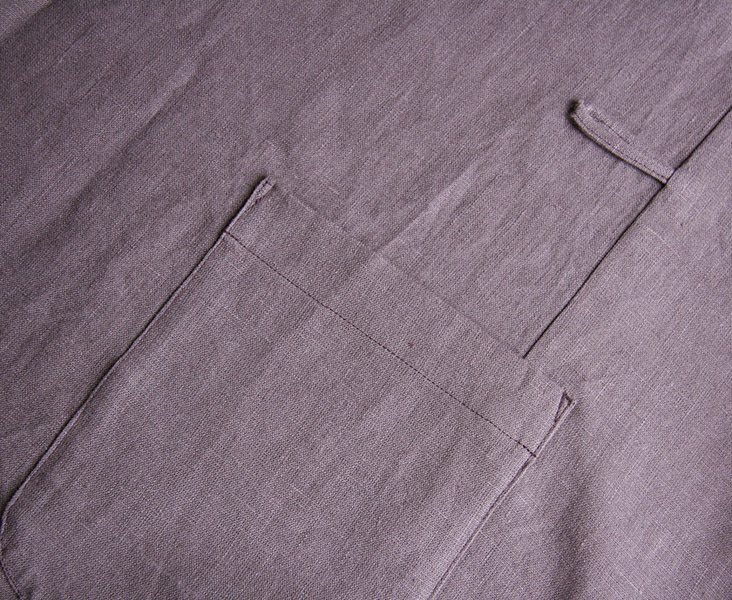 The Sunday gown was an absolute dream to sew! The instructions are clear and well illustrated and the construction is pretty clever. For example, the gown is unlined, but the raw edges of the under collar are neatly finished from inside. Same goes for the patch pockets: they are lined and topstitched in place for a clean look. All belt loops and ties are inserted between the seams and the ends are serged together with the seam allowances. The pattern is labeled as "Intermediate" but that does not mean a beginner couldn't follow the directions with success. The technique used are pretty straightforward with the only tricky part being the collar construction. Speaking about the collar, we think that it might look gorgeous with some contrasting piping along the outer edge! If any of you want to give it a try, we have a great tutorial to help you!
Sunday gown is suitable for an array of cloths: light to medium weight linen, cotton double gauze, cotton voile or lawn. We made our gown using gorgeous mid weight linen in MONTANA GRAPE Softened. This dusty, muted shade of mauve is neutral yet sophisticated, and feels very soft against your skin. This medium weight linen is 100% natural and is referred to as "all purpose linen". It has just the right amount of opacity and structure for this project and exists in a variety of colors.
The bottom line, the Sunday Dressing Gown by Merchant & Mills is a wonderful pattern with lovely seam lines and a really satisfying making experience! Go to Merchant & Mills's website and grab a copy. And if you are looking for more maker inspiration, check out some cute makes on the Instagram with the #mmsunday hashtag.
Subscribe