TUTORIAL: How to Create Beautiful Earthy Tones Naturally with Nettles and Other Leaves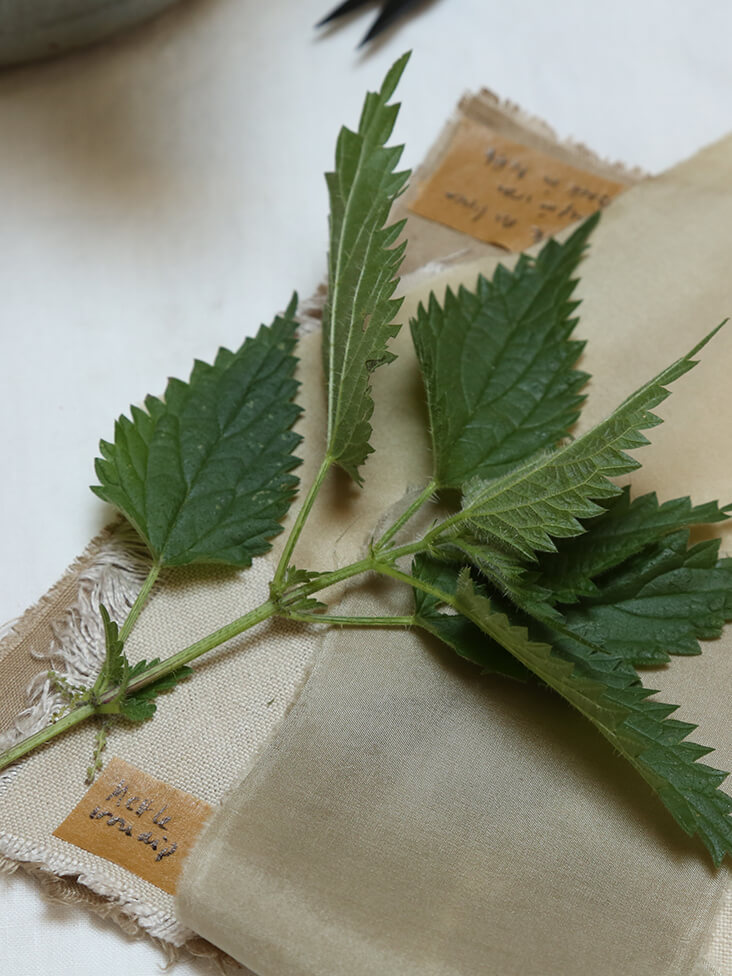 There are so many dye plants in bloom during these warmer Summer months. I was recently surprised to find "Lady's Bedstraw" growing in my neighbourhood. I am looking forward to the Autumn when I can harvest the roots for pinks and reds. With natural dyeing, you can use a few different parts of the plant: roots, leaves, stems or flowers. Many trees provide colour through their bark, twigs, leaves, fruit, nuts or seeds. Today I will show you how to create a dye bath and natural dye from nettles, this same method can be applied to any dye leaf. No matter where you're based, you can use this technique to extract dye from the leaves of numerous dye plants. Some examples include Dandelion, Tansy, Comfrey, Elder, Sorrel, Chamomile, Pear, Oak, Apricot, Cherry, Plum, Peach and Mahonia.
I chose this plant as they grow in abundance in Ireland and yield beautifully soft colours from the dye pot. You will often get different tones from nettle throughout the year with Summer giving you yellowly greens and khakis. It's always a delight to see what emerges from the pot throughout the changing seasons. Due to its strong fibres, similar to flax, nettle has a rich history and was used throughout the 16-19th centuries.
Before we get started just a word of caution, be sure to wear protective gloves when harvesting nettle as the stinging hairs can be most unpleasant to deal with. When cutting the plant, snip the tops into a basket, leaving the rest of the plant untouched. Making a dye bath from nettles is very straightforward. Similar to brewing tea, you place your leaves in a pot, add water and simmer gently for 45-60 minutes.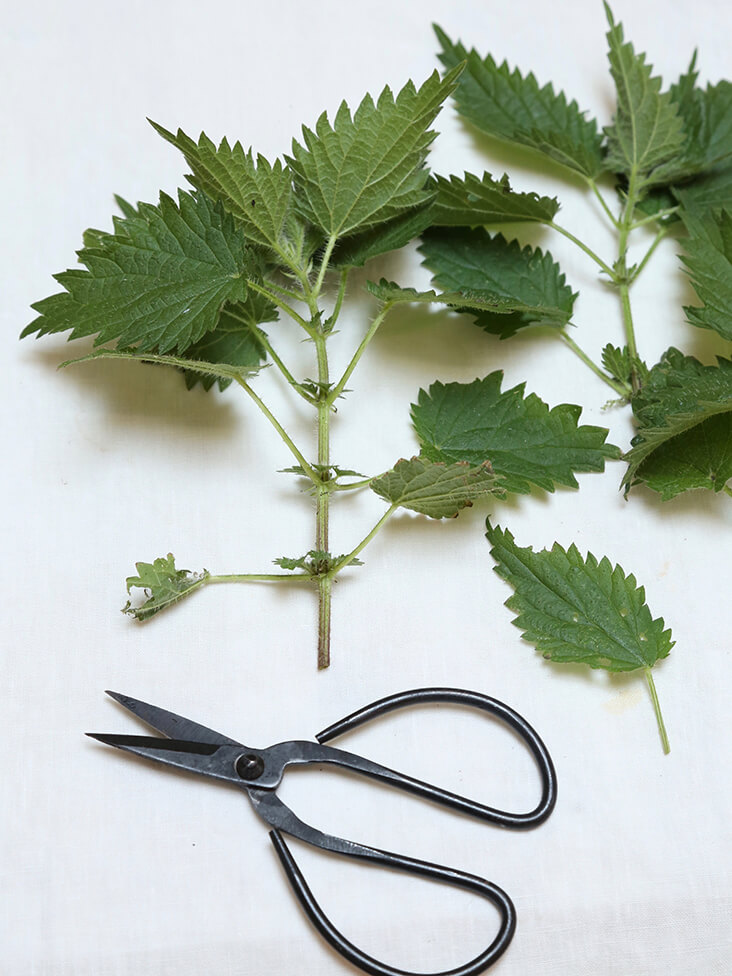 The size of your pot is determined by the amount of fabric you plan to dye. You can start by experimenting with extracting the dye and applying it to small swatches of fabric. Once you become familiar with the process you can figure out how much fabric to dye & how many nettles to use. When it comes to dyeing fabric we use the same amount of dyestuff and fibres. If you are making a garment weighing 500g, you would need the same weight in nettles. It can be hard to judge the weight of the nettles the first time you do this so gather lots as you can always add more to the pot to make a stronger colour if you have too much. After snipping the nettles, I always leave them to sit outside for a while giving any residing insects a chance to make a run for it before adding water and heat!
Materials
Scissors or secateurs
Basket to gather
Gloves
Dye pot
Water
Heat source
Wooden spoon
Sieve or strainer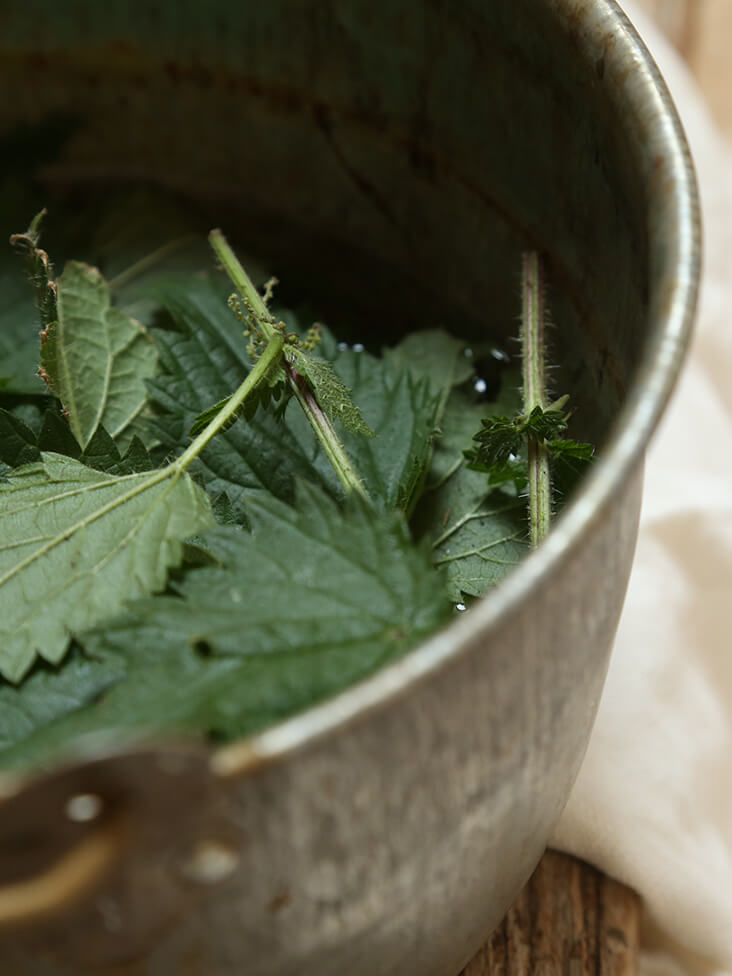 Method
1. Gather your nettles.
2. Fill a pot 3/4 with water & add the nettles.
3. Using your wooden spoon, carefully push the nettles down until they are fully submerged.
4. Add heat and bring to a gentle simmer. If you boil the water, you run the risk of turning your dye brown. Be sure to use a gentle simmer while extracting the dye.
5. Simmer for 45-60 minutes, then turn off the heat and leave the pot to cool.
6. Once the liquid has cooled, use a sieve to strain out the nettles. You can compost these in your garden.
7. Your dye is now ready to use.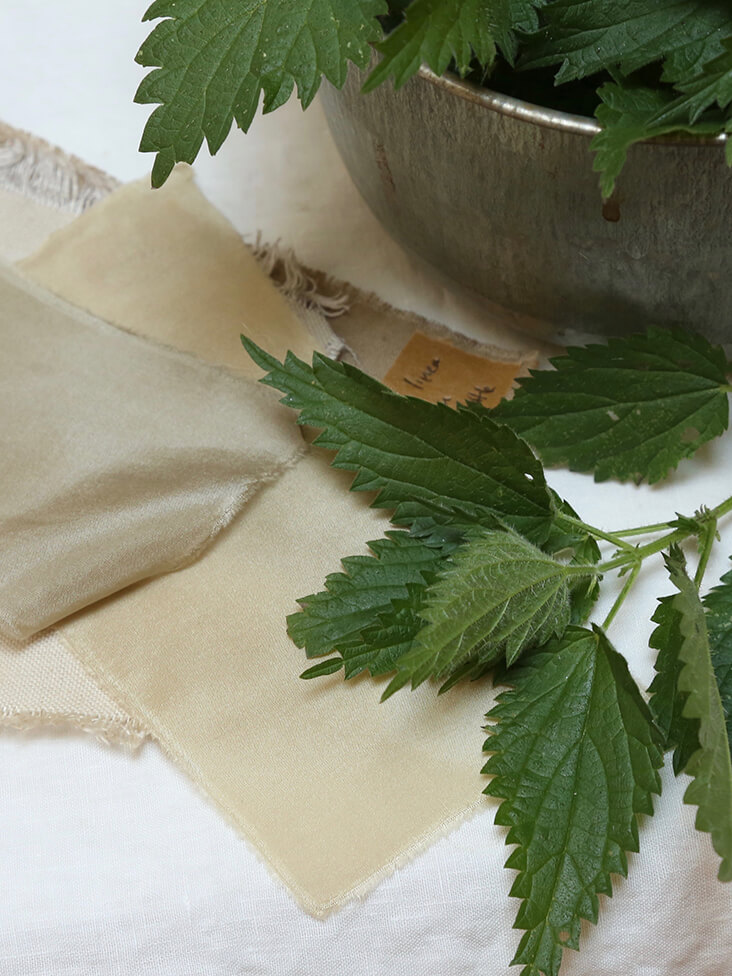 Next, I'll be showing you how to dye your linen and create a garment from your naturally dyed fabric. If there is something you have been wanting to make, consider gathering some plants and dyeing the fabric yourself and I'll be here to help you along the way.
Subscribe