Tailored Reversible Face Mask Pattern and Tutorial
I know what you are thinking…do we really need another mask tutorial? The short answer is no. But for those facing similar struggles as I have with the fit of most masks, I am here to share a possible solution.  At the start of this pandemic, I found the available mask patterns out there leaving me with foggy glasses, painful ears and gaping around the chin. This led to a lack of confidence for my health each time I left my home, so I created this pattern to help solve these issues.
While the number of cases have dropped since the start of the pandemic the CDC still recommends everyone wear a mask in public. In the absence of a medical grade mask, a cloth face covering can help slow and prevent the spread of Covid-19. As many restaurants and business begin to reopen, it is imperative we all continue to be safe and wear a mask.
To be forewarned, this is not the simplest of mask patterns, but rest assured it is worth the extra bit of time and care. I love when even the simplest designs have nice details, so I've included a few in this mask. As this pattern is more fitted, it lends itself a more tailored aesthetic; think a crisp dress shirt, but for your face! It uses no elastic making it is safe to throw in the wash at high heat. Because of the nature of linen, the mask is quite breathable and the fabric softens with each wash, becoming even more comfortable over time.
If you are a more intermediate sewer and looking for a small challenge to improve your sewing skills, please follow along with the tutorial below. For those looking for a simpler mask pattern to wear over a N95 mask see this post for your reference.
Materials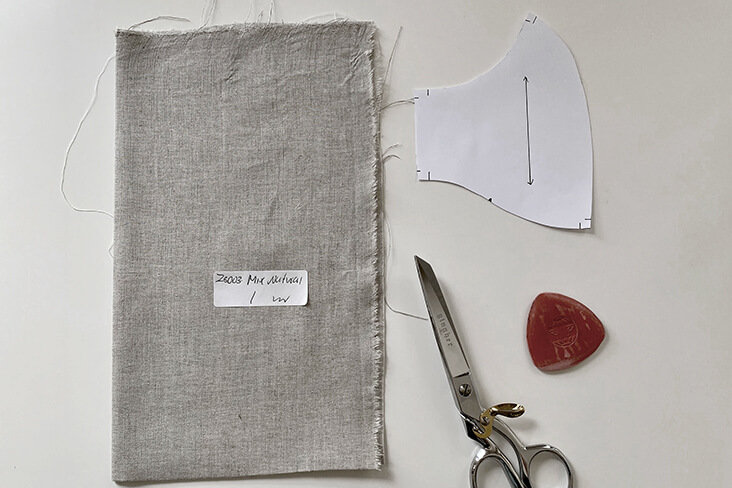 Tightly woven 100% cotton or linen fabric (I used IL020 NATURAL 100% Linen)
Thread
Sewing Machine (with button foot)
Scissors
Iron
Chalk
Pins
Wire (I used thin florist wire I had on hand, but any malleable wire should work)
Wire Cutters
Bobby pin
¼" bias binding
Pattern
Download the multisized PDF Pattern HERE.
Tips + Tricks
Printing: As with all digital patterns, make sure to unclick "fit to page" box when printing. After printing, be sure to measure your pattern piece to ensure it matches the dimensions shown.
Preparation: Prewash your fabric and tumble dry until it is still slightly moist
Pinning: Pin horizontally against the fabric to make removing quick and easy while sewing.
Sewing: After pressing, sew in the direction you want seams to lay in order to reduce bulk.
Pressing: I prefer to press each seam as I sew, which helps to create a nice clean finished quality to your mask.
Steps
1. Start by tracing the pattern following the direction of the grainline indicated on the pattern & cutting out.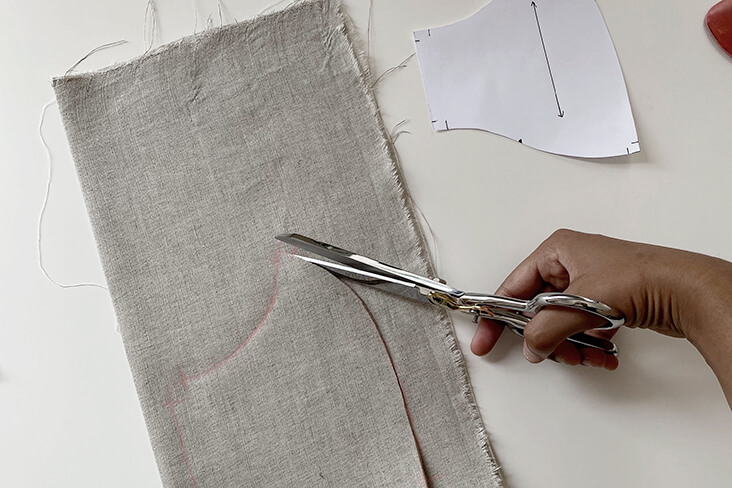 2. Pin right sides together along the nose line and stitch at 1/4″ seam allowance. Afterwards trim down seam allowance.
3. Press side seams (towards the outside of the fabric)  in 1/4″, then foldover another 1/4″ and stitch down by topstitching along edge.
4. Take both mask pieces and pin with right sides together along the top edge. Sew 1/4″ seam allowance, then trim down.
5. Pin along bottom edge and sew 1/4″ seam allowance, then trim down.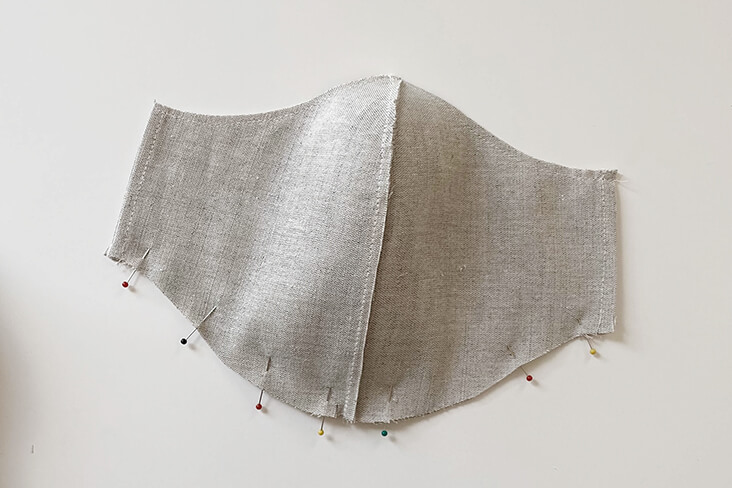 6. Turn mask inside out. Press all seams flat, then stitch along bottom edge 1/4″ in from the seam edge.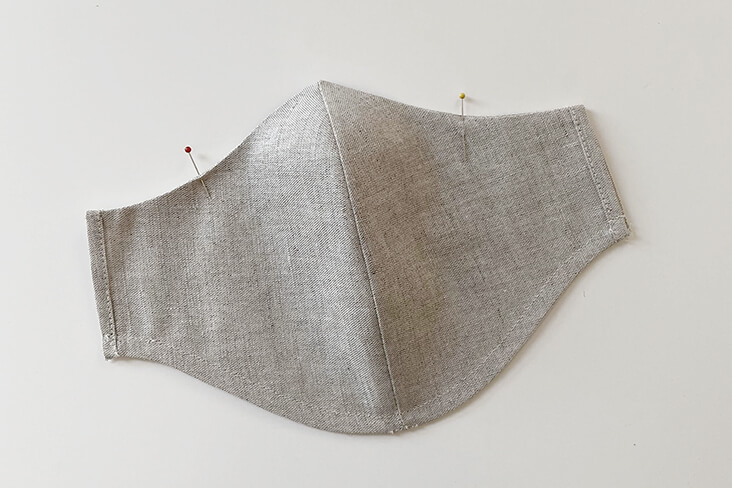 7. Using pins mark the start/end point for the nose wire placement. Then stitch 1/8″ from seam edge along upper edge.
8. Cut a small piece of wire slighter longer than the wire channel and fold ends over.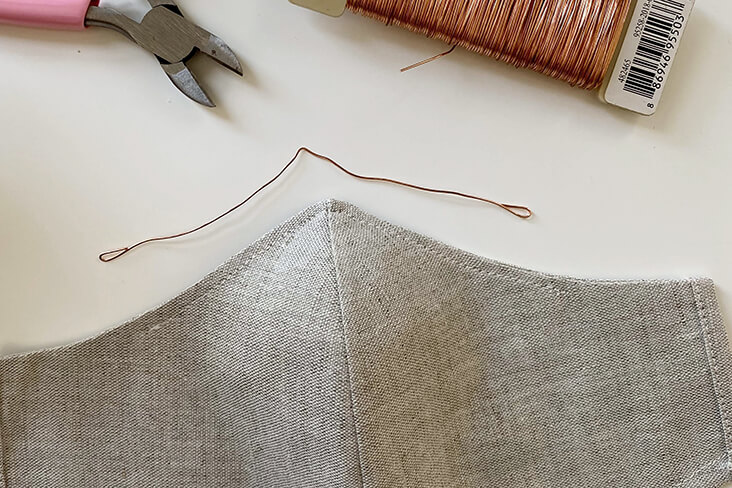 9. Insert wire into wire channel by going in through the side seam opening. To avoid wire catching on seam allowance, make sure to insert wire in direction in which the seam allowance is pressed.
10. Take 1/4″wide bias tape binding and using a seam ripper cut a small hole at one end to thread a bobby pin through.
Follow this tutorial on how to create your own bias binding.
11. Thread bobby pin with bias tape through channel along bottom edge.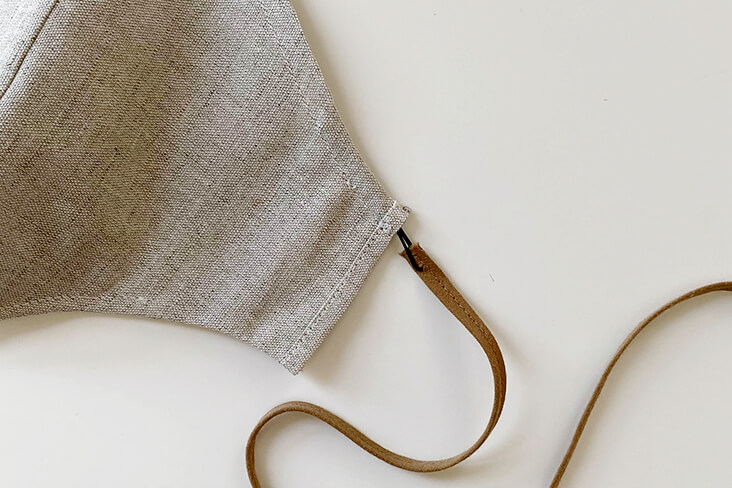 12. Mark a half inch line on either side of the mask for you button hole, then stitch (I used a 1/2″ button hole setting on my machine).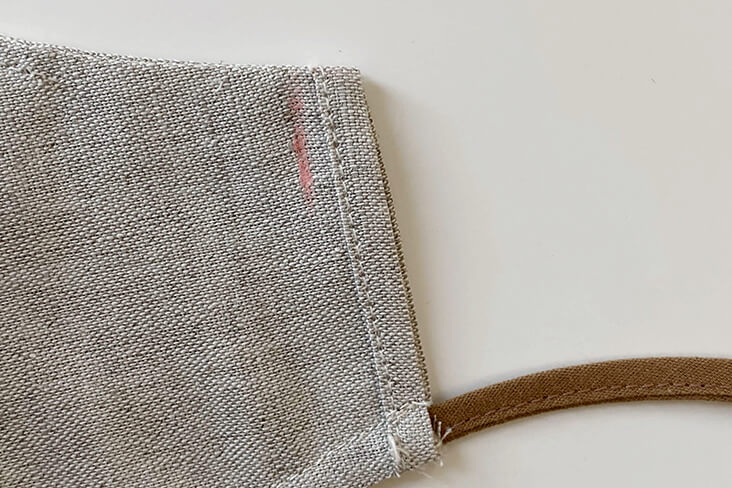 13. Place a pin at one end of each button hole (this prevents seam ripper from cutting button hole too wide) then cut open with a seam ripper.
14. Then take both ends of bias tape and thread through the button holes.
15. To wear, ruche mask along jawline to fit the shape of your chin. Place loops around ears and tie off ends either at the back of the head or base of the neck, whichever feels most comfortable!
I can not be more pleased with how well the finished mask fits! The deeper scoop beneath the eyes leaves plenty of room for my glasses and the wire at the nose means no more foggy lenses. The drawstring along the chin makes for a perfect fit every time and is easy to adjust to better accommodate a more narrow or wider jawline. My favorite detail is the small button hole which adds a unique, yet functional touch and makes it easy to tighten or loosen the mask.
With all that is happening during this time, it has brought me much comfort to create not only for myself, but for others. I encourage everyone to do your own part in helping to improve upon the world we all live in. Whether it is by making masks for friends and family, donating towards a just cause or simply taking a moment to reflect on the privileges one may or may not have in this lifetime. I hope you find peace and solace in sewing as I have.
With love and nimble fingers,
Nayila
Subscribe