DIY Reupholstered Linen Chair Tutorial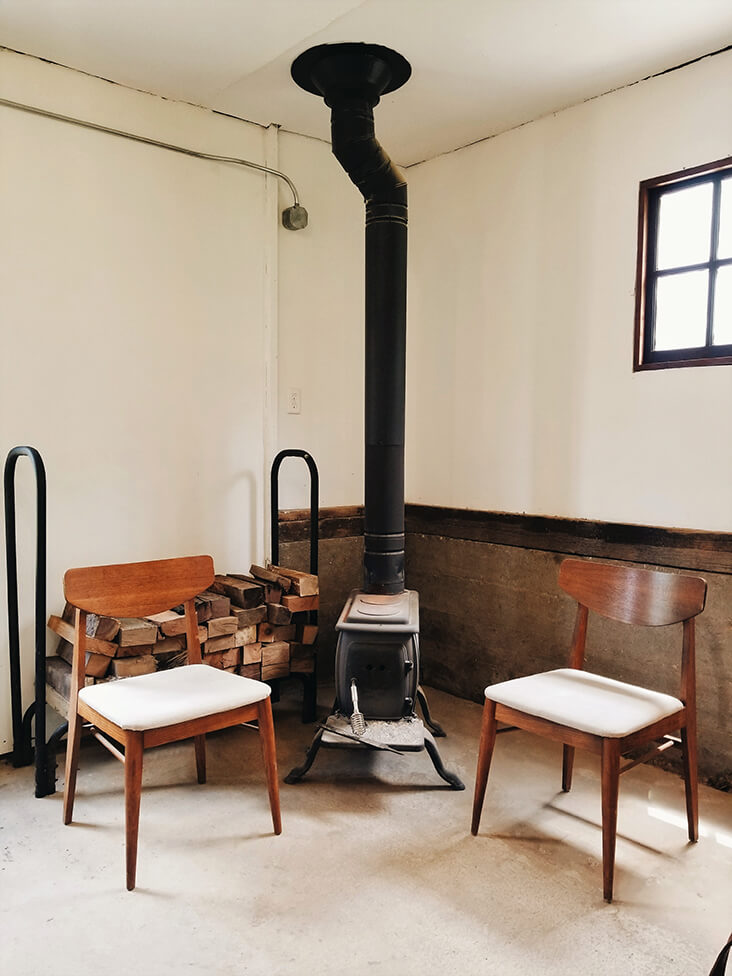 My extra time at home the last couple weeks has resulted in more home decor projects and I'm pretty happy about it. 
First on my list, reupholstering a set of mid-century modern chairs I found on Facebook Marketplace for $20. Score. These chairs will be used in my sewing studio as extra seating for guests and a meeting space with clients. I decided to purchase old chairs and recover, which fit my goal of low-budget and minimal effort with big impact.
You can easily do this in an afternoon! Here are the steps I took to complete the project. 
Materials
It is so tempting to skip over this important step. Guys, designing is the fun part! Take a little time to consider your choices. The type of chair, the fabric color and weight, and the quality of your materials will all factor into the final product. Little choices add up to create an overall good design. Ask yourself these simple questions: 
Where will the chairs be used? 
How will they be used?
Who will be using them? 
Use these questions as a filter before making anything and you'll be happier with your final product. My answers to these questions were: 
Where? In my sewing studio.  
How? As a meeting place.
Who? Me, my guests, and clients
The answers to these questions helped me decide to purchase chairs with a minimal design. They would occupy little space in my small studio while adding lots of beauty. I wanted something in good shape, preferably with new cushions, that would require little effort, time, and money to redo (gotta be honest with yourself here!). The chairs did not need to be overly comfortable, since they would be used for short periods of time.
Everything in my studio is pretty neutral in color with clean lines, which creates a calming environment for me to focus on the work. Picking a natural linen in heavy weight linen was an easy choice for the space. 
To put this step simply: start with the end in mind.
Gather Materials
Now that you have a plan, here is a list of materials you will need to complete the project.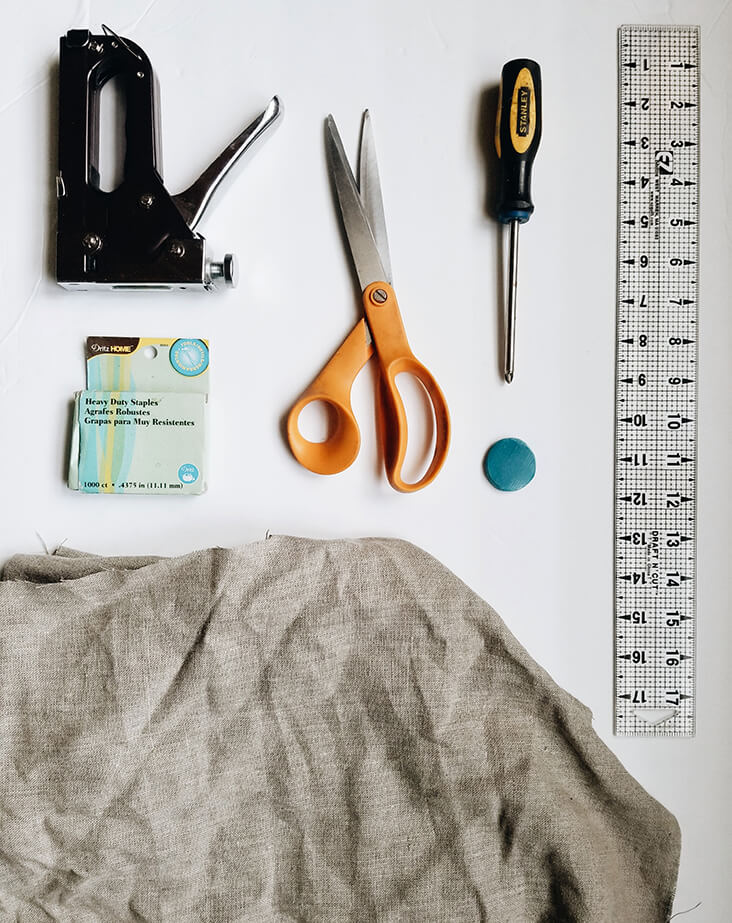 Chairs: check Facebook Marketplace, local thrift stores, or flea markets.
Linen fabric: I used FS NATURAL Heavyweight Linen
Scissors
Chalk
Screwdriver
Cushion padding or cotton batting (if the cushion needs to be replaced)
Ruler
Iron
Deconstruct
Time to take apart the chair and remove the old fabric. Start with your screwdriver and take out the screws attaching the seat cushion to the wooden frame. Set aside the screws as you will need these to reattach later. Then grab your upholstery gun and use the end to remove all the staples in the existing fabric. Pull off and recycle the old fabric. You may choose to replace the cushion as well. This will depend on the quality and age of your chairs. My chairs had been reupholstered with new cotton batting fairly recently, so I chose to keep the cushion and simply recover. 
Replace
The next step is to cut your fabric and recover the cushion. Iron your fabric if it's wrinkled. Measure the cushion and add about 5 inches to each end to wrap round the cushion. This measurement will depend on the depth of your cushion. My best advice here: measure twice, cut once. You can always cut off excess fabric, but you cannot add fabric without sewing a seam. Give yourself extra fabric if needed.
I used my ruler and chalk to trace my measured square onto my linen fabric, then cut along those lines with my scissors. I cut two squares, one for each chair. Trim the corners so there is less fabric to staple, being cautious not to cut off too much. Wrap the fabric around your cushions and staple into place starting in the center on each side. Start on one side, then move to the opposite side so the fabric is stretched tight without warping, leaving the corners for last. I did this by myself, but an extra set of hands could be helpful. 
Once each side is stapled in place, move to the corners. Fold the fabric to create a nice curve with little bulk. Staple corners in place. 
Reattach
Now that your cushion is recovered, you can reattach it to the wooden frame using your screwdriver and the screws you took out earlier. Enjoy your new-to-you chairs!
I hope this encourages you to get creative and breathe new life into old pieces. Creativity has been a powerful way for me to process emotions, especially feelings of anxiety, in times of struggle and change.
Tell me – did you enjoy learning about this project? Do you want to see more of my home decor made from linen? Would love to hear your feedback in the comment section. 
Thanks as always for reading, 
Morgann