The clutch is big enough to fit your makeup, purse and phone – small enough to look gorgeous. In a huge variety of designs, you'll find one you love. These are our picks for festive party glamour.
WORDS: Alice
It's that time of year when we're socializing and celebrating – we want to look good! The clutch bag has made such a comeback recently, so we wanted to show you some of the best indie bag designers around. Easy, elegant, day to night. There's a clutch out there for everyone.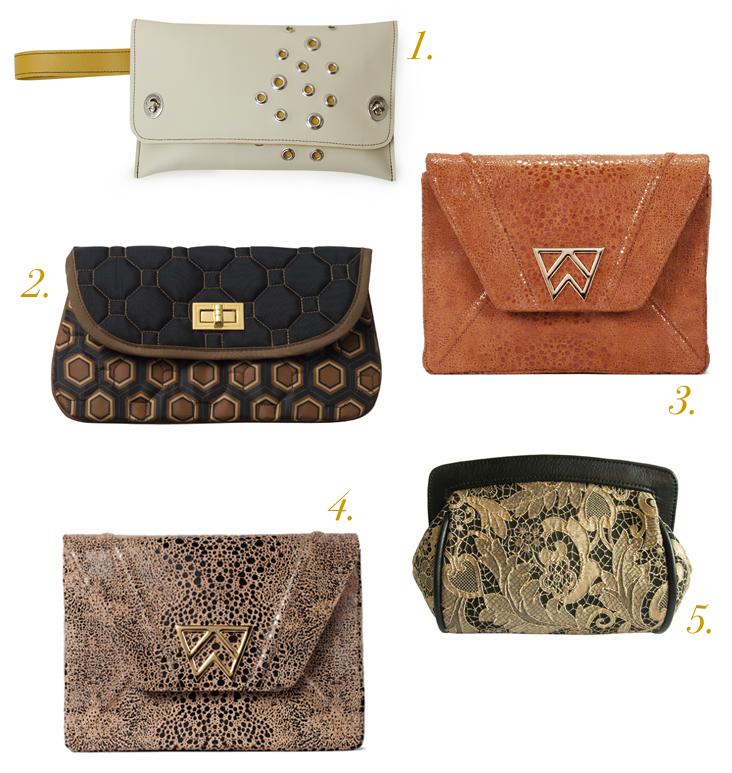 1.' Made in North Carolina, accessories by Holly Aiken are modern but simple, and sturdy as anything. This Sidecar clutch is a fitting example of her aesthetic. Available at hollyaiken.com
2.' If you're after a more vintage look, the Melrose Clutch is the one for you. With a hidden wrist strap, it's versatile, and here in the Mod Tortoise color, it's on trend and timeless at the same time. Available at cindab.com.
3 & 4.' If you want something fantastic, look to Kelly Wynne, whose accessory line focuses on texture and color. We would pair this suede Cloud Nine clutch with almost anything. We love them so much, we are showing you two of her designs in different colours. Fab! Available at kellywynne.com
5.' This is another classic look, proving that the clutch bag can be an elegant showstopper as a much as modern favorite. The Harper Mini Baguette Brocade by Jess Rizzuti, in black and gold silk brocade, is super sophisticated. Available at jessrizzuti.com
Fabrics On Sale Right Now