The pastel trend this season is a welcome break from the usual fall shades. These accessories capture the mood.
WORDS: Alice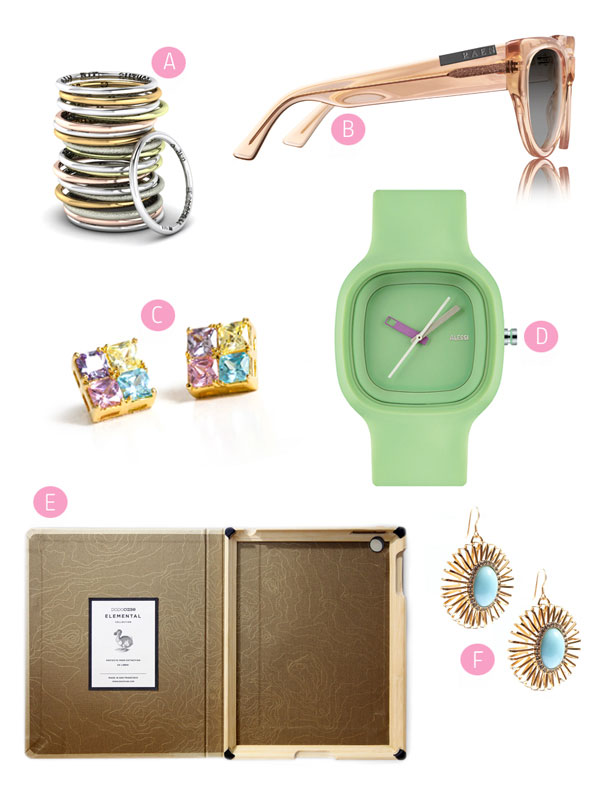 A: Stack 'Em High
These rings by Pontus & Hawke were inspired by Asian tribeswomen who wear coiled brass rings around their necks. The subtly colored rings come in brushed or polished finishes. Available at' shophelpsy.com.
B: Crystal Crush
It's hard to find sunglasses that are truly from an independent brand, but California-based Raen is just that. We love the feline-esque Volant in Crystal Rose. Meow! Available at raenoptics.com and nyglass.com.
C: All Square
Jewelry design duo Fortune Favors the Brave created these zirconia crystal earrings in a four-way candy-colored palette that will give any outfit a dash of pastel pizzazz. Available at' ofakind.com.
D: Mood for Mint
Designer Karim Rashid is hot property right now, and in this collaboration with Alessi, his bold style translates into the perfect modern accessory, the Kaj III timepiece. Available at fab.com.
E: Earthy Tone
The folks at DODOcase are keeping traditional bookbinding techniques alive by re-inventing them for our high-tech world. Whatever your gadget of choice, it will look great in one of these. Available at' dodocase.com.
F: Powder Blue
The Candy Store collection by Anton Heunis was inspired by a 60s-style ice cream parlor. This gold-and-blue combination is perfect for the pastel trend, and the handmade jewelry brand incorporates salvaged glass and metals too. Available at shopethica.com.
Related posts
BEET RED Linen's deep crimson burrows through Joan Mitchell's paintings like the roots of an ancient tree, twisting and turning with a live, pulsating energy. Leader in the second generation of Abstract Expressionists throughout the 1950s, Mitchell pioneered a daring and adventurous approach to painting, allowing wild tangles of paint to become dense networks of…