Weaving Stories: An Interview with Textile Artist Ekta Kaul
Award-winning textile artist Ekta Kaul has a deep-rooted connection to her Indian heritage, which she brings to her London-based practice today. In her hands, India's Kantha stitching is a deeply tactile means of telling stories, weaving together references to history, place and belonging with tightly bound, intricate passages of thread on indulgent fabrics such as silk and wool. These include her renowned 'Story Maps'; hand-made quilts based on city maps as seen from deeply personal, intimate perspectives, offering a new way of seeing the spaces we inhabit. We caught up with Ekta to learn more about the evolution of her practice.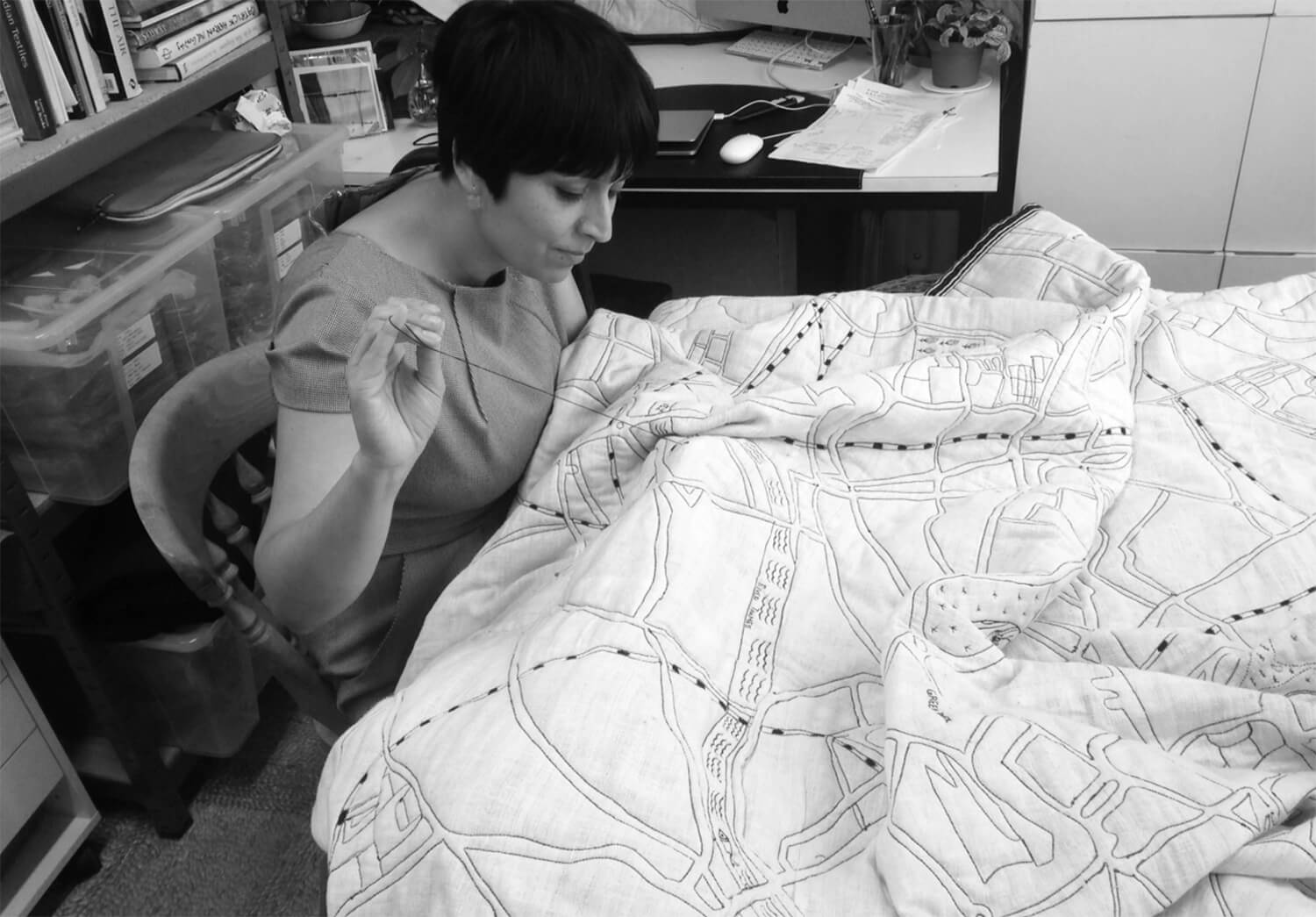 RL: Could you tell us about your journey into becoming an artist?
EK: I was creative from a young age. I remember drawing, painting and writing throughout my childhood. However, this was the pre-internet era, so I didn't really know if art was a viable career option. I didn't know any artists personally as I come from a family of scientists and academics. However, my parents, both of whom were scientists, encouraged me to follow my passion. I trained at India's premier design school the National Institute of Design (NID, Ahmedabad). I continued to follow my love of textiles and went on to gain a Master's degree in the UK in Textiles, supported by a full scholarship. I set up my own studio practice right after graduating and have been a practicing artist ever since.
RL: What role has India played in your practice?
EK: I grew up in India surrounded by beautiful textiles. My mother collected saris from all over India, so I had an early education into India's handmade traditions in weave, print and stitch that stretch back thousands of years. She was also a prolific needlewoman, along with my grandmother who quilted and together they instilled a love of textiles in me.
RL: What attracted you to Indian embroidery?
EK: India was recognized for its extraordinary textiles since antiquity, up until colonialism jeopardized the ecosystem which enabled artists and artisans to make extraordinary textiles by hand. Embroidery has been part of the Indian fabric of life- from domestic textiles made by mothers for their daughters, to those produced in ateliers patronized by nobles and courts around the world. It is still a tradition that is alive and thriving. I feel so proud of having inherited this rich heritage.
RL: Could you tell us about the techniques and processes in your work?
EK: I work with stitch. To me stitch is a mark, just like one made with pencil or a paintbrush. I use it to create imagery, lines and textures to explore meaning. Recently, I have revived my love of painting and have made new bodies of work in watercolour.
RL: What made you choose to work with fabric and embroidery?
EK: I love that the materials I choose work with, i.e., fibre and cloth, are so emotive. They hold memory and ideas of touch and tactility. We are wrapped in cloth from the moment we are born to when we die, so we have an intimate relationship with cloth.
RL: What is the significance of the maps you recreate?
EK: Maps are receptacles of meaning. To me they are segues into exploring ideas that I am interested in- place, history, belonging.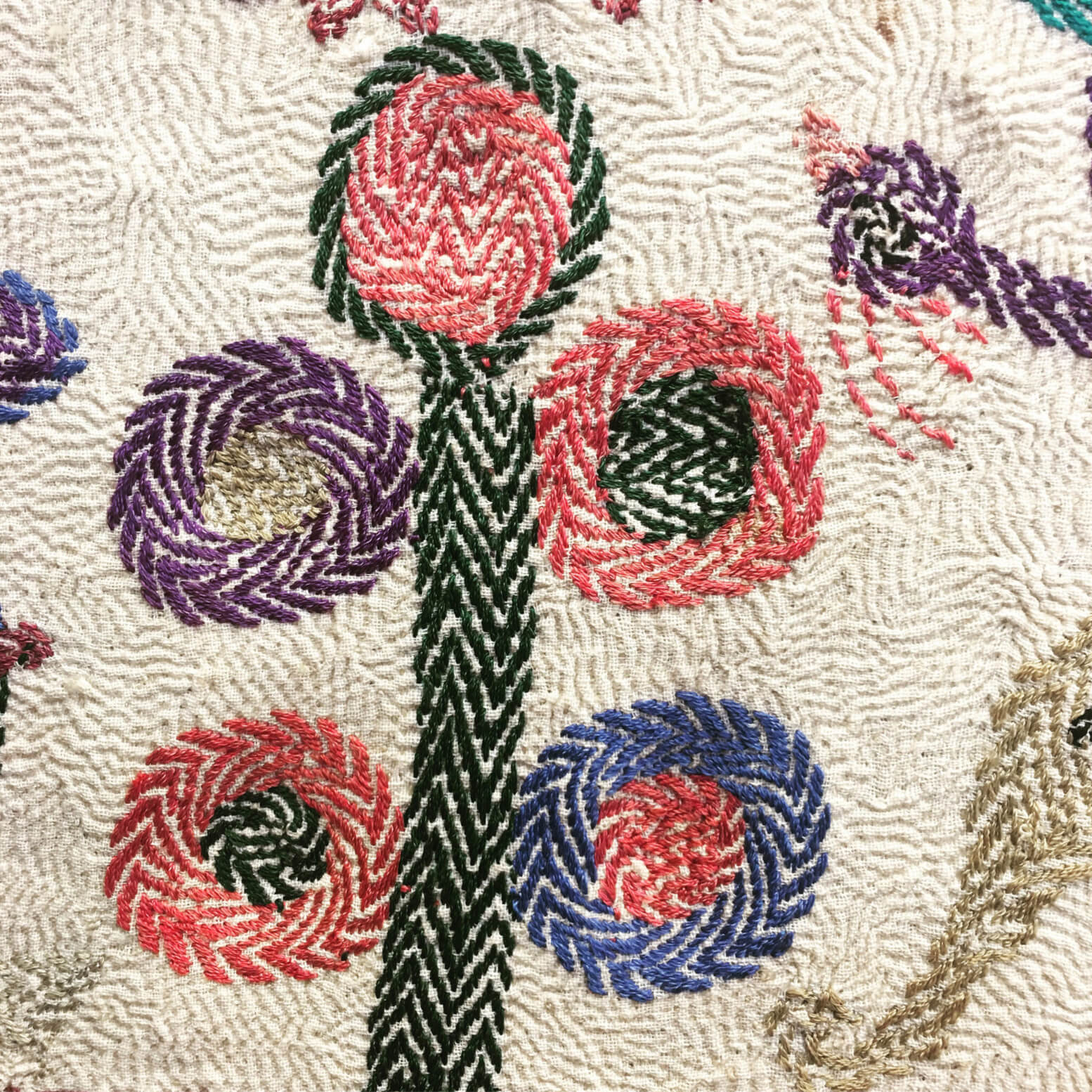 RL: What are you currently working on – are there any new projects or ideas you would like to share?
I am currently working on two big projects – a new body of work which will be exhibited at The Festival of Quilts this August 2023 . And my book on Kantha embroidery, to be published by Bloomsbury UK.
Subscribe