Tutorial: How to Trace Off a RTW Garment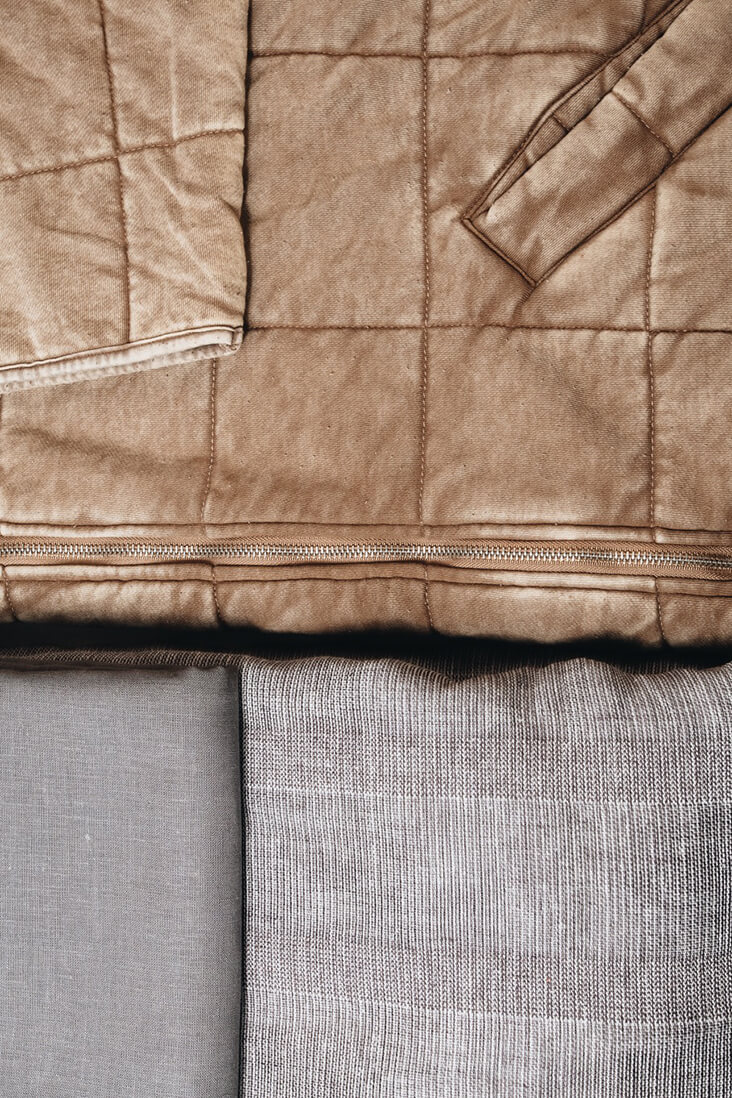 You know that one well-worn, probably damaged-beyond-repair item in your closet you bought off the rack ages ago that you still hold on to because you just love the way it looks and fits? Or maybe it's a garment you think would look amazing in another fabric that the original wasn't offered in? Well, have you thought of tracing it off into a pattern so that you can make another one yourself? You should,  because you definitely can. 
In this tutorial, I'll show you how to trace off an existing ready to wear garment and turn it into a pattern. There are many different methods on how to trace off a garment, but this is the process that I like. It's actually a quite useful skill and is a great DIY intro to patternmaking! If you're new to tracing off or an absolute beginner, it's best to try this method with a simple piece of clothing with symmetrical lines, like a T-shirt or A-line skirt. I'm using a boxy jacket with mostly straight lines so that it will be easy to trace and follow along with. So let's begin!
Tools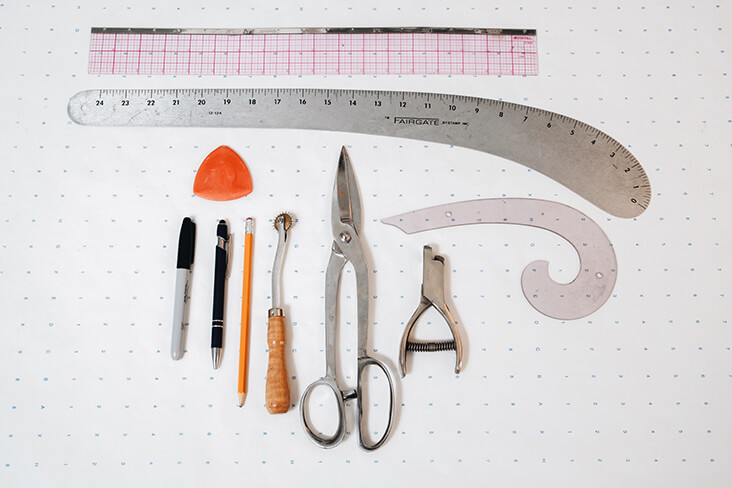 Straight ruler
Pen, pencil or chalk
Dotted pattern paper or tracing paper
Optional: Hip curve ruler, neck curve ruler, tracing wheel, notcher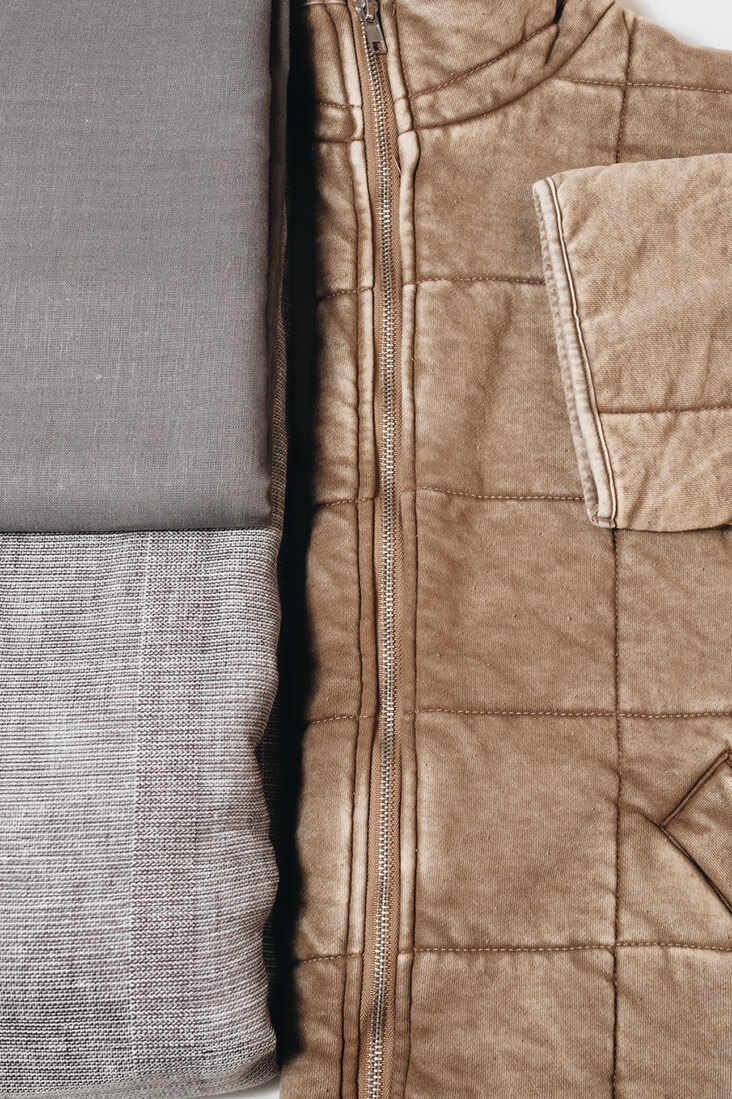 For my project, I used 1C64 midweight linen in Asphalt for the lining and IS046 jacquard heavyweight linen & cotton blend in Graphite for the outershell.
Tools
Advanced Beginner
Steps 
1. Roll out a large enough piece of tracing paper and begin by drawing a straight line to establish your grainline. This will help ensure your pattern is traced accurately from the start.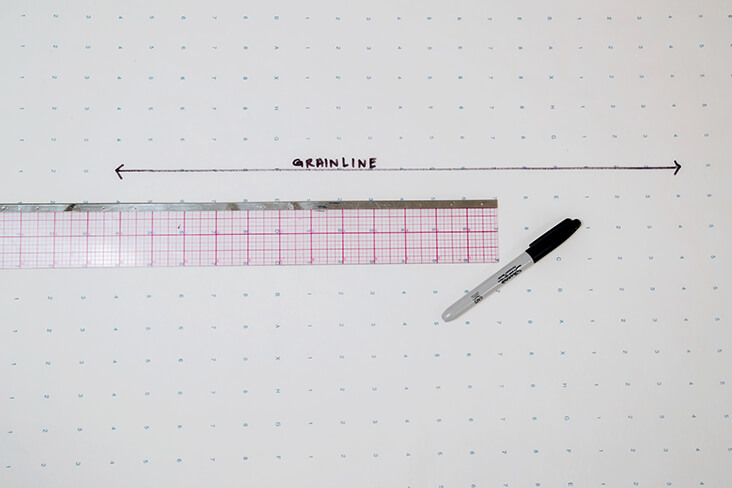 2. Take your garment of choice and fold in half along the length from neckline to hem. Lay it as flat as possible on top of your paper and align the fold parallel to your grainline.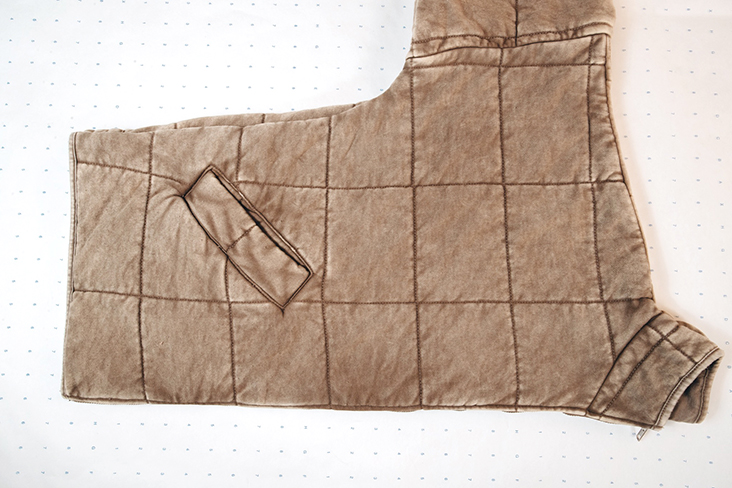 3. Begin tracing the bodice first, starting with the folded straight edge of your garment. You can use your straight ruler here for help with a nice clean line. Hold down your garment or use weights to ensure it doesn't move and continue tracing along the bodice: hem, side seam, and shoulders.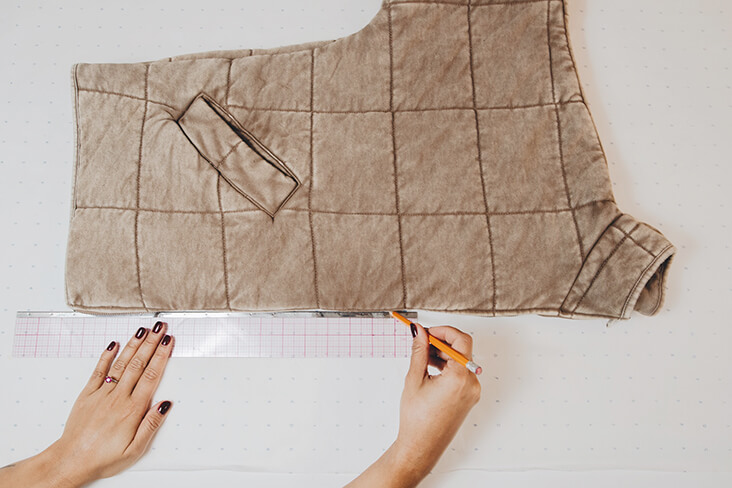 4. If your garment has sleeves and/or a collar or neckband, here are two ways you can accurately copy adjoining seamlines.
The first method is to carefully pull back the area attached to the seamline and trace as close as possible to the seam. In the picture below, I am pulling back the collar to expose the neckline seam and tracing along that curve. Tip: the corner where the neck and the top of the bodice meet should always be square at a 90 degree angle; as you can see in the image below I've drawn a 1/2 inch straight line perpendicular to the front bodice edge line so the rest of my curved neckline to connect to it.

The second method, which is even more accurate and easier in my opinion, is to use a tracing wheel right on top of that seamline. To this, make sure you've drawn the grainline first and the garment is laying flat and in half if necessary. Then, take your tracing wheel and simply roll it right into the seamline with enough pressure to mark through to the paper. If you don't have a tracing wheel, you can also using a pin to dot along the seamline for a similar result.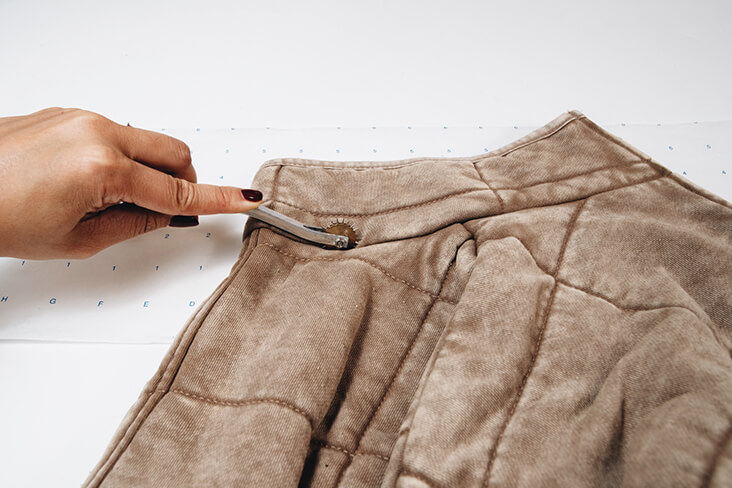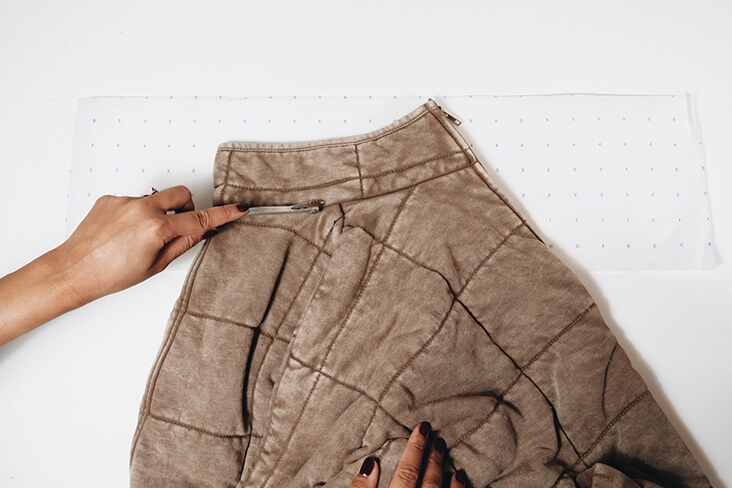 Then, go over your tracing wheel marks with a pencil. Feel free to use the help of a curved ruler for nice clean lines.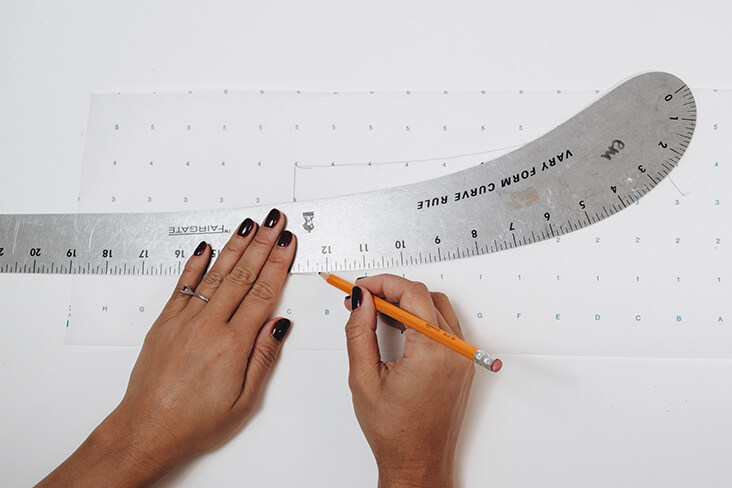 5. Label each pattern piece after you trace each one so you remember what they are. I like to use the following format (a loose iteration of what design school taught me)
Name of Garment
Pattern Piece type
Cut #, type of fabric, orientation if applicable
Size (optional)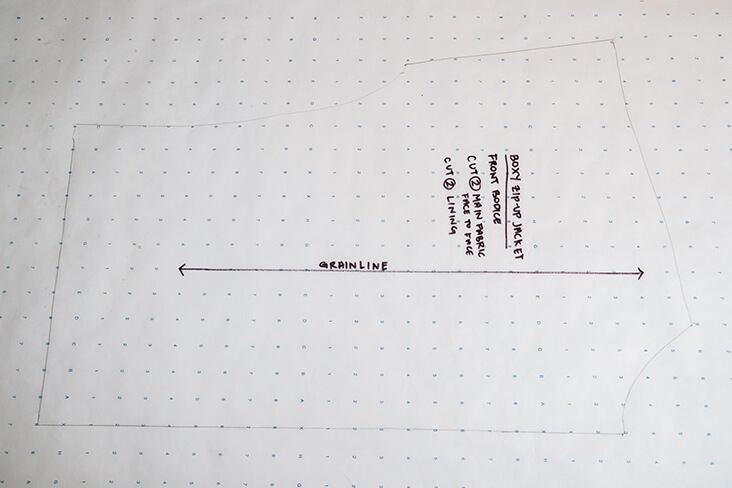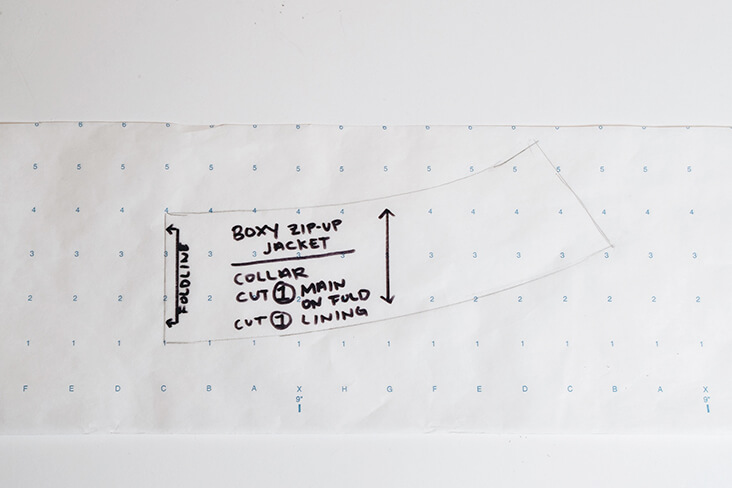 6. Finished tracing off and labeling your pattern pieces? Great! But you're not done just yet! You will now have to walk and true your seams that adjoin together to ensure that everything lines up and, therefore, will sew up correctly.
In this example, I will show you how I walk my sleeve armscye to my bodice armscye. Since my jacket is boxy, it has mostly straight lines, so walking this seam is straight forward. I take the sleeve pattern and turn it over so that it is essentially "face to face" with my bodice pattern. Then I align the underarm points of both the sleeve and the bodice pattern on top of each other.
The below images show the sleeve pattern folded back to face at the seam for a clearer visual of what walking this seam looks like. I pivot 1 inch at a time going up until I reach the shoulder point.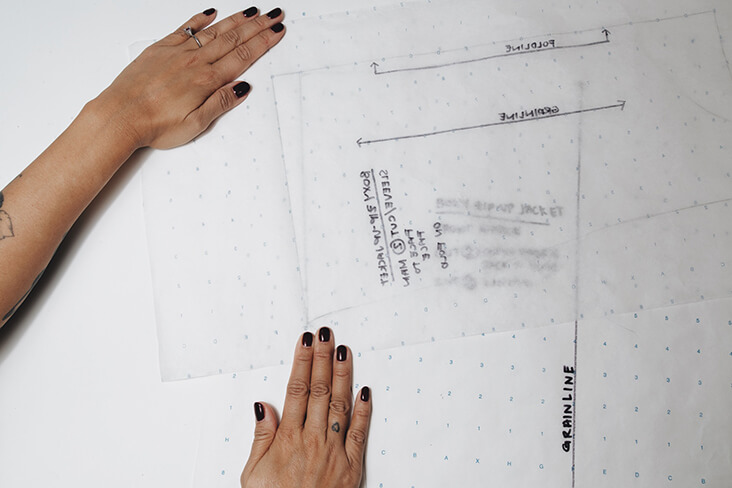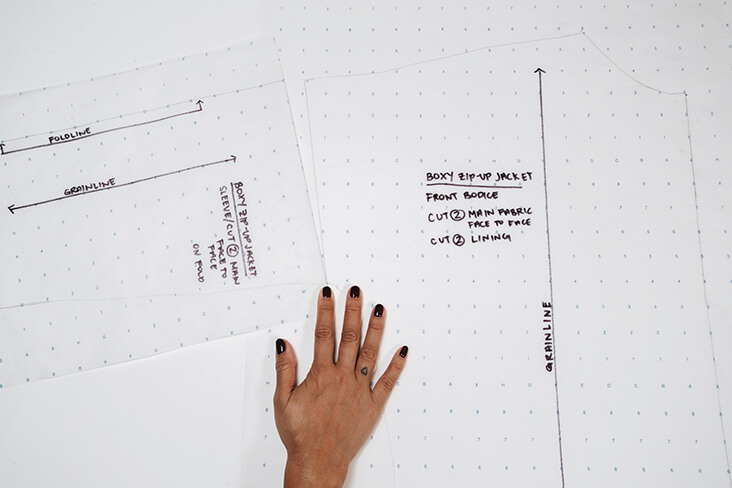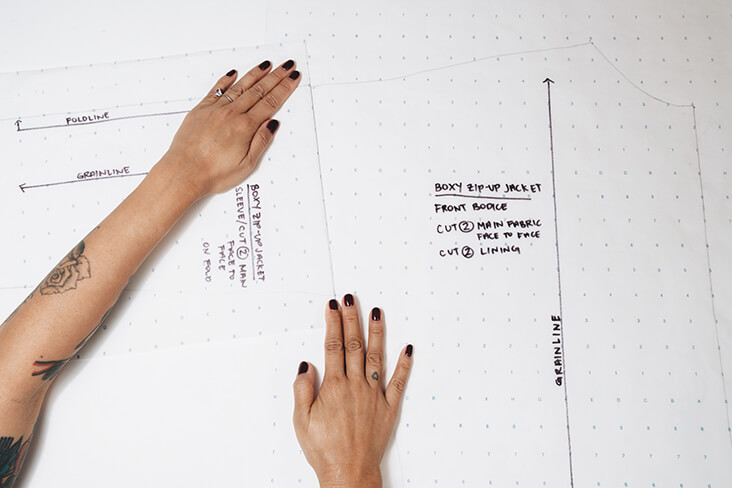 6. If you notice that your seams don't match up, you'll have to true the seams by lengthening or shortening the lines as needed. In my case, there was about 1/8 inch difference between the bodice and sleeve armsyces, so I used my tracing wheel to copy the area of the sleeve onto the bodice to get the exact amount needed to lengthen. Then, I drew over the wheel tracing and blended the shoulder seam into it for a smooth line.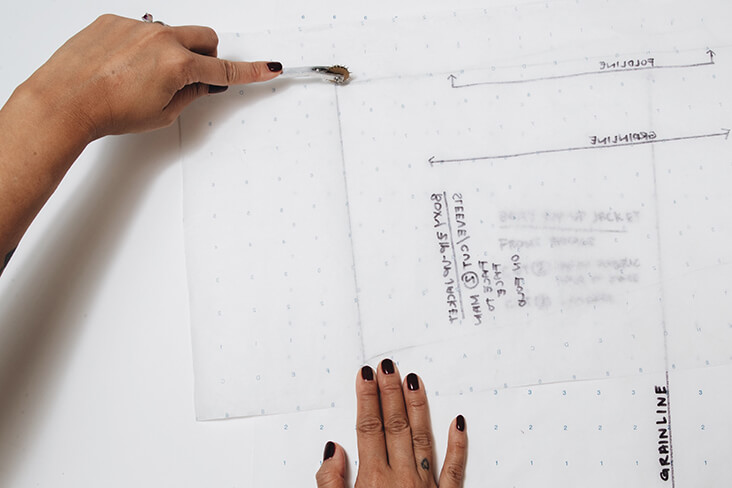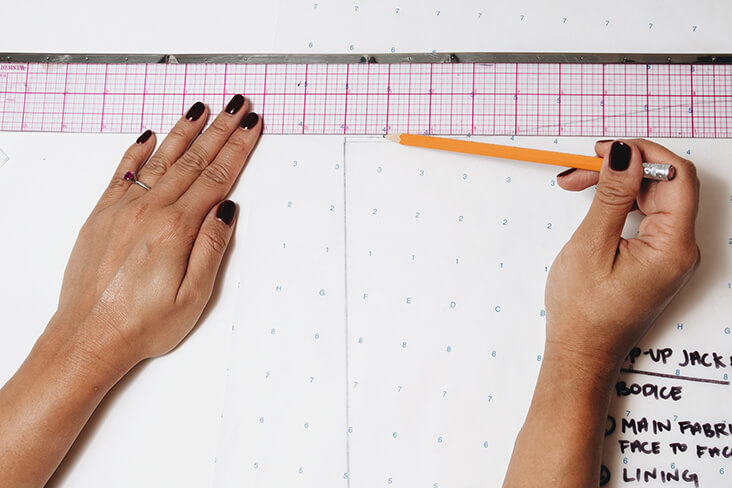 7. Now that you've trued all your seams, it's time to add seam allowances, notches, and any other important pattern markings or notes to your patterns (such as foldlines, buttons & button hole placements, zipper placements, etc.) For my pattern, I'm using 1/2 inch seam allowance everywhere, but feel free to use anywhere between 3/8 inch to 5/8 inch.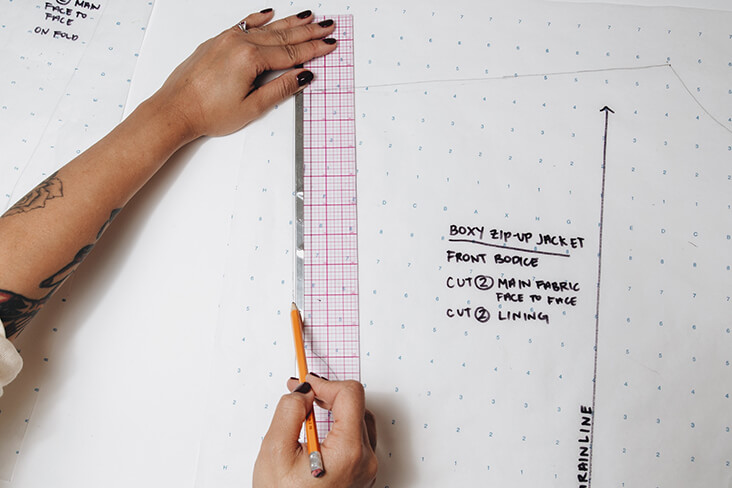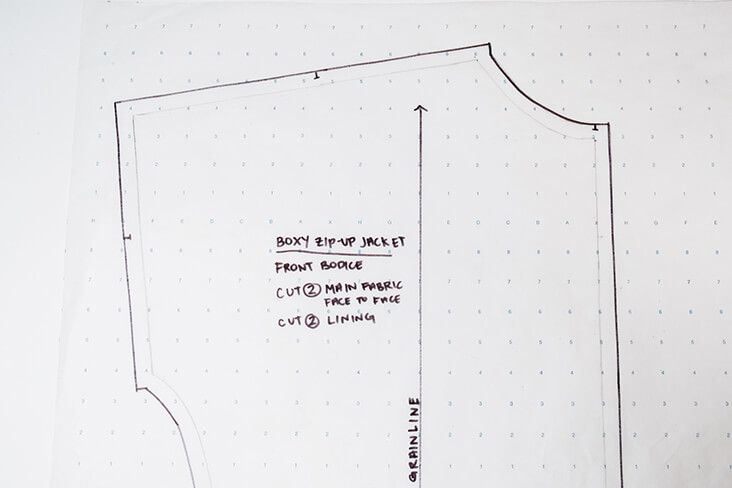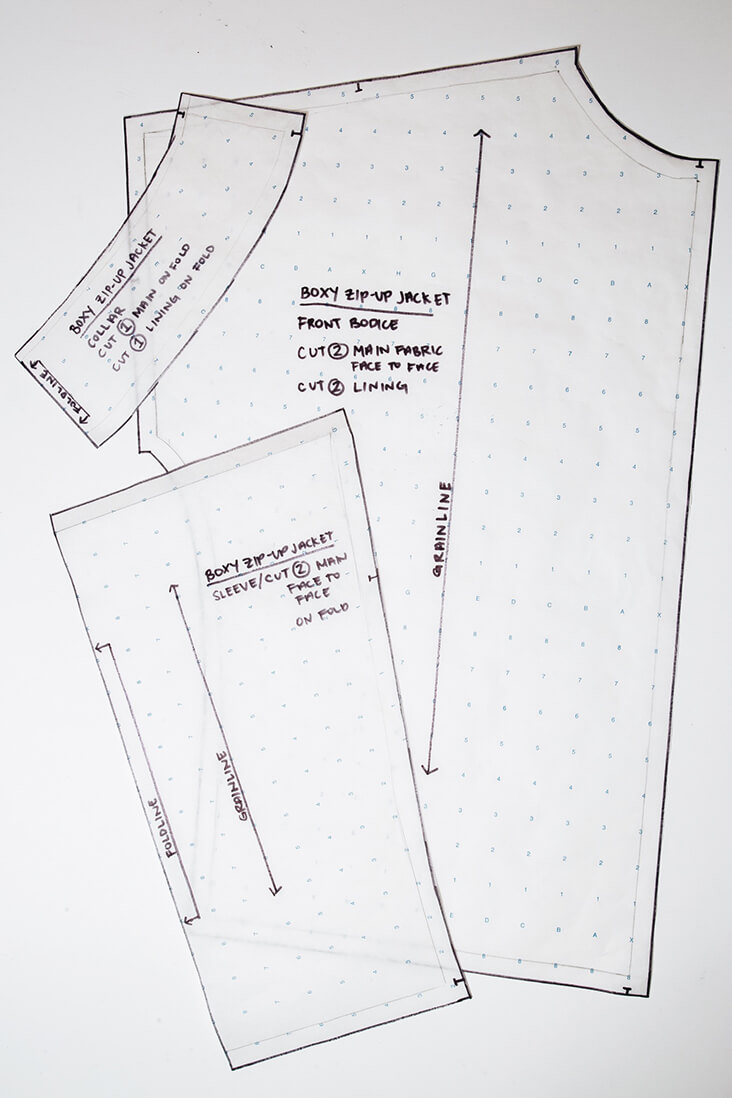 8. Et Voila! You have created your own pattern pieces, ready to be sewn up into a new, beautiful garment!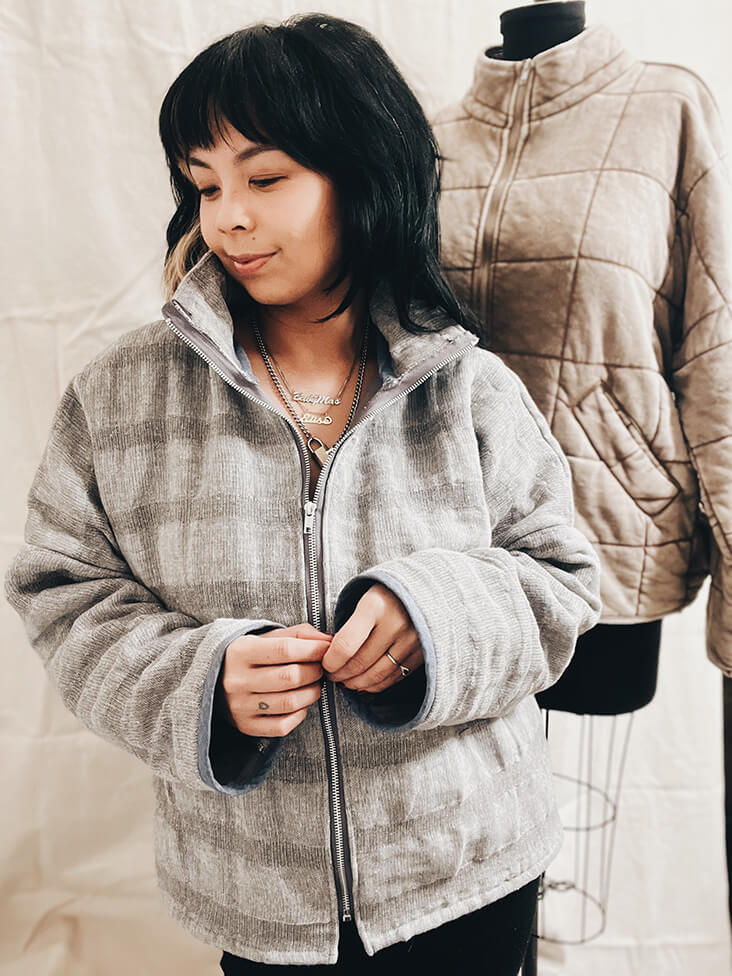 Here is finished jacket that I sewed up using the pattern made off the ready wear jacket and I'm so pleased with how it turned out. Happy sewing!
Subscribe