Success Hacks: How to build a Lingerie Brand from scratch. Q&A with Chloe Hamblen, CEO of Lascivious
Sometime in 2008 an offer came through my agents to collaborate with an' exciting and provocative lingerie brand- Lascivious, who' were looking for illustrators' to design a playing card that would' form their infamous 'Love' deck of cards. Little did I know this would be the beginning of a friendship and an ongoing collaboration with the founder Chloe Hamblen and her beautiful lovechild: Lascivious.
Lascivious lingerie has become synonymous with innovative, sensual, sophisticated, surprising, and always an inspiration. An invitation' for women to explore their bodies, a tool for women' to accentuate their femininity, a reminder that a woman's body is to be admired, not shamed and boxed into prejudiced' full body knickers. Lascivious is liberating and indeed stylishly provoking.
Over the years, Chloe continuously humbled me with' a contrast of tranquil confidence,' and passion for her craft and business, always fuelled with a burning' desire to collaborate, to surprise in order to produce something more grand, more interesting, more daring' than she alone could achieve. Joining forces with leading specialists across the industry, from leather masters and artisans to celebrated photographers and designers,' Chloe has been able' to evolve her brand to a' world leader status.
Sold in most iconic department stores and boutiques across the world, through unique style and persistence, Lascivious has been keeping itself at the forefront of the buzzing industry with a reputation of a strong British brand. This summer, Lascivious have launched their brand new swimwear line, which we are very excited about!' The campaign was photographed by my talented brother Peter Karpushin.
We talk to' Chloe about' what it's like to run a brand in a team of two, whether it's worth paying' '£9000 a year in a Contour degree and why' it's paramount to know the legal side of business right from the start.
Having previously undertaken work experience with brands such as Agent Provocateur, Myla and Alexander McQueen, and the' Dutch lingerie designer Marlies Dekkers in Holland, why did you decide to start Lascivious? How has the original idea of the business' evolved into where you are now?
When I started out innovative and provocative lingerie was very limited, there were only a' handful of brands that were doing something different. I was very lucky to work for some' really inspiring people during and after my studies and I think I just thought, I can do this.' I have remained quite true to my original vision but developed our style along the way.
Are you formally trained? Education in the UK has dramatically risen in the last 10years, are there alternatives do you think to investing 9K per year to specialise in lingerie' design? Apprenticeship for example?
I am formally trained. I gained a first in Contour Fashion from DeMontfort in 2003 and I do' think the technical knowledge that you gain from that education is very desirable for my' particular industry. The competition has increased massively, there are probably at least 3′ times as many Contour Graduates as when I studied the course, so you need to ensure' that you stand out '­ even if you have the education to back you up that may not be' enough. If you spent that time interning, working and gaining real experience and' connections instead (ability and connections are probably your best assets) there is no' reason that you couldn't be successful.' There is also a lot of pressure now to have a great online portfolio or presence, it really' does make a difference and I would recommend doing it as early as possible. There are' many routes, you just have to be tenacious
Tell us about your creation process'­ from idea to final product.
I'll usually work very physically, so I will pin things to the stand, write lists and make' doodles, I might create a mood board on Pinterest. Then I will create a pattern and' sample '­ I'll often have an intern or freelancer to help with this. We may sample 2'­4 times' before we are happy with a design and fit. After this we will grade the patterns to different' sizes and create a technical pack of measurements and drawings. We then send the' garment to the factory for them to create a pre'­production sample for us to approve (after' we have sourced everything we need, from elastics to hooks and eyes and components).' Once we have the final samples we shoot the garment on a mannequin, on a model and' then in a more creative campaign shoot. Once the products arrive we do a quality check' and send them to our distribution centre ready for sale.
How big is your team?
I have just myself and my right hand girl Sophie, who deals with sales and press.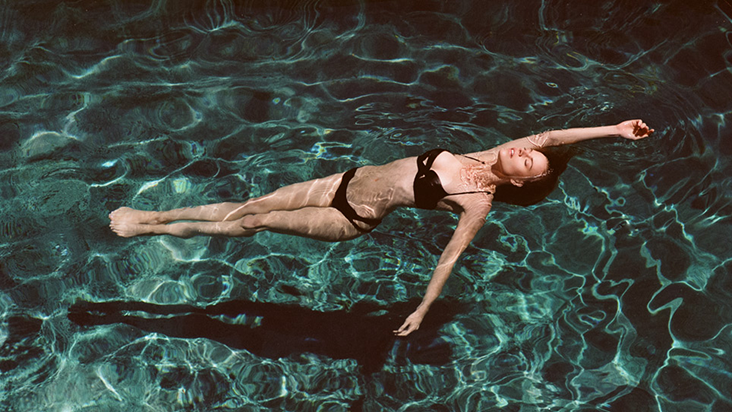 Photographer:' Peter Nikolai,' Art Direction:' Chloe Hamblen' &' Peter Nikolai,' Model:' Ellen Monohan' Hair and Make-up:' Meghan Nguy' Stylist:' Clara Savon
How important is collaboration for you personally and for Lascivious?
I think it forms a part of my personal and business philosophy. I'm never going to be the' best at everything, I happily accept that and it is so inspiring and motivating to work with' other creatives. I think its incredibly important to learn from one another, produce' something fresh and gain a new perspective '­ in life and work.
What do you love most about running your own business?
I love having the ability to create my own future.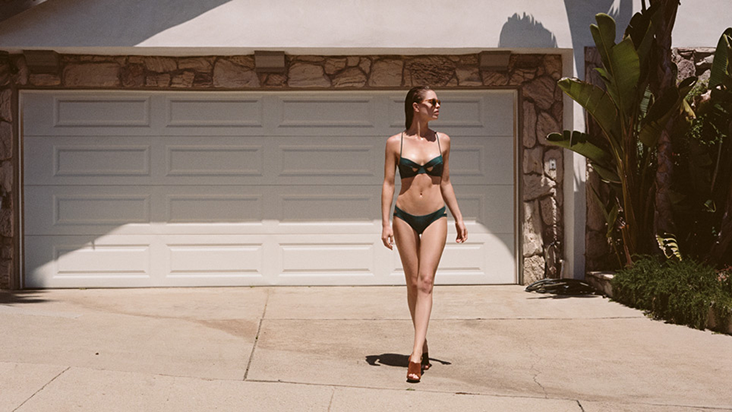 Photographer:' Peter Nikolai,' Art Direction:' Chloe Hamblen' &' Peter Nikolai,' Model:' Ellen Monohan' Hair and Make-up:' Meghan Nguy' Stylist:' Clara Savon
What has been most challenging?
Cash flow.
Do you have a mentor or a muse?
Not really, sometimes I will create something for a specific muse, but I don't have a' mentor. I have a variety of amazing women in my life that continually inspire me, I'm very' lucky.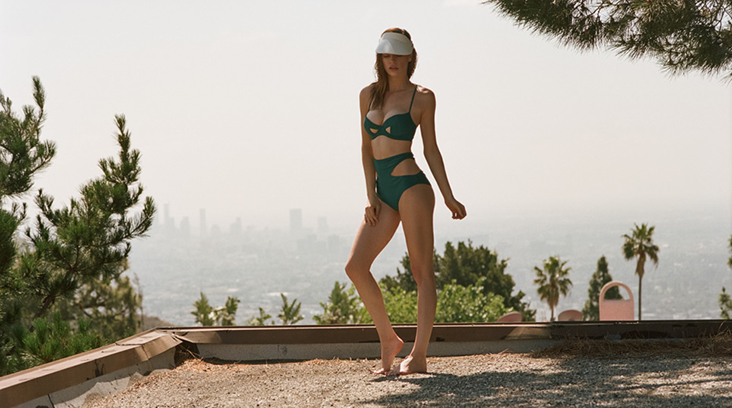 Photographer:' Peter Nikolai,' Art Direction:' Chloe Hamblen' &' Peter Nikolai,' Model:' Ellen Monohan' Hair and Make-up:' Meghan Nguy' Stylist:' Clara Savon
What resources would you recommend someone starting a creative business of their' own?' 
It entirely depends what kind of creative business they are trying to start, but people with' experience in the area you're interested in are always the best resources.
What are the 3 important lessons you would advise someone starting their own' brand?
1. Work out if there is a market for what you want to do. Its great to start something, but' does anyone actually want it? What is unique about what you are doing?
2. A brand is about an entire lifestyle, not just a product '­ everything you do must feed into' that lifestyle and reinforce the brand.
3. Understand the legalities and get this sorted out early on, there is a lot of boring stuff' you will have to learn along the way and it's not avoidable. If you can get some good' advice and put things into place to protect yourself initially it will help later on.
There is always an element of experiment, playfulness, grace, surprise within your' collections. Do you think lingerie is a way to empower women? A way to give a choice' and a voice to their bodies?
Thank you! Yes absolutely, I recently wrote a post for our blog about ouvert/crotchless' knickers and my annoyance that they are often viewed as sleazy. My point was that' actually lingerie offers women a chance to frame and cover areas that they want to, it' allows them to control how they will look in an intimate situation and offers another' dimension to play for both partners.
What does success mean to you?
Finding happiness.
Fabrics On Sale Right Now